Mini Pumpkin Bread Loaves are great for when you need to use up an open can of pumpkin. This one bowl recipe gives you two very moist and flavorful loaves of pumpkin quick bread. You can keep both for yourself or give one to a friend!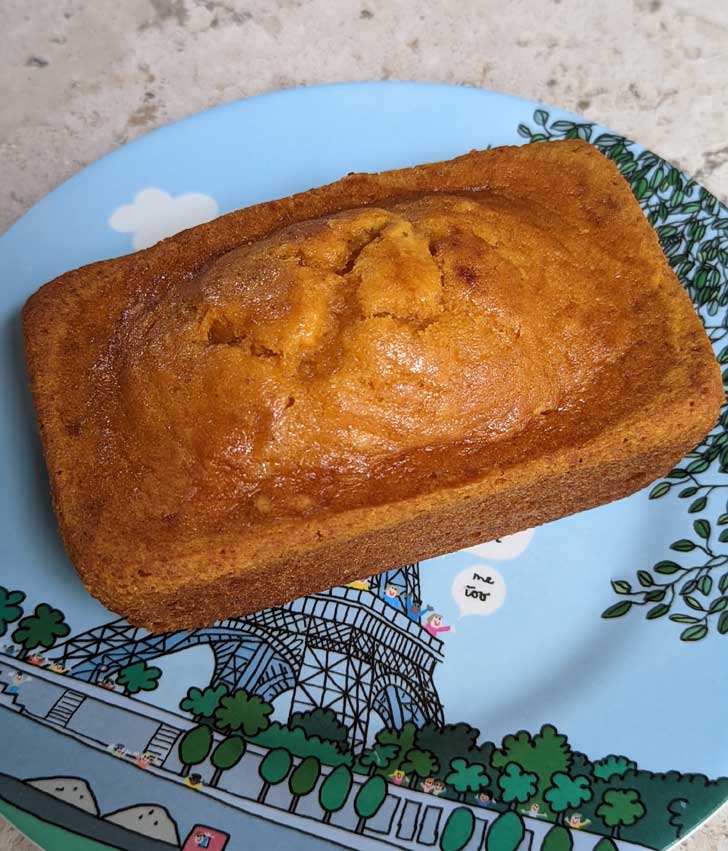 Mini Pumpkin Bread Loaves Loaf Pans
I originally made these years ago after resolving to use my small 3x5 inch loaf pans. I sometimes call them "mini" but they are actually larger than true minis. The exact size is 5.74 x 3 x 2.12 inches and the brand is Wilton. In addition, I have two ceramic ones that I love. Mine are old ones I bought at a store called Garden Ridge, but you can find similar size small loaf pans at Wal*Mart. They are ceramic and sold under the Pioneer Woman brand and are just a little bit larger at 6.1" x 3.1" x 2.2".  Other than the ones sold at Wal*Mart and Garden Ridge (now At Home), ceramic loaf pans seem to be slightly more expensive. So those are what I call "mini", but true mini loaves are more like this, which in my opinion are more like rectangular muffins.
The Recipe
The old recipe starts with 4 eggs, 1 cup oil, 3 cups flour, etc. and makes 3 1 pound loaves. For the Mini Pumpkin Bread Loaves, I scaled it down to a quarter batch.
When I first made these I was experimenting with alternative sweeteners. They worked well, but these days I just recommend sugar.  I also had good luck using part whole wheat flour, and swapped out the vegetable oil with coconut oil.  The texture was dense, moist and delicious.  Not sure if that was the coconut oil or just the amount of oil in general. The nice thing is that when making small batches like this you can test out a lot of different ingredients.
Gluten-Free Mini Pumpkin Loaves
My latest experiment with this bread was to make it with gluten-free flour. It worked! I tested with 100 grams of Cup4Cup 1:1 blend, but I'm pretty sure any blend with xanthan gum would work.
Recipe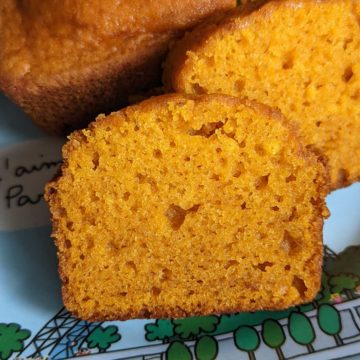 Mini Pumpkin Loaves
Small loaves of pumpkin quick bread.
Ingredients 
¼

cup

melted and cooled coconut oil or vegetable oil

3

tablespoons

water

1

large

egg

½

teaspoon

vanilla

½

cup

canned pumpkin

½

teaspoons

baking soda

¼

teaspoon

salt

¾

cup

granulated sugar

(150 grams)

¼

cup

plus 2 tablespoons whole wheat flour

(50 grams)

¼

cup

plus 2 tablespoons all-purpose flour

(50 grams)
Instructions 
Preheat the oven to 350 degrees F. Grease and flour 2 mini (3x5) inch loaf pans. If you are very worried about the bread sticking, you can line each pan with a little strip of parchment and grease and flour parchment.

In a large bowl, whisk together the oil, water, egg, vanilla and pumpkin. Whisk in the baking soda and salt, and sugar. Add the flour and stir until it is mixed in. Divide between the loaf pans and bake for 45 minutes or until a toothpick inserted in the bread comes out clean.