My New Year's resolution to "bake more layer cakes" hasn't gotten off to a very start, so I'm changing it.
"This year I resolve to make use of my 3×5 inch loaf pans"
Do you own a 3 x5 inch loaf pan? I have a metal one and two ceramic ones from Garden Ridge Pottery.  Mini loaf pan sizes are kind of all over the place, with metal ones being slightly narrower and ceramic ones slightly wider.  Part of my resolution is to buy two little sets so I can make 8 uniform loaves at a time and share with the neighbors.  But right now I'm scaling recipes down and making just enough for the two of us in the family who eat quick bread.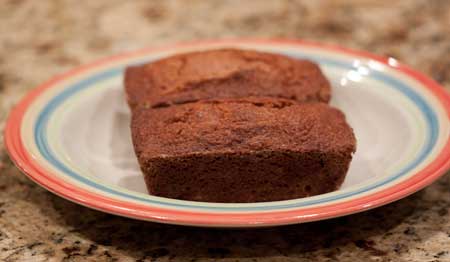 This old pumpkin bread recipe starts with 4 eggs, 1 cup oil, 3 cups flour, etc. and makes 3 1 pound loaves. I made a quarter batch and discovered that was the perfect yield for two cute loaf pans.
For this recipe, I used Fibrelle, the artificial sweetener I reviewed a while back, but of course you can use sugar instead.   I also had good luck using part whole wheat flour, and swapped out the vegetable oil with coconut oil.  The texture was dense, moist and delicious.  Not sure if that was the coconut oil or just the amount of oil in general.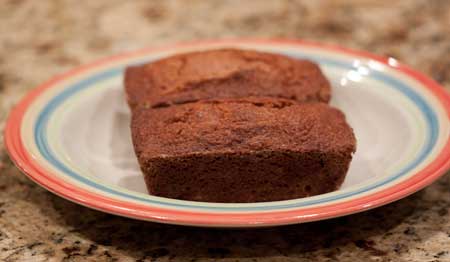 Mini Pumpkin Loaves
One Bowl Mini pumpkin loaves. Makes 2 small loaves.
Ingredients 
1/4

cup

melted and cooled coconut oil or vegetable oil

3

tablespoons

walter

1

large egg

1/2

teaspoon

vanilla

1/2

cup

canned pumpkin

1/2

teaspoons

baking soda

1/4

teaspoon

salt

3/4

cups

granulated sugar or Fibrelle

1/4

cup

plus 2 tablespoons whole wheat flour

1.8 oz

1/4

cup

plus 2 tablespoons all-purpose flour

1.7 oz
Instructions 
Preheat the oven to 350 degrees F. Grease and flour 2 mini (3x5) inch loaf pans. To be safe, put a little parchment paper on the bottom of the pan.

In a large bowl, whisk together the oil, water, egg, vanilla and pumpkin. Whisk in the baking soda and salt, and sugar (or Fibrelle). Add the flour and stir until it is mixed in. Divide among the loaf pans and bake for 45 minutes or until a toothpick inserted in the bread comes out clean.