Here's another great pumpkin bread recipe, which I'm naming Another Bread Pumpkin Recipe because that pretty much sums it up. I should also add you can't go wrong with this one. I've made it several times since first posting, and it's always good. I usually make one loaf with chocolate chips and another with blueberries.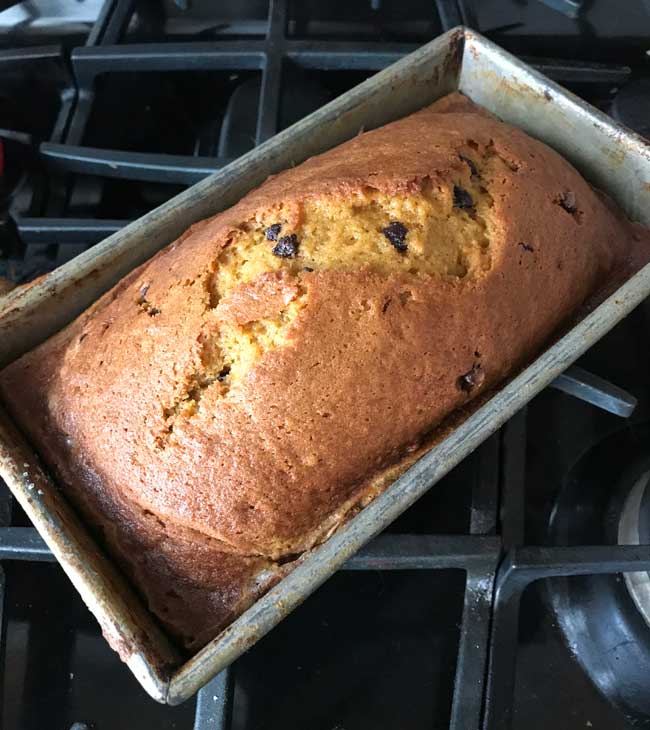 This pumpkin bread recipe makes a loaf that bakes up with a nice dome.  It freezes beautifully and slices neatly with no crumbs. Plus each slice fits quite nicely into the sealable food bags I bought off Amazon a while back, so I can cut individual slices and give them to friends.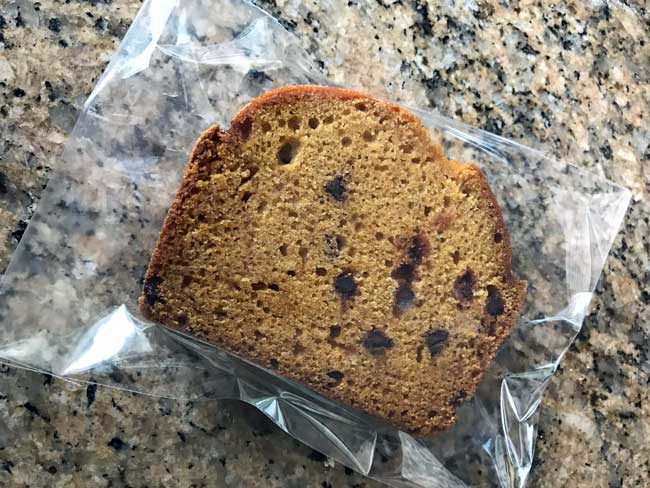 This recipe makes two large loaves. Alternatively, you can make 8 or 9 small (3×5 inch loaves) or do what I did and make 1 large loaf and 4 small ones. It makes a lot of bread, so use your biggest mixing bowls and make sure you have some friends to share it with.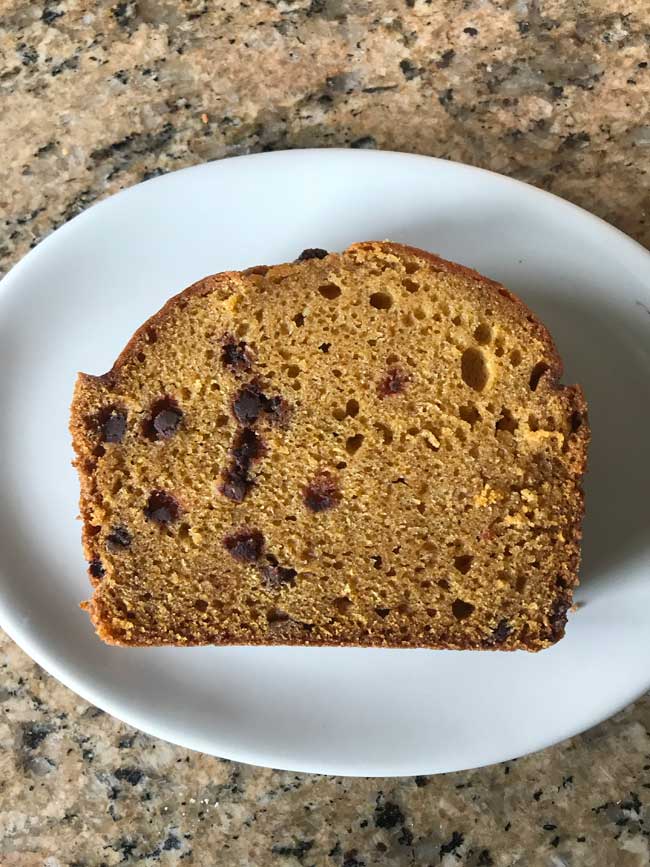 Pumpkin Blueberry Mini Loaves
I recently made this pumpkin bread recipe as Pumpkin Blueberry Mini Loaves using nine 6×3 inch mini loaf pans. Wilton says they are actually 5.75×3 inches, so I'm rounding up. These small loaf pans are actually quite a nice size to give as little gifts or just to put in the freezer. As mentioned in the notes, the bake time should be reduced to 40 minutes for the mini loaf pans
Recipe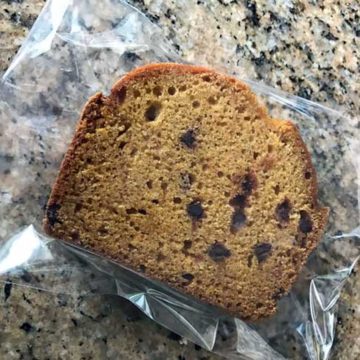 Pumpkin Blueberry Mini Loaves
This is a variation on my Just Another Pumpkin Bread recipe, but enhanced with a little white whole wheat flour and blueberries and baked in mini loaf pan.
Ingredients 
2

cups

unbleached all-purpose flour

270

1 1/3

cups

white whole wheat flour

170 (or just use 170 grams more of AP flour)

2

teaspoons

baking soda

1

teaspoon

cinnamon

1/2

teaspoon

ground nutmeg

1/4

teaspoon

salt

3

cups

sugar

590 grams

1

cup

vegetable oil

15

ounce

can pure pumpkin

2/3

cup

water

4

eggs

1 1/2

cups

blueberries
Instructions 
Preheat oven to 350 degrees. Grease and flour nine 3×6 inch loaf pans (or two large loaf pans if you prefer).

In a large bowl, whisk together both the flours, baking soda, cinnamon, nutmeg and salt.

In a very large mixing bowl, combine the sugar, oil, pumpkin, water and eggs. Stir with a spoon or heavy duty scraper until well blended.

Add the flour mixture to the pumpkin mixture and stir until fully blended, then stir in the blueberries.

Divide the batter between the pans and bake for 40 minutes or until a toothpick inserted comes out with moist crumbs. If making large loaves, the time will be around an hour.

Remove from oven and let cool for 10 to 15 minutes. Carefully loosen from loaf pans and then turn onto a cooling rack. Allow the loaves to cool completely, then wrap in plastic wrap and freeze or refrigerate until ready to serve.

To store, wrap well in plastic wrap and refrigerate for at least a week, or place wrapped loaves in a plastic freezer bag and freeze for several months.