It seems like forever since I last posted an actual cookie, so here's one from this morning. I needed something pink and cheery and Pink Lemonade Biscotti were just right.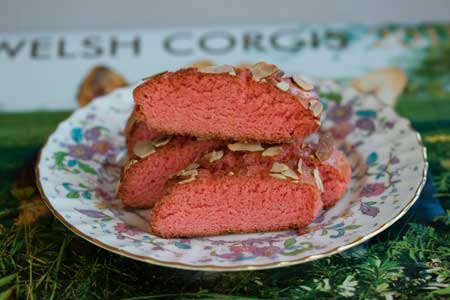 They're fairly lemony with the tablespoon of lemon zest, but if you want to try adding something like a bit of pink lemonade powder or lemon extract, you might improve upon a good thing. Some other kind of nut in the biscotti would be nice, but I only had sliced nuts and those were perfect just for the top.
Finally, if you just like the pink and want to forget the lemon entirely, try a little cherry extract (and/or possibly some almond) in place of the lemon. That's my next experiment with this. But right now the lemon works.
Pink Lemonade Biscotti
1 stick (4 oz) unsalted butter, softened
1 ½ cups granulated sugar
3 large eggs
A few drops of red food coloring or gel paste
½ teaspoon vanilla extract
1 packed tablespoon of lemon zest
2 teaspoons of baking powder
½ teaspoon salt
3 ¾ cups all-purpose flour
Lightly beaten egg for topping
Sliced almonds for topping
Preheat oven to 350ºF. Have ready two large baking sheets.
In the bowl of a stand mixer fitted with a paddle attachment or in a large mixing bowl using a hand-held electric mixer, beat the butter and sugar until light and creamy. Add the eggs one at a time and continue beating on high for another minute. Beat in a little red food coloring, vanilla and lemon zest, then beat in the baking powder and salt. With mixer on low to medium low speed, mix in the flour (if using a hand-held, do it with a spoon rather than the beater).
Divide dough in four portions and shape each portion into a 2 inch wide log. Arrange two logs on each baking sheet, spacing evenly. If your baking sheet is large enough, fit all the logs on it, but leave about 3 inches between each for some spreading (though they don't spread much). Brush tops with the last egg and sprinkle almonds over each log. Alternatively, you could leave off the egg wash and almonds and drizzle the cooked biscotti with a lemon glaze.
Bake the logs at 350 for 30 minutes. Remove from oven and transfer the logs to a cutting board. While warm, cut into ¾ inch slices using a serrated knife. For this recipe, a sawing motion seems to work best. Stand the cookies on one baking sheet and return to the oven for 10 to 15 minutes. Remove and let cool. Makes about 40