There's no shame in having a little bourbon for breakfast, right?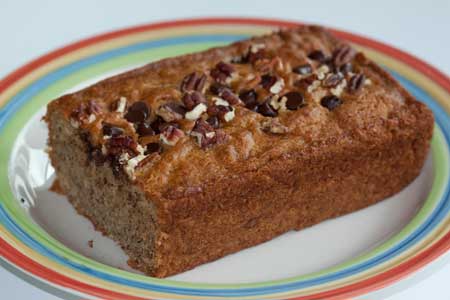 At least in this case, where it's baked into banana bread. Then again, you may prefer this bread for a late afternoon snack with coffee or even dessert because it's sweet, and you can really taste the bourbon. It's so strong I'm not sure you should drive after eating it. But seriously, I do recommend this recipe.
Bourbon Banana Bread
1 ½ cups (6.8 ounces) all-purpose flour
¾ teaspoon baking soda
¾ teaspoon baking powder
½ teaspoon salt
¼ cup extra light olive oil or vegetable oil
¾ cup granulated sugar
½ teaspoon vanilla extract
1 large egg plus 2 tablespoons lightly beaten egg
1 ½ very large or 2 small bananas, mashed
½ cup bourbon whisky
3 tablespoons water
Preheat the oven to 350 F and spray a 9x5 inch or slightly smaller loaf pan with flour-added cooking spray.
Combine the flour, baking soda, baking powder and salt in a bowl and stir well to mix.
In a mixing bowl, using an electric mixer, beat the oil, sugar and vanilla until well mixed. Add the egg and beat until light, then reduce mixer speed and beat in the mashed banana and bourbon. By hand, stir in the flour mixture and the water just until mixed. Pour the batter into the pan and bake for 45 minute. If you like, sprinkle nuts and chocolate chips down the center of the loaf before baking. Let cool for about 20 minutes, then carefully remove from the pan.