Olanda Banana Chocolate Chip Cake is my new favorite banana cake ever! Actually, it's tied with my grandmother's favorite Sour Cream Banana Cake. I think she would have loved this one too. It's a soft, spicy, and not overly sweet banana cake from The Sullivan Street Bakery Cookbook by Jim Lahey and Maya Joseph.
Jump to Recipe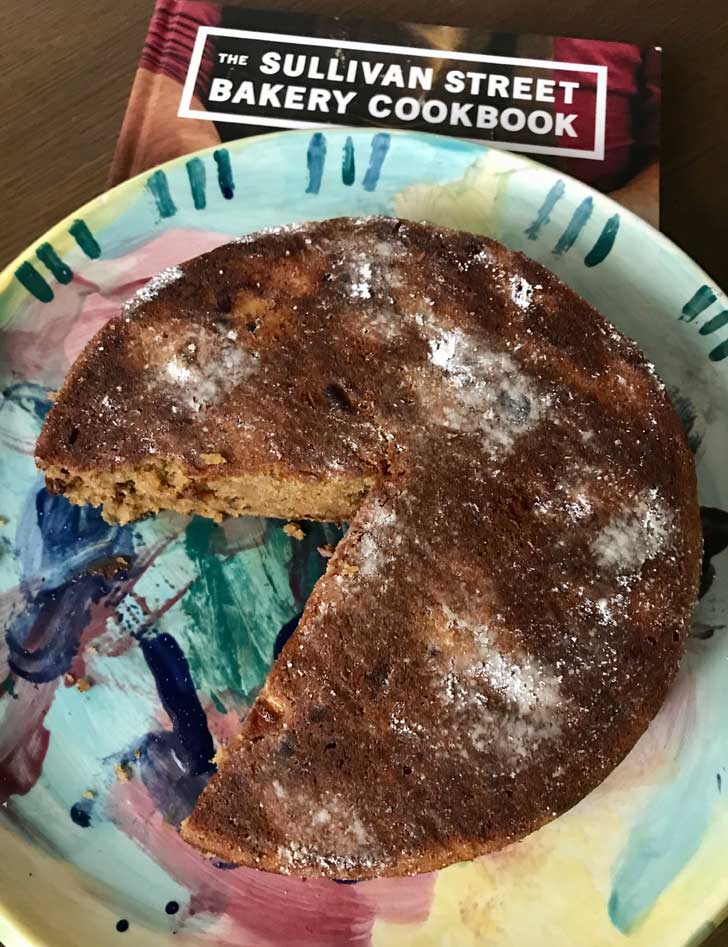 Olanda & Sullivan Street Bakery Cookbook
So why is it called Olanda? It's because the mix of bananas and spices reminded the authors of 17th century spice merchants traveling the globe, and Holland or "Olanda" (in Italian) was a big trading center.  That's the short explanation, but the authors say it in a more poetic way.  Speaking of which, I thought the Sullivan Street Bakery book might get technical, as some bread books do, but I've been pleasantly surprised and am enjoying the prose. Jim Lahey is usually the person referred to by other author's as a "source", and is associated with the famous no-knead bread. However, he and Maya Joseph are excellent writers themselves and should write more books together.
But Back to the Cake...
I saw it in the book last night, and told my two almost black bananas (home alone this week and talking to bananas) to enjoy the evening because it was their last. I couldn't wait to go to bed so I could wake up and make this bread!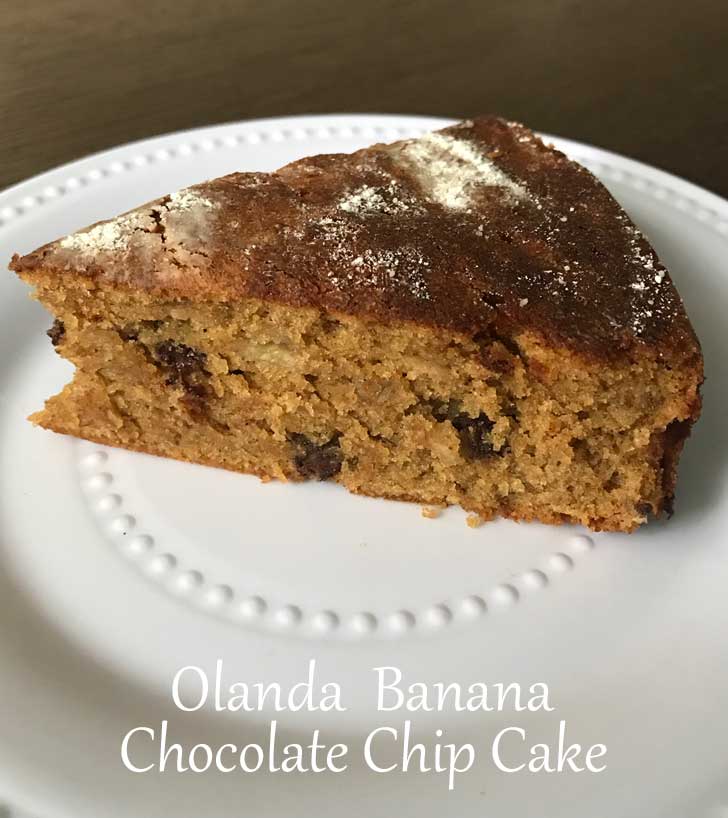 Book vs NYT Version
The next morning, I checked the Internet to see if Olanda Banana Chocolate Chip Bread already had a web presence, and of course it did. Melissa Clark adapted it for The New York Times a while back. Turns out this was a good thing, because I found some major and minor differences between the book and the NYT version. I'm listing them below in case others come across these same nitpicky little questions. The recipe that follows has the exact gram weights that I used.
Ingredient Notes
Butter -- The book calls for 80 grams (12 tablespoons unsalted butter). 80 grams is actually only 6 tablespoons of butter, so that's a misprint. NYT calls for 84 grams and lists it as 6 tablespoons, so they fixed that.
Flour -- Book calls for 160 grams of flour (1 cup plus 1 tablespoons plus 1 teaspoon). New York Times calls for 135 grams ( 1 cup plus 1 tablespoon). In this case , the book's measurements make more sense, so I went with 160 grams. The authors probably used weights and put in volume measurements after. After tasting the cake I'm glad I used the full 160 because it's still a super soft cake.
Espresso -- Recipe calls for 1 ½ teaspoons of brewed espresso -- not powder, but actual coffee, cooled. Can you even taste 1 ½ teaspoons brewed coffee in a cake? I ended up dissolving a tiny pinch (probably about 1/16 of a teaspoon) of instant espresso powder in 1 ½ teaspoons of water. It added some depth of flavor, but the cake has so many flavors you could leave it out.
Sugars -- I shouldn't even mention the differences in sugar measurements from the book to NYT because they both add up to 120 grams. I went with the book's 80 grams granulated and 40 grams dark brown and put in closer volume measurements. Using the weights, the cake should not be overly sweet at all.
Recipe
Olanda Banana Chocolate Chip Cake
A spiced banana cake baked in an 8 inch round pan.
Ingredients 
6

tablespoons

unsalted butter, softened, plus more for greasing

(84 grams plus more for greasing)

1

cup

plus about 4 teaspoons unbleached all-purpose flour

(160 grams)

1 ¼

teaspoons

baking powder

¼

teaspoon

salt

¼

cup

olive oil

(45 grams)

6

tablespoons

granulated sugar

(75 to 80 grams, I used 80)

3 ½

tablespoons

dark brown sugar

(40 grams)

1

tablespoon

mild molasses

(20 grams)

½

teaspoon

ground allspice

½

teaspoon

ground cinnamon

1 ½

teaspoons

espresso or strong brewed coffee, optional

Or use a tiny pinch of powder mixed with water

½

teaspoon

vanilla extract

1

large

egg, room temperature

1

cup

mashed very ripe banana

(200 grams)

½

cup

chocolate chips, this is plenty,

(80 grams or so)
Instructions 
Preheat oven to 425 degrees. Grease an 8-inch round cake pan and line bottom with parchment. Grease again.

In a medium bowl, whisk together flour, baking powder and salt.

With a handheld mixer or by hand, beat softened butter, oil, half the sugar, brown sugar, molasses, allspice, cinnamon, espresso (if using) and vanilla until just combined. Add the remaining sugar. The undissolved sugar supposedly improves the texture.

Stir the egg into butter mixture, then stir in flour mixture until fully blended.

Fold in bananas and chocolate chips last.

Scrape batter into prepared cake pan and bake until top is golden and sides begin to pull away from pan, about 25 minutes. I baked for the full 25 minutes. Edges were on the overly browned side, but they tasted great.

Let cool completely then run a thin spatula around the edges to separate from the pan. Invert onto a serving plate.