Bran Banana Bread is a combination of two breakfast favorites, bran and banana.  I make it with unprocessed wheat bran, coconut oil and coconut sugar, so it's healthy-ish but not at all dry. It is egg-free, so you can easily make it completely vegan by substituting another milk for the buttermilk. A little soy or almond milk mixed with lemon juice should do the trick.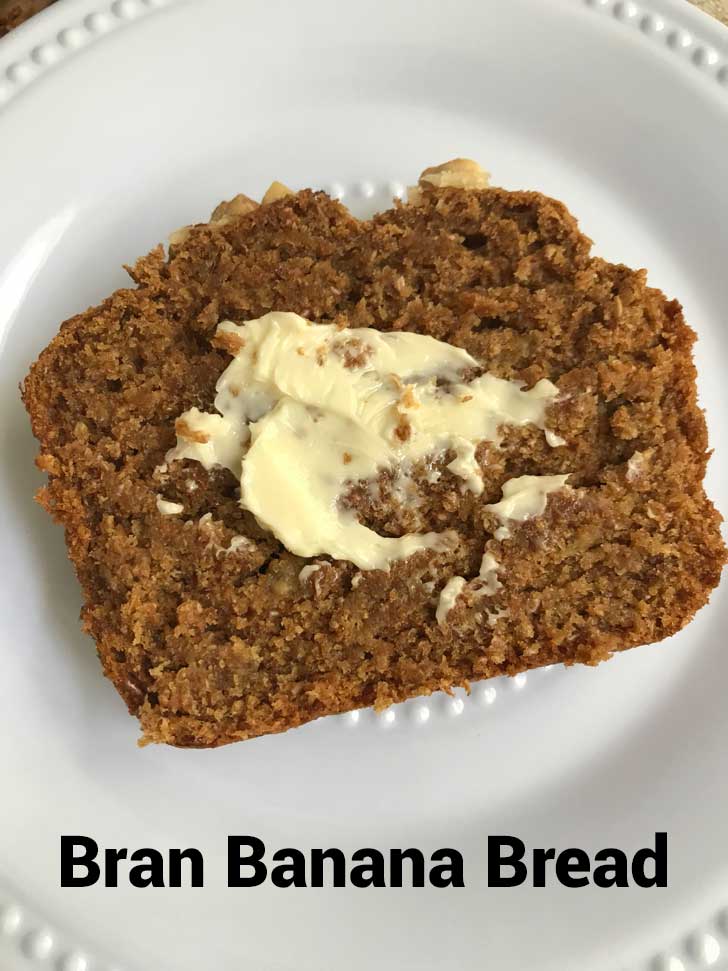 Bran Banana Bread Notes
I really love this recipe and hope it works for others. I make it in an 8×4 inch loaf (1 pound capacity) but have also halved it and baked in a 5.75×3 loaf pan (mini). If you only have a 9×5 inch loaf pan you can still make it, it just won't be quite as tall. As mentioned, I use coconut sugar, but regular sugar or even brown sugar is fine. However, you don't really need to use brown sugar because the recipe has 2 tablespoons of molasses.
Substituting with Allulose
If you are trying to seriously cut sugar, you might consider substituting 1/2 cup of allulose (it's less sweet, so you need more) for the 6 tablespoon of coconut sugar. I haven't tested this exact recipe with allulose, but I've made very similar substitutions and it works just fine.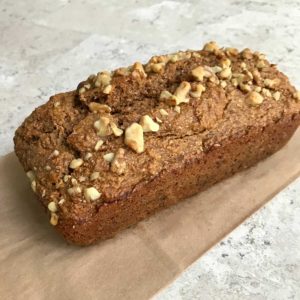 Bran Banana Bread
A very tasty banana bread with loads of fiber.
Ingredients 
1 1/4

cup

all-purpose flour

170 grams

1 1/4

cup

unprocessed bran

80 grams

1/2

teaspoon

baking soda

1

teaspoon

baking powder

1/4

teaspoon

salt

1/4

teaspoon

cinnamon

2 1/2

large mashed bananas

280 grams

6

tablespoons

sugar or coconut sugar

70 grams

1/4

cup

coconut oil

52 grams

2

tablespoons

molasses

40 grams

1/3

cup

buttermilk (or a vegan milk)

80 grams

1/3

cup

walnuts or pecans

coarsely chopped
Instructions 
Preheat the oven to 350 degrees F. Grease an 8×4 inch loaf pan. Line with a little strip of parchment, then grease again.

In a large bowl, stir together the flour, bran, baking soda, baking powder, salt, and cinnamon.

In a mixing bowl, stir together the mashed banana, sugar, coconut oil, molasses and buttermilk.

Add the flour mixture to the banana mixture and stir until blended.

Scrape into the pan, sprinkle nuts on top and bake for about 45 minutes.

Let cool completely.
Notes
For the bananas, I used 280-300 grams.  This is about 2 1/2 bananas, but of course that depends on how large your bananas are.