Happy Valentine's Day! As gift to you on this oh-so-special holiday, I'm sharing a recipe for some vegan chocolate chunk cookies inspired by "Vegan Big Johns", the chewy, 5 1/2 inch vegan chocolate chunk cookies sold at Whole Foods in Austin.
Big Johns are reasonably priced, but I don't make it the downtown to Whole Foods as much as I'd like and wanted to try making a copycat version at home.  This is as close as I've come. And while the texture is not exactly the same, this version is really close and has some of the same key flavors. The fact that it's vegan is just a bonus.
Here's a photo or an actual Big John next to one of my vegan chocolate chunk cookies. The real Big John is the one on the left.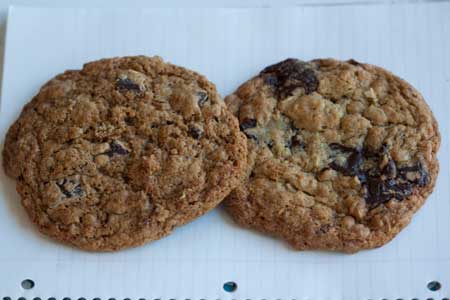 The cookies are super easy to make, but you do have to track down some special ingredients if you want the flavor to be similar.
First, you need the right chocolate. Vegan Big Johns are stuffed with Oro Chocolate Ribbons. Apparently "ribbons" are just the shape of the chunks sold by Guittard, and "El Oro" is a single origin chocolate named after a region in Ecuador known for its mines. While I wasn't patient enough to mail order the ribbons, I did find a big block of actual El Oro chocolate at Spec's. It has a very distinctive flowery/fruit/tobacco flavor, and it may be one of the reasons Big Johns are so popular.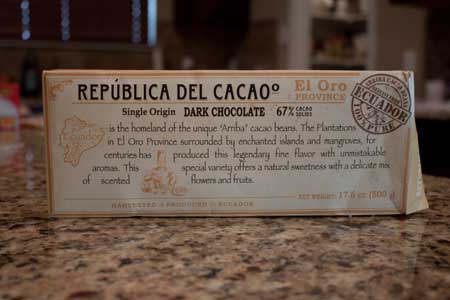 Another ingredient is soy margarine, and this one has me somewhat perplexed. The only "soy margarine" I have been able to find is Willow Run, which is good for baking but has trans fats. I can't imagine Whole Foods would use an ingredient with trans fats, so the only alternative was Earth Balance Buttery Spread used cold, right out of the tub. It did add a distinctive flavor to the cookies that matched Big Johns, plus I liked that I could use it right out of the tub without having to soften it.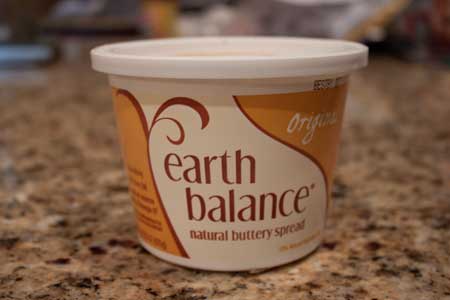 The sugars used are dark brown sugar and evaporated cane juice crystals, the latter of which can be found in either the bulk section or the sugar section. It's a less processed sugar, so it's tan. As for the dark brown sugar, I used Domino for this batch, but I'm also experimenting with organic brown sugar which is moister and highly flavored. The ones with Domino are actually turning out a little better.
Corn syrup. Big Johns call for corn syrup — not much, because it's one of the last ingredients and comes right before salt. I left it out since I've been making small batches. It may be part of the key in getting the bendy, chewy, texture of actual Big Johns, but when I tried adding a tiny amount to one of my small batches, it didn't seem to do anything for the texture. So right now I'm leaving it out.
Applesauce is also on the ingredient list as well. Whenever I use applesauce as an egg substitute, I drain it first to remove the water. Removing the water from applesauce leaves you with more actual fruit and less steam producing, rubbery-baked-goods-making, water.
For the flour I used King Arthur brand all-purpose. I mention the brand because KA is known to have a little more protein and gives cookies a nice structure (in some cases).  Without the eggs, these need all the help they can get, right?  Ha.
And finally, the oats. I used old fashioned in some and quick in others and kind of preferred the old fashioned.
So here's the recipe.  If you try it, let me know how it goes.  If you're a fan of  Big Johns, even better, because you know how they're supposed to taste.
I've only been making these using weights. As I measured, I checked the volume and wrote it next to the grams, but volume is sketchy when measuring cold tub margarine, flour and brown sugar. So use a scale if you've got one. If you don't have a scale, stop by tomorrow because I'm going to host a giveaway from a scale company.
Update:  Since posting this I now make these slightly smaller (though still big!) and get 6 cookies rather than 4.
Update 2:  I recently started making these with Country Crock Plant Butter with Almond Oil.  It works perfectly!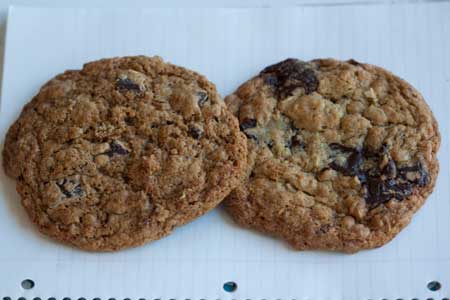 Giant Vegan Chocolate Chunk Cookies
Giant Vegan Chocolate Chip Cookies are similar to the Vegan Big Johns sold at Whole Foods in Austin. I originally made these with Earth Balance, but any vegan butter or "plant butter" may be used.
Ingredients 
1/4

cup

56 grams drained applesauce -- you'll need 1/2 cup to start with

1

stick

120 grams Earth Balance buttery spread (tub style works, too), softened

1/4

cup

plus 2 teaspoons

56 grams evaporated cane juice crystals or sugar

1/4

cup

plus 2 teaspoons

56 grams dark brown sugar

1

teaspoon

vanilla

1

cup

126 grams all-purpose flour

1/2

teaspoon

baking soda

1/4

scant teaspoon salt

1/2

cup

40 grams old fashioned or rolled oats

114

grams

4 ounces dark chocolate chunks or Oro Chocolate Ribbon or El Oro Chocolate (67%) cut into chunks
Instructions 
Drain the applesauce to make 1/4 cup as indicated in the directions. To do this, just spread a half cup of applesauce in a 6 inch circle on top of a stack of paper towels. Let it sit for about 10 minutes, then scrape up 1/4 cup or 56 grams.

Beat the buttery spread and both sugars together until mixed. Batter will be a little lumpy, but that's okay. Beat in the vanilla and drained applesauce.

Mix the flour, baking soda and salt and stir flour mixture into batter. Stir in the oats, followed by the chocolate chunks.

Chill the dough for about an hour or until it is easier to handle, then shape it into 6 large balls.

Preheat oven to 350 degrees F. Line a large baking sheet with parchment paper.

Arrange the dough balls on the lined baking sheet spacing 3 inches apart. Press tops down slightly and bake for about 15 to 18 minutes or until cookies appear set.

Let cookies cool for about 10 minutes on the baking sheet, then carefully transfer to a wire rack to cool some more.

If desired, chill cookies briefly to set the chocolate. Bring back to room temperature and serve. You can skip all of the chilling if you want the chocolate to be melt-y and soft.
If you try these Vegan Chocolate Chunk Cookies, let me know!  I'm always looking for second, third, fourth and fifth opinions.