As usual I couldn't resist the siren song of a new chocolate chip cookie recipe and had to try the latest New York Times Vegan Chocolate Chip Cookies. They are so good! They're vegan, plus they are way easier than the other New York Times Chocolate Chip Cookies. They call for only one kind of flour, there's no mixer required, plus the recipe halves easily since there are no eggs.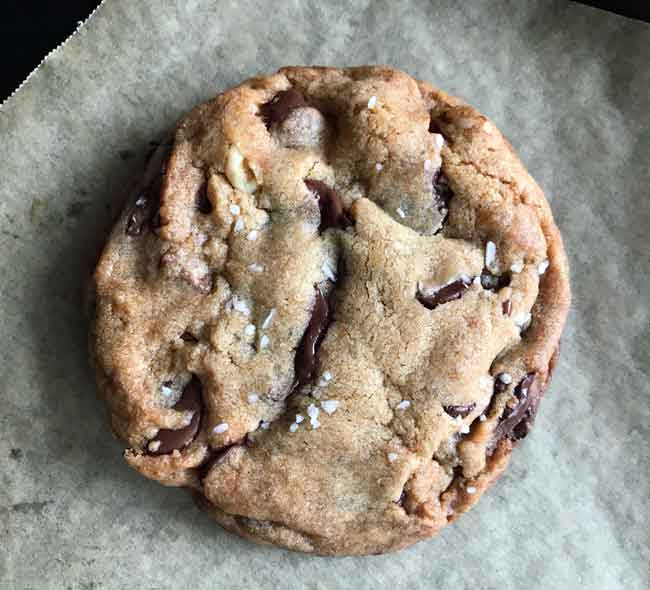 Gluten-Free Vegan Cookies
The NYT says you can use almond flour to make these gluten-free, but I made them with regular King Arthur AP flour. For the vegan butter, I used Country Crock Plant Butter straight out of the tub. It's soft when cold, so there's no need to soften it before using. The egg substitute in this case is ground flax, which I just happened to have in the freezer leftover from a flax cracker making adventure. The flax/water mixture worked perfectly as a binder.  Here's a picture of the dough.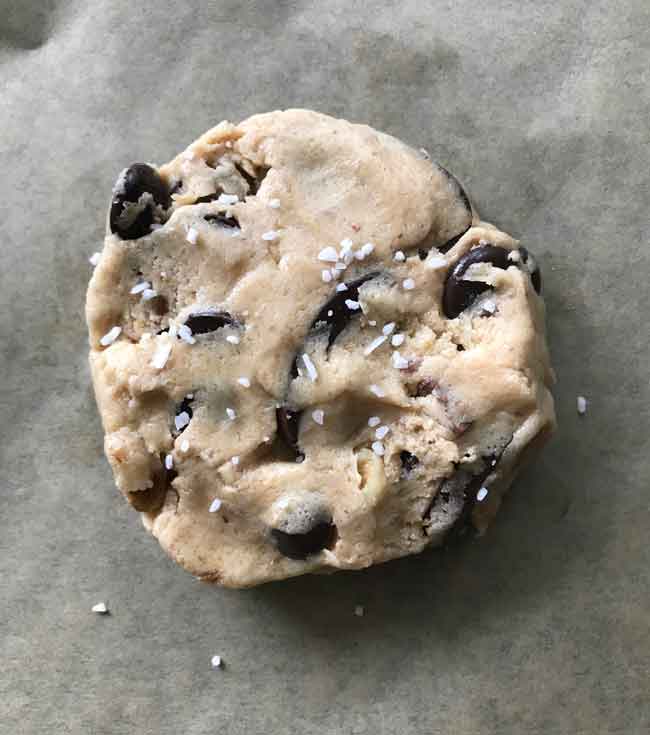 Because I do not currently have access to my stand mixer (or even a proper mixing bowl), I had to just stir everything together in a plastic tub.  And going by how good these cookies were I'd probably do it that way again. The texture of the cookies is dense with crunchy edges.  As for the flavor, I think the flavors from the plant butter, flax and coconut sugar work together to give the cookies a distinct and slightly more unusual flavor.  The salt on top also makes the cookies special. I used leftover pretzel salt from a box of frozen pretzels.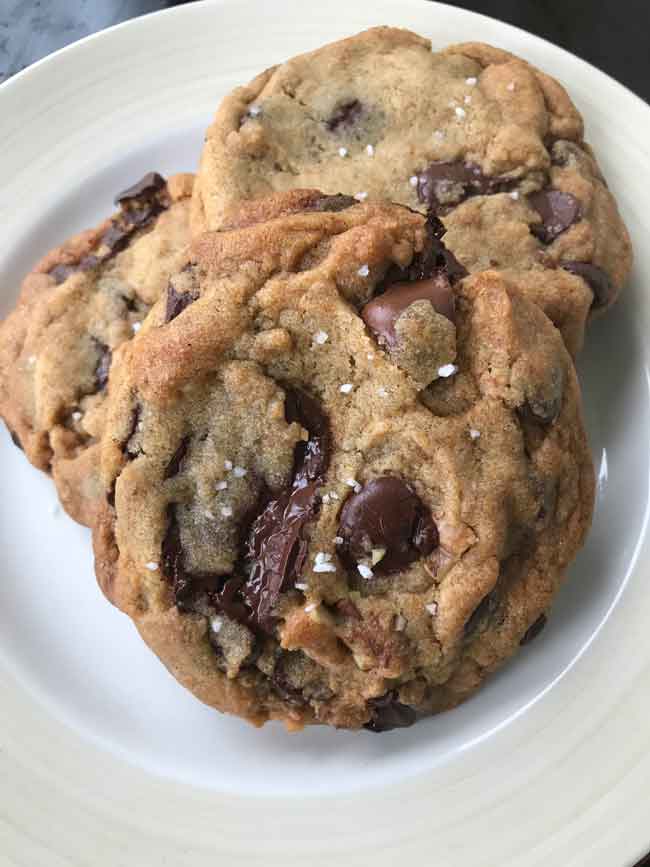 I'm just kind of bummed right now because I can't share these.
Recipe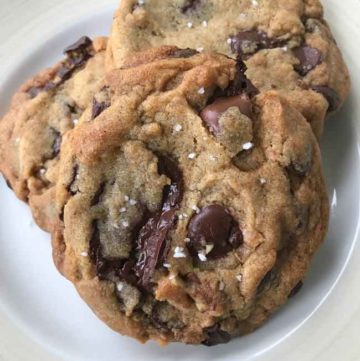 Small Batch Vegan New York Times Chocolate Chip Cookies
Vegan version of the famous New York Times Chocolate Chip Cookies
Ingredients 
¾

cup

plus 2 tablespoons all-purpose flour

(114 grams)

⅜

teaspoon

kosher salt

¼

teaspoon

baking soda

5

tablespoons

Country Crock Plant Butter, Almond Oil type

(70 grams)

¼

cup

sugar

(50 grams)

¼

cup

coconut sugar

(40 grams)

½

tablespoon

flaxseed meal mixed with 1 T. water

¾

teaspoons

vanilla extract

6

ounces

chocolate chips

(170 grams)

Handful of untoasted walnuts

broken up

Sea Salt or pretzel salt
Instructions 
Preheat the oven to 350 if you plan on baking right away.

Mix together flour, salt and baking soda. Set aside

With a spoon, mash together the Country Crock plant butter, cane sugar and coconut sugar until blended.

In a small bowl, whisk the flaxseed with 1 tablespoon water to combine. Add the flax and the vanilla and stir until blended, then stir in the flour mixture. Add the chocolate chips and chunks last.

Scoop the dough into 4 large mounds, each weighing a little more than 100 grams. This really depends on how generous you were with the chocolate

Time to bake! I baked one cookie right away (the one in the photo) and am chilling the rest of the dough. Put the cookie dough mound (or all of them) on a parchment lined baking sheet and press down to around ½ inch thick (like in the picture). Sprinkle with some pretzel salt or sea salt. Bake for 18 to 21 minutes. I think my cookie was done in about 19 minutes. Chilled dough might take a full 21.

Also, when you suspect the cookies are close to being ready, pull from the oven and squish the edges inward nudging the cookies into neat circle. a

Allow the cookie (or cookies) to cool, then put in the freeze long enough to set the chocolate. Bring back to room temperature before serving.