The New York Times Chocolate Chip Cookie recipe, also known at The Jacques Torres recipe, is one of my favorites. Compared to other chocolate chip cookies, these get the best reviews. They are thick, bumpy, and have soft and chewy centers with crispy, crumbly edges and loads of chocolate. People go crazy for them. Having made them for so many years now, I do have some opinions.
Jump to Recipe
New York Times Cookies Brown Sugar
When I first started making the New York Times recipe, I stuck with the original measurements, but over time, I started to feel like they were too sweet. To cut the sweetness and to curb the spreading, I tested different amounts of brown sugar. The original recipe calls for 10 oz (280 grams). I've tested with 8 oz (230 grams) and 9 oz (250 grams) and usually go with the latter. If you want to stick with the original and well-loved recipe then start with 10 oz (280 grams).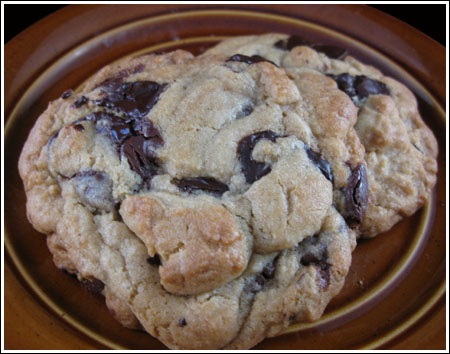 Cake Flour Plus Bread = All Purpose
Mixing cake flour and bread flour gives you a protein level similar to all-purpose flour, so some bakers just substitute all-purpose and use a total of 480 grams flour I sometimes do this, but having made these cookies about a million times I feel like for some reason, the bread and cake flour mix version is better! It could be my imagination and that my perception of them being better is just a response to my taking the extra effort to combine to flours, but they seem to have more contrast between middle and edge when I use both flours.
What's Up With Chocolate Fèves
The original Jacques Torres recipe calls for bittersweet chocolate disks or féves. Féves are just chocolate disks that melt a little better than regular chocolate chips. I sometimes use féves, but most often I use Ghirardelli bittersweet chips. The Ghirardelli chips don't melt quite as much as féves, but they are a good size and have a great flavor that goes well with the dough. I like all kinds of different chocolate chips for different reasons, but these cookies are just not the same unless you use féves or Ghirardelli BITTERSWEET chips.
Shape Dough and Chill Individual Balls
I usually make the dough a few days ahead, shape it into large balls, and chill the shaped balls. For the first few days I leave them in the refrigerator and bake as needed. If I've moved onto other cookies and still have NYT dough balls, into the freezer they go. They are fine in the freezer for several months.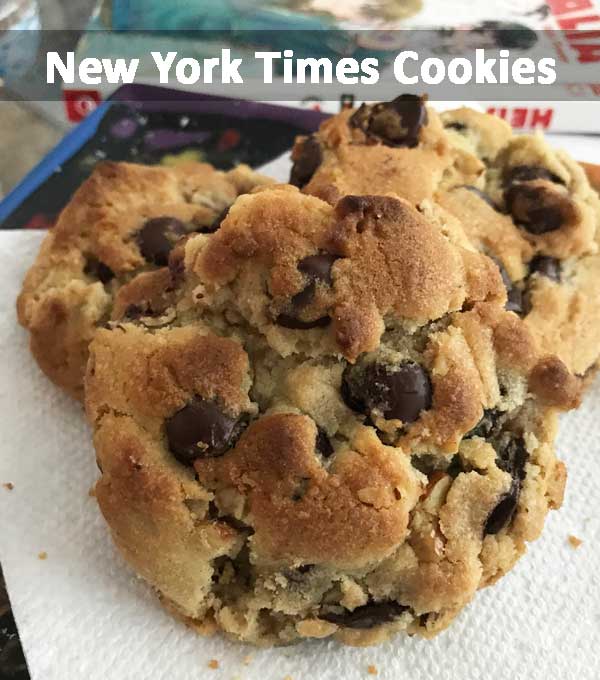 Here's a link to the original New York Times Chocolate Chip Cookie recipe, and below is my adapted version. For best results, measure the ingredients by weight. The only downside to this recipe is that the cookies don't stay fresh very long and must be eaten the day they are baked.  They do freeze well, so if you need to bake them ahead of time just freeze the baked cookies.
Convection New York Times Cookies
I love making the New York Times cookies in a convection oven because they bake up a bit thicker. I've used Breville toaster oven with convection and a wall convection oven. To bake the New York Times with a convection oven, bake at 350F for about 15 minutes.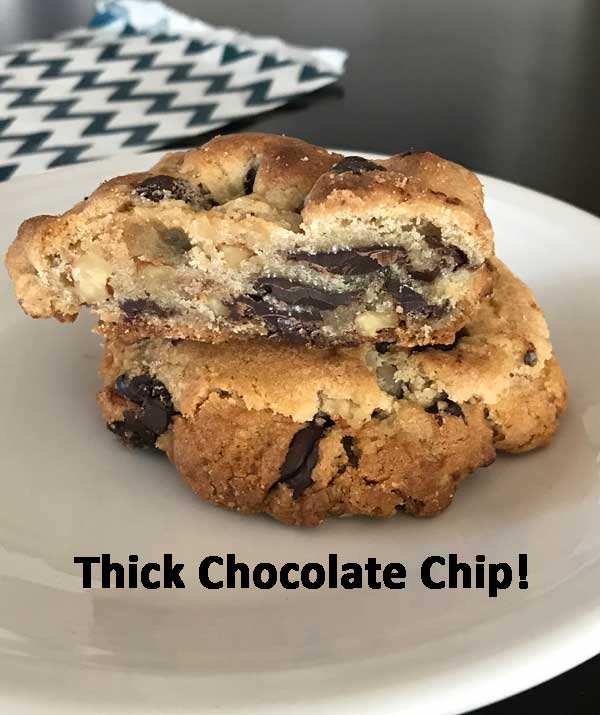 Small Batch NYT Chocolate Chip Cookies
I've been baking a lot of very small batches of the NYT Chocolate Chip Cookies and am posting the measurements here for quick reference.
60 grams bread flour 60 grams cake flour ¼ teaspoons plus a pinch of baking soda ⅜ teaspoon baking powder ⅜ teaspoon salt 70 grams unsalted butter 70 grams brown sugar 70 grams granulated sugar 24 grams beaten egg ½ teaspoon vanilla ¾ to 1 cup bittersweet chocolate chips
Recipe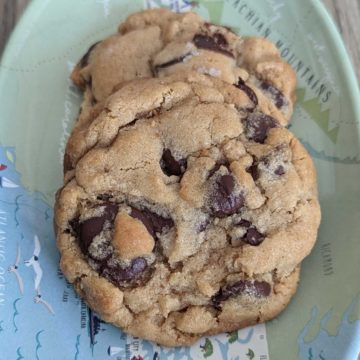 (The Latest) New York Times Chocolate Chip Cookies
Giant chocolate chip or chocolate chunk cookies. These are perfect for wrapping individually and giving as gifts.
Ingredients 
2

cups

minus 2 tablespoons cake flour

(240 grams or 8 ½ oz by weight)

1 ⅔

cups

bread flour

(240 grams or 8 ½ oz by weight)

1 ¼

teaspoons

baking soda

1 ½

teaspoons

baking powder

1 ½

teaspoons

coarse salt

2 ½

sticks

unsalted butter

(280 grams or 10 oz by weight)

1 ¼

cups

light brown sugar

(250 to 280 grams or 9 to 10 oz by weight)**

1

cup

plus 2 tablespoons sugar

(225 grams or 8 oz by weight)

2

large

eggs

2

teaspoons

natural vanilla extract

3

cups

of the best chocolate chips you can find

Sea salt -- good

but I omit it half the time and the cookie are still great.
Instructions 
Thoroughly mix the flours, baking soda, baking powder and salt in a bowl. Set aside.

Using a mixer fitted with paddle attachment (a handheld mixer is fine), beat the butter and sugar until light and creamy, scraping side of the bowl often.

Add eggs, one at a time, mixing well after each addition. Stir in the vanilla. By hand (or using lowest speed of mixer if using stand mixer and paddle), stir in the flour mixture. When flour is incorporated, stir in the chocolate. At this point, I like to shape the cookies and chill the shaped balls.

Line a baking sheet with parchment paper and scoop out about 18 equal size balls. Chill until the dough is firm and the balls don't stick together, then put in a bag and chill overnight.

When ready to bake, preheat oven to 350 degrees and bring dough to room temperature.

Line a baking sheet with parchment paper or a nonstick baking mat and arrange about 6 dough balls per sheet. Press the tops down slightly and sprinkle tops with sea salt if desired.

Bake for 18 to 20 minutes. Let cool on the baking sheet for 5 to 10 minutes and then transfer to a cooling rack to finish cooling.

I usually transfer them to the refrigerator to quick cool and prefer the chocolate set rather than warm and melt-y
Notes
The original recipe calls for a 1 ¼ cups brown sugar and a weight of 10 oz/280 grams.  I usually cut the brown sugar down to about 9 oz/250 grams.