This is an old post from back when I was looking for the perfect recipe for carrot cupcakes. I ended up going with the recipe at the bottom adapted from The Essential Baker by Carol Blook. They're basic carrot cupcakes made with both brown and granulated sugar, oil rather than butter, lots of eggs and in this case, baby carrots.
Old Post -- Best Ever Carrot Cake
On Friday I posted an adapted version of the Allrecipes.com "Best Ever Carrot Cake". I liked it because it was dark (more of a brown hue than orange), had lots of pineapple, and was dense and moist without being soggy. The additional step of roasting the shredded carrot before adding them to the batter made the carrots less detectable in the baked cake, and in the end, the cake reminded me of the cake served at Gibson's in Chicago -- my favorite carrot cake.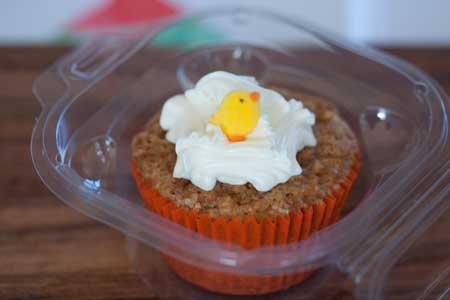 Carol Bloom's Carrot Cake
The next day I tried a new recipe adapted from Carol Bloom's The Essential Baker, and posted by Zoe. It was quite different from the other -- extremely moist, orange in color, and with carrots scattered throughout. I made the mistake of adding pineapple and even though I'd drained it, the cake was actually a bit too moist for my taste. Luckily, when I made it again without the pineapple it was perfect and made great cupcakes.
I still like a denser, darker, crumblier cake, but for those interested in a seriously moist carrot cake that doesn't need raisins or pineapple for moisture, I recommend the one from The Essential Baker. Here's the recipe in cupcake form.
Very Moist Carrot Cake Cupcakes
1 pound baby carrots
4 large eggs (or extra large)
1 ½ cups granulated sugar
⅔ cup light brown sugar
1 ¼ cups vegetable oil
1 teaspoon vanilla extract
2 ¼ cups (10.1 ounces) all-purpose flour
1 teaspoon baking soda
1 ½ teaspoons baking powder
½ teaspoon salt
2 teaspoon ground cinnamon
Preheat oven to 350 degrees F. Line 24 cupcake cups with paper liners.
Shred the baby carrots in the food processor, then put the carrots on a stack of paper towels and press down on them with more towels to remove as much moisture as you can. With a chef's knife or the chopping blade of a food processor, chop the shredded carrots.
In a mixing bowl, stir together the eggs, both sugars, vanilla and oil.
In a separate bowl, stir together flour, baking soda, baking powder, salt and cinnamon, then add to the batter and stir until incorporated. When flour mixture is incorporated, stir in the carrots.
Divide batter evenly between cups and bake on center rack for 25-30 minutes or until set (they'll spring back when touched). Let cool for about 10 minutes in the pans, then remove from cupcake cups to cool completely. Frost with your favorite cream cheese icing.