For St. Patrick's Day, I had what I thought was this great idea -- a Jell-O poke cake with white cake mix and green gelatin. It was perfect! Sort of.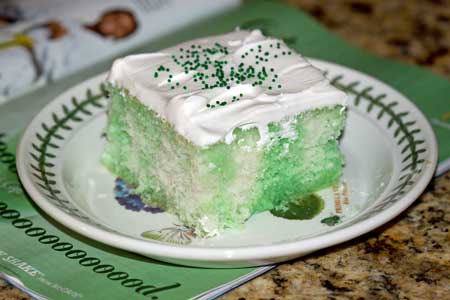 And by sort of, I mean if you like the flavor of Carmex or maybe the flavor of what a newly cleaned bathroom would taste like. We ate one piece and tossed it, which is not to say I won't make another poke cake, because I think raspberry or strawberry gelatin would be much better than the lime, which was just weird.
So I had so much fun making the poke cake I decided to make another one. Specifically, a pudding based one made with a scratch cake base and instant chocolate fudge pudding. It went over well and I was so enamored with poke cake I made a third. The last, at least for now, being a scratch cake with a chocolate pudding topping.
The scratch poke cake was great, especially the base, which unlike the cake mix version, wasn't mushy but firm and perfect with the pudding. The pudding recipe was a no egg cornstarch based recipe, but I think it would be equally good with Jell-O cook-over-the-stove type pudding or even instant. blah, blah, blah. Here's the recipe. Don't be surprised to see another one soon. I've got a fever, and the only prescription is more poke cake!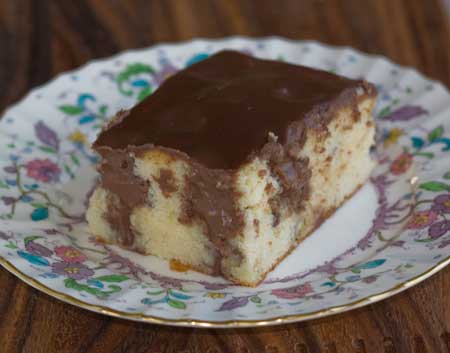 Scratch Pudding Poke Cake
2 large eggs
1 cup plus 2 tablespoons (4.5 ounces) cake flour
1 teaspoon baking powder
¼ teaspoon salt
½ cup (4 ounces) unsalted butter, room temperature
1 teaspoon vanilla
1 cup granulated sugar
½ cup room temperature sour cream
Chocolate Pudding Poke and Topping
½ cup granulated sugar
¼ cup natural unsweetened cocoa powder
2 tablespoons cornstarch
¼ tsp. salt
2 cups milk
1 ½ tablespoons melted butter
1 teaspoon vanilla extract
Separate the eggs while cold and let them come to room temperature.
Preheat the oven to 350 degrees F. Grease and flour an 8 inch square metal pan.
Sift together the cake flour, baking powder and salt and set aside.
Beat the egg whites until stiff peaks just begin to form — not too stiff or they'll be hard to fold. Set them aside to wait.
In a mixing bowl, using a handheld mixer or stand mixer with whisk, beat the butter on medium high speed until light and creamy. Beat in the vanilla. Gradually add the sugar, scraping the sides of the bowl once or twice and beating until light and creamy. Add egg yolks and continue beating for another minute or two, scraping sides of bowl. Reduce speed to low and add flour mixture alternately with the sour cream. When mixed, fold in the egg whites with a big, heavy-duty silicone scraper. When batter is well blended and there's no trace of egg white, pour into the pan.
Set pan on a heavy, even baking sheet and bake on center rack for 35 minutes or until cake tests done. While cake is warm, poke holes spacing 1 inch apart across the top with the handle of a wooden spoon.
Prepare pudding. In a saucepan, combine all of the dry ingredients. Put pan over medium heat and slowly add the milk, stirring constantly with a wire whisk or a wooden spoon until it starts to smooth out and thicken. This will take about 5 minutes or so. Continue stirring until it starts to boil, then boil at a low heat, stirring constantly, for about two minutes. Turn off the heat and add the melted butter and vanilla. Pour half of the pudding mixture over the cake, making sure it seeps down into the holes. Continue slowly pouring the pudding over the cake until it's fully coated. Let cool at room temperature for about 30 minutes, then transfer to the refrigerator and chill for 2 hours or until ready to serve.