Here's another one from Delicious Poke Cakes. Yay! It's called Strawberry Shortcake Poke Cake.  You take a loaf pan sized pound cake, poke holes in it, then pour over a mixture of pureed strawberries and gelatin. You then chill the cake long enough for the strawberry mixture to set, and serve it up with whipped cream and some berries. It's so pretty and makes a perfect Fourth of July dessert.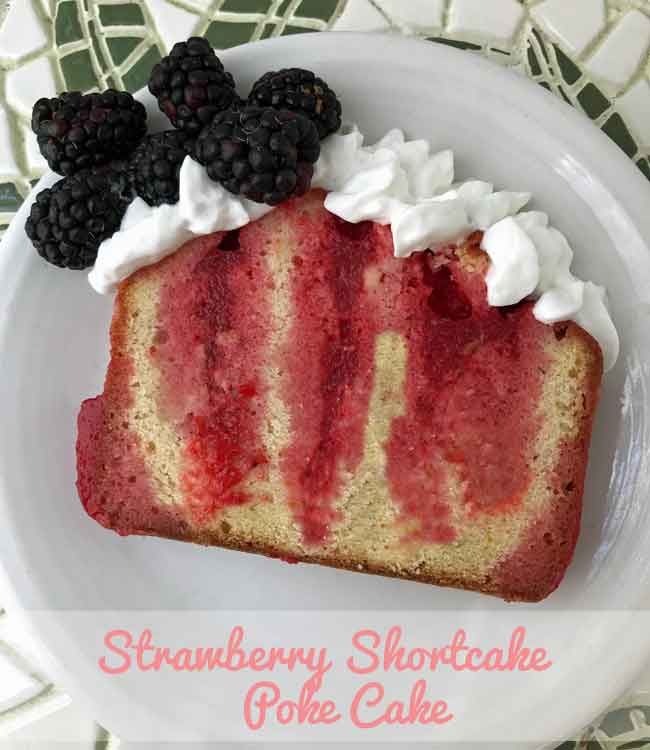 I had a good time making this -- or at least once the ingredients were gathered.  $5.99 seemed too much for frozen pound cake so I made my own. I couldn't find frozen berries in syrup and had to use a combo of unsweetened berries in sugar, and the only fresh berries were blackberries. And to top it all off, I accidentally threw the one straw we had in the house away and had to poke holes with a wooden spoon.
And what a mess this was coming together. I was convinced this would not work.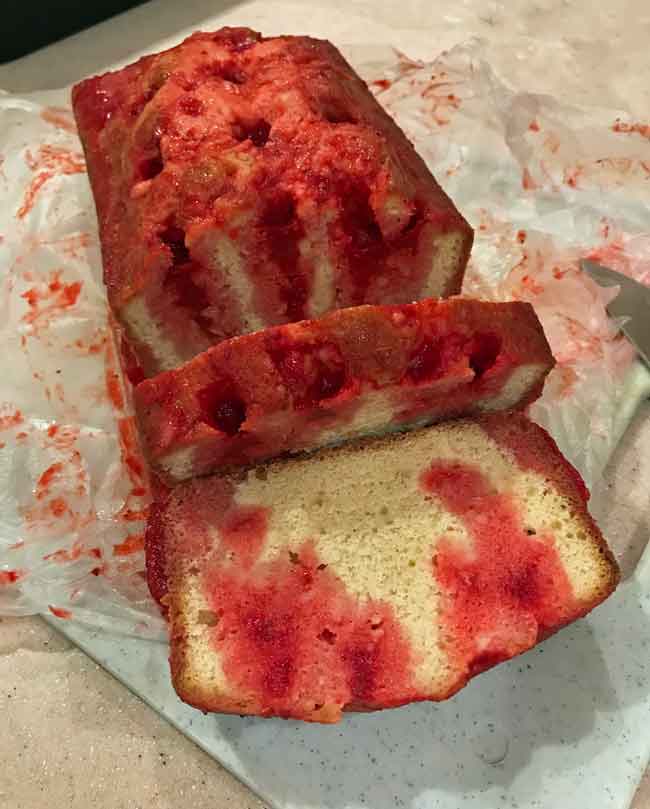 But at the end of the day it all turned out just fine and the family said it was almost as good as the cannoli poke cake. Next time I'll probably just buy the pound cake just to see how it works compared to the homemade one. I also think a rainbow version would be neat.  You could weigh out ⅓ a box of lemon, ⅓ a box of blue and make ⅓ the recipe for the strawberry puree.  Rainbow version is on the bucket list.
Recipe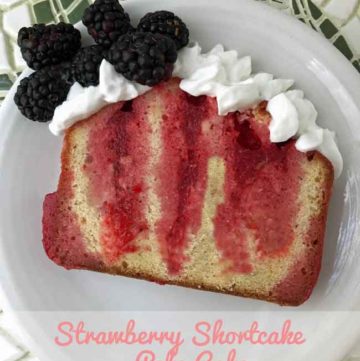 Strawberry Shortcake Poke Cake
An easy no-bake poke cake that starts with frozen pound cake.
Ingredients 
16

oz

frozen pound cake

Or use a homemade loaf

1

cup

water

1

box

strawberry gelatin

3 oz box

1

cup

frozen sliced strawberries in syrup

see note about making your own

½

tub

whipped topping

2

cups

fresh berries
Instructions 
Remove the lid from frozen pound cake and keep it nearby. Using a straw, poke holes evenly over the cake poking through all the way to the bottom. Note: You can also try using the handle of a wooden spoon, which is what I used. Stripes will be wider, but the strawberry mixture flows better.

Put a cup of boiling water in a large (4 quart) bowl and stir in the gelatin letting it dissolve.

Puree strawberries in syrup and add to gelatin.

Spoon or pour the strawberry mixture over the cake letting it fall down into the holes. This is a slow and gradual process. Do it a little at a time until all your little holes are full. Again, this takes a while so be patient.

Put the lid back over the cake and chill for at least 5 hours or overnight. Overnight is preferable!

Peel away the lid. Using scissors, cut away the box from the pound cake. Frost the cake with whipped topping and serve with fresh berries.
Notes
You can do this with a homemade pound cake.  Before poking, set the pound cake on a big sheet of plastic wrap and then fit it all back into the loaf pan so that the plastic is between the cake and sides of pan.  Poke the holes in the cake as directed, then cover the top with the plastic wrap before chilling.  When ready to serve, just lift from pan and peel down the plastic wrap.
To make your own strawberries and syrup, weigh out 9 oz of frozen strawberries (they don't have to be sliced) and put them in a bowl or plastic container.  Add a generous tablespoon of sugar, then let the strawberries thaw with the sugar.  Puree as directed in recipe.