If you're in the mood to try a new granola recipe, the May issue of Food Network Magazine features the recipe from Eleven Madison Park, a New York City restaurant famous for its $125 fixed price four course menu and the jar of granola given to customers upon their departure.  Hopefully this granola recipe will tide you over until you can make it to Eleven Madison Park for your fabulous dinner (or lunch…because who doesn't need a four course lunch?).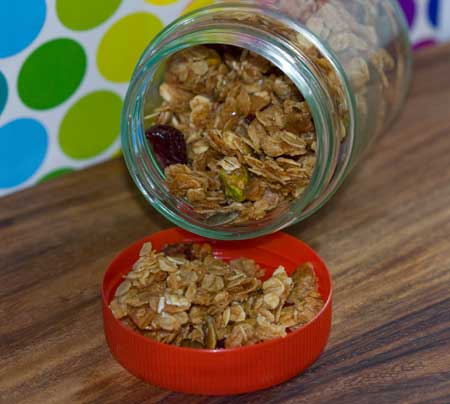 After making the granola (and eating too much of it), I did a search to see if I could find the recipe anywhere else. Surprise, surprise. It was all over the place! And different sources gave different bake times. Food Network said to bake it on two baking sheets for 20 to 25 minutes while other sources called for one sheet and gave a bake time of 35 to 40. I used the two sheet method, rotating racks halfway through, and mine was done in 28 minutes.
The other changes I made were to cut the salt down to 1/2 teaspoon, add some extra nuts and throw in a little vanilla. Unless you have a very coarse, crumbly, specialty Kosher salt, 1 tablespoon will be way too much. I used Morton Fine Sea Salt. The other two changes were to throw in a little vanilla and a handful of walnuts. Other than that, I was pretty true to the recipe and overall, it was good. The pepitas, pistachios and big flakes of coconut set it apart from the others, and the sour cherries are what make it special. Just watch the salt!  Just for kicks, I'm going to keep checking the review on Food Network Magazine's website to see how many people review the granola as salty.
Recipe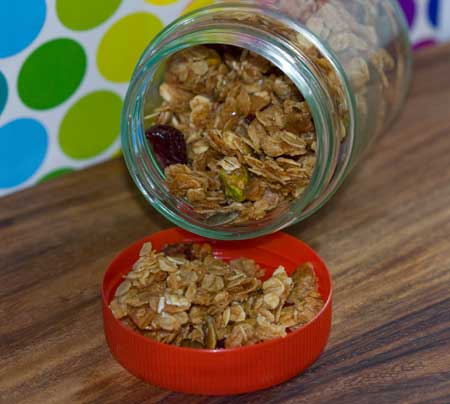 Eleven Madison Park Style Granola
Granola similar to the granola served at Eleven Madison Park
Ingredients 
2 3/4

cups

rolled oats

1

cup

unsweetened coconut flakes

1

cup

unsalted pistachios

1/3

cup

unsalted pepitas

1/2

cup

walnuts or other nut

1/2 to 3/4

teaspoons

fine sea salt

original calls for 1 tablespoon coarse Kosher

1/2

cup

packed light brown sugar

1/3

cup

maple syrup

1/3

cup

grapeseed

extra virgin olive or vegetable oil

1/2

teaspoon

vanilla extract

1/2

cup

dried sour cherries
Instructions 
Preheat the oven to 300 degrees F. Line 1 large (13×18) baking sheet or 2 smaller (anything less than 13×18) with parchment paper or nonstick foil.

Toss the oats, coconut, pistachios, pepitas, other nuts and salt in a large bowl. Warm the brown sugar, maple syrup and oil in a small saucepan over low heat, stirring, until the sugar dissolves. Alternatively, you can just heat in a microwave-safe measuring cup for about 30 seconds and stir well. Add the vanilla. Fold the sugar mixture into the oat mixture and stir to coat.

Spread the oat mixture on the prepared baking sheets (or sheet) and bake until dry and lightly golden, stirring every 15 minutes. Mine was divided into two sheets and done in 28 minutes, but if you make it on one large sheet, you'll probably need to bake for the original 35 to 40. Remove from the oven. Break it up a bit, leaving clumps, and then toss with the dried sour cherries. Let cool to room temperature.