If you're in the habit of enhancing cake mix with pudding, sour cream and butter, you won't be surprised to know that along with additions to make cake mix taste better, there are things you can do to make the mix serve a few more people. This is especially handy if you're making cupcakes for a group of 22 to 32. Rather than double a recipe or make two boxes of cake mix cupcakes, you can just extend the boxed mix with a few simple ingredients.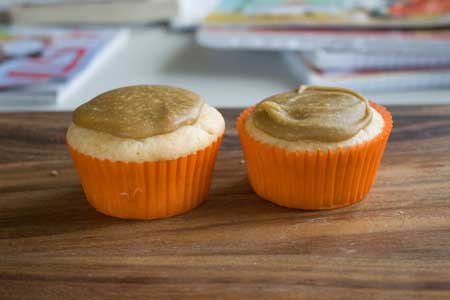 While perusing Cake Central, I found dozens of ways cake decorators had extended boxes of cake mix, including this Velvet White Cake which calls for the addition of cake flour, sugar, salt and vanilla along with the usual eggs and fat you'd add to cake mix. I made it as cupcakes and got 30, though I could have gotten up to 32. My tasters (one adult and two kids) gave them a big thumbs up! The artificial flavor was covered up by the extra sour cream and vanilla, and the dairy and cake flour made the cupcakes very tender.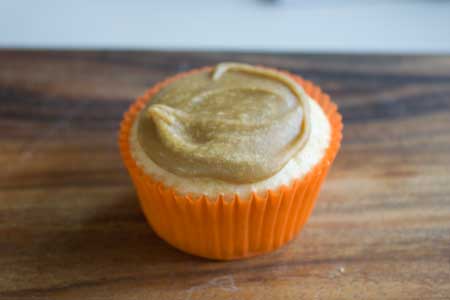 Because I'd been looking for an excuse to make the Cake Mix Doctor's caramel icing, I used that. It's been a while since I've made it, and while this batch tasted great, the top was a little mottled. Still, the kids liked the novelty of the candy-like icing, so I'm looking forward to trying it again or maybe finding myself a new caramel icing.
Here's the cupcake version of the recipe, plus I've included a few other changes such as a tad bit more salt and vanilla. The Cake Mix Doctor's Quick Caramel Icing recipe can be found on Food TV's website. That is, if you don't have the Cake Mix Doctor book!
White Velvet Cupcakes
1 box (18.25 ounces) white cake mix
1 cup granulated sugar
1 cup plus 2 tablespoons (4 ½ ounces) cake flour
1/4 teaspoon salt
1 1/3 cups water
3 large eggs
1/2 cup unsalted melted butter
1 cup sour cream, room temperature
1 1/4 teaspoon vanilla extract
Preheat the oven to 325 degrees F. Line 30 cupcake cups with paper liners.
Mix the dry ingredients (cake mix through salt) in a mixing bowl. Add everything else (water through vanilla) and stir to blend. With an electric mixer, beat on medium-high speed for 2 minutes. Batter will be slightly lumpy, but that is okay.
Spoon batter into cups and bake for 25-28 minutes or cupcakes spring back when touched and a toothpick inserted comes out clean. Let cool completely and frost with white or caramel icing.