White Velvet Cupcakes are from one of my very first experiments with now popular cake mix extenders. Also called cake extenders, cake mix extenders are combinations of flour, sugar, and various other ingredients that you add to boxed cake mix to make it taste like homemade. Because cake mix sizes have changed from 18.25 oz to 15.25 oz, I've had to adjust the recipe to work with the new amount of cake mix per box. It's also important to know that different mixes might give you different results. I tested the latest batch with a 15.25 oz box of Duncan Hines Classic White and will update with other brands.
Cake Mix Extenders
This cake mix extender is originally from Cake Central where cake decorators have shared their boxed mix enhancing secret for years. This one is the "sour cream extender" which calls for cake flour, sugar, salt, sour cream and extra flavoring. You can use it for cakes or cupcakes. There are other extenders that have different ratios of flour and sugar. Because this one also calls for a full cup of sour cream, it has more sugar to balance.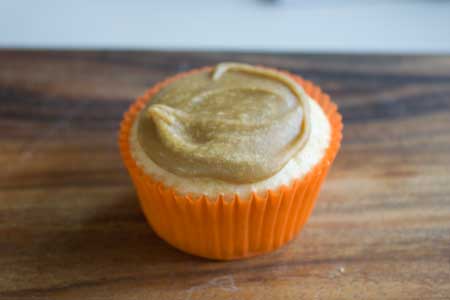 Quick Caramel Frosting
These cupcakes are good with any frosting, but when I first tested the recipe I used The Cake Mix Doctor's Quick Caramel Icing recipe from Food TV's website. It's also in the original Cake Mix Doctor cookbook. The quick version calls for confectioners' sugar and brown sugar. There are also some not-so-quick versions which take more time and caramel making expertise, but the quick and easy version works, and people seem to love it.
White Velvet Cupcakes with Duncan Hines Classic
Here's the revised recipe with the sour cream cake mix extender. For this batch, I used Duncan Hines Classic White. The amounts of other ingredients given on the box as of March 27, 2023 are 3 egg whites, 1 cup water and ½ cup vegetable or canola oil, so in addition to these things plus the extra cake flour, sugar and salt you'll add 1 whole egg,1 cup sour cream and a little vanilla.
White Velvet Cupcakes with Sour Cream Cake Extender
15.25 oz box white cake mix (Duncan Hines Classic White)
1 cup granulated sugar (200 grams)
1 cup (120 grams) cake flour
¼ teaspoon salt plus a pinch
Amount of liquid on box (1 cup water for DH)
Number of eggs (3 egg whites for DH) on box plus 1 additional egg
Amount of fat given on box (½ cup oil for DH)
1 cup sour cream
1 ¼ teaspoon vanilla extract or use 1 teaspoon vanilla and ¼ almond
Preheat the oven to 325 degrees F. Line 30 to 32 cupcake cups with paper liners. If you are using larger paper liners, you'll only need about 24 to 26.
Mix the dry ingredients in a mixing bowl. Add remaining ingredients. With an electric mixer, beat on medium speed for about 2 minutes. Batter will be slightly lumpy, but that is okay.
Spoon batter into cups and bake for 25-28 minutes or cupcakes spring back when touched and a toothpick inserted comes out clean. Let cool completely and frost with white or caramel icing.