Last week I complained about the flavor of quinoa, but rather than write it off completely, I've done a little more research and have continued trying to find ways to use it. Based on what I'm learning about quinoa, it's worth it. It's nutritious, plus it makes granola look a lot more interesting.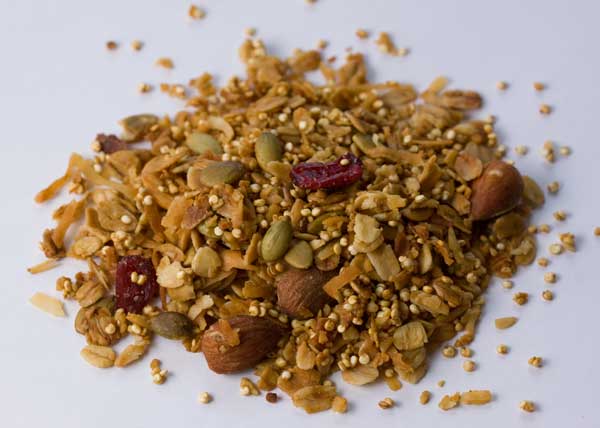 Prepared like rice, fluffy, and with what some call a nutty flavor, quinoa is considered a "super food". A modern grain it is not, as it has been used by the Andean people for thousands and thousands of years. Some sources say that second to the potato, it sustained the empire and it is a fact the Inca called quinoa "the Mother Grain", though technically quinoa is a seed rather than a cereal.
High in protein and containing the essential acids which make that protein complete, quinoa is also a source of calcium, iron, magnesium, copper, phosphorous and phytonutrients. And because quinoa is rich in fiber, it fills you up, slows digestion, and creates less of a spike in blood sugar than other carbohydrates.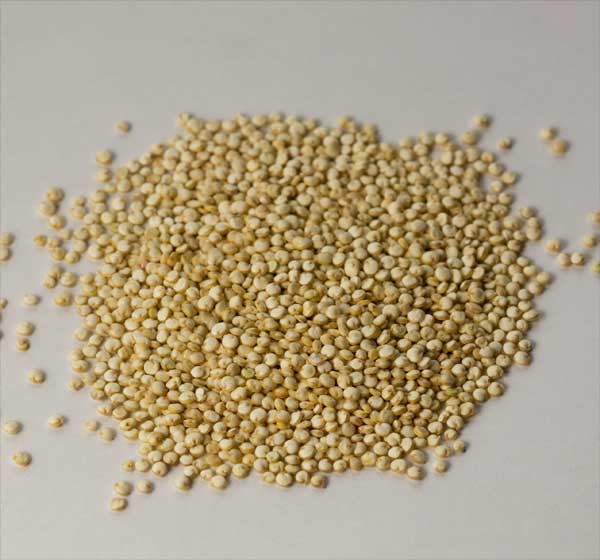 In its natural state, quinoa has a bitter, soapy-tasting coating that contains saponins which keep the birds away and make it an easier crop to grow. To remove the bitter taste, most companies rinse it, but I've found that no matter which brand I buy, I have to rinse it even more to remove the bitterness. But luckily, a good rinsing seems to improve the flavor, and I think my reasons for saying I did not like quinoa last week might have been that the quinoa I'd tried hadn't been rinsed well enough. In fact, I know I didn't rinse it enough before putting it in the steel cut oatmeal cookies.
Yesterday, while visiting with my mom in the kitchen, I decided to impress her by putting quinoa in granola. She'd never heard of quinoa, so I got to tell her all about it as I made the granola. It was like being on the Cooking Channel! Fun! But she had to leave before the granola was ready, so too bad. It was excellent! I used the ratios in the Fisher Nut recipe as a starting point, but modified the flavorings, used coconut oil, and swapped out some of the oats for quinoa. It's not as clumpy as some granola, but it is very tasty, and I'm kind of happy with less clumpy granola these days because it's easier to put in bars and cookies.
Recipe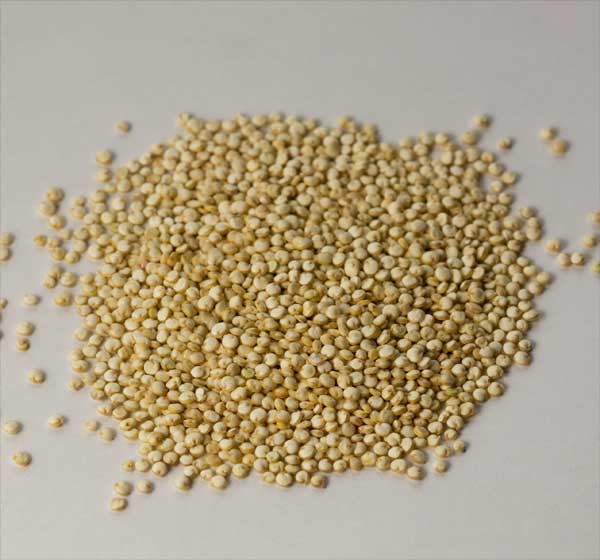 Granola with Quinoa
Granola recipe that uses quinoa
Ingredients 
1 ¾

cups

old fashioned oats

½

cup

quinoa

rinsed very well

⅔

cup

assorted nuts

almonds, pecans and/or walnuts

½

cup

flaked coconut

¼

cup

unsalted pumpkin seed kernels

pepitas

⅓

cup

canola oil or coconut oil

⅓

cup

maple syrup

2

tablespoons

mild molasses

1

teaspoon

vanilla extract

Pinch

of Salt

⅓

cup

dried cranberries
Instructions 
Preheat oven to 325°F. Line a rimmed baking sheet with nonstick foil.

In large mixing bowl combine oats, quinoa, nuts, coconut, and pumpkin seed kernels. Set aside.

In small microwave-safe bowl or Pyrex measure, combine coconut oil, maple syrup, molasses and salt. Heat for 30 seconds in microwave. Remove from microwave, give it a stir, then add the vanilla.

Slowly pour maple syrup mixture over the oat mixture and stir to coat.

Spread oat mixture evenly onto pan. Bake 20 to 30 minutes or until golden brown; stirring ever 10 seconds. Keep a close eye on it. When browned, take it out and let it cool. It will crisp as it cools. Don't try cooking it until it crisps in the oven or it will burn.

Stir in cranberries once the granola has cooled and crisped.