One of the best things about leaving home for college was this: I'd never have to look, smell or taste sauerkraut again. Blech! Okay, that was an overstatement, but I have some pretty bad memories of my mom spooning it out of a can, warming it in the microwave and serving it as a side to one of my least favorite meals. When I left home, I mentally erased it. Or tried. Out on my own, I started seeing it on restaurant menus and smelling it at carnivals where it was served with German sausage. Maybe it wasn't so bad after all? But the motivation to actually try it came in the form of chocolate cake — specifically, Chocolate Sauerkraut Cake.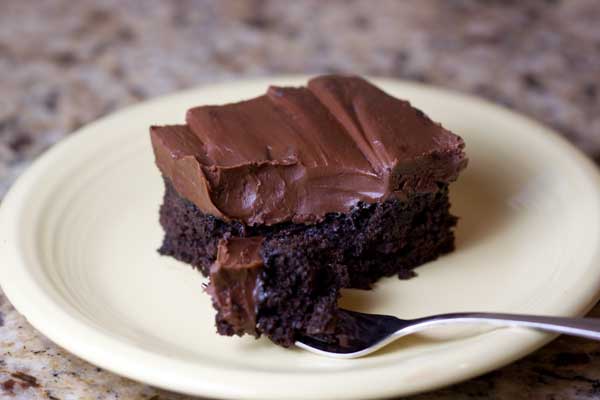 According to The Old Foodie, Chocolate Sauerkraut Cake was devised in the sixties as a way to use a surplus of canned sauerkraut — particularly in school lunchrooms, which explains why the cake's creator was a school lunch room supervisor. Since then different versions of the cake have appeared in newspapers and books, and for years I thought about trying it. It wasn't until this weekend that I finally took the time to buy sauerkraut and make it.
The process of draining, rinsing and chopping the sauerkraut was kind of fun, but the smell was just as off-putting as ever. To keep on track, I made a list of all my least favorite vegetables that were tasty in cake — squash, beets, sweet potato, and continued with the recipe, which was pretty relaxing and easy to pull together.
Had I done more research, I might have tried Amanda's Sauerkraut Cake, which is round and layered, but I ended up making a 9×13 inch "serve-out-of-the-pan" cake.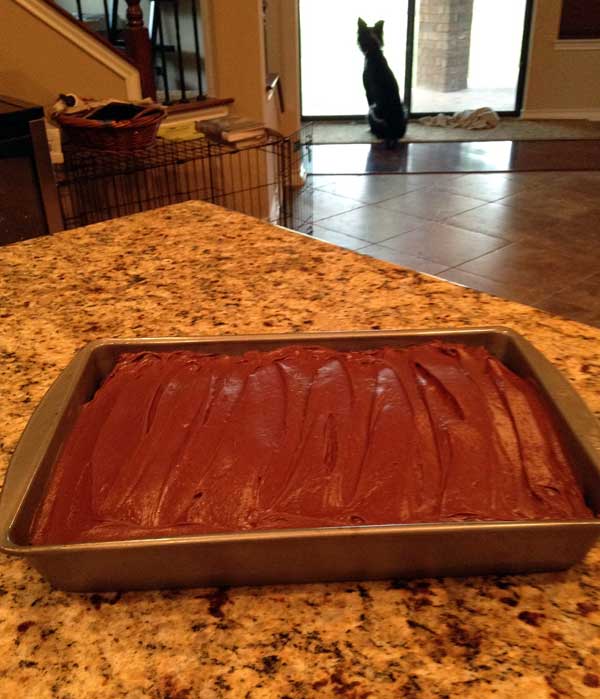 Since this cake is perfect for a potluck (especially a German themed event), keeping it portable was important. Plus serving it out of the pan made it easy to cut into moist and crumbly squares. The cake's flavor and texture were excellent and I would definitely make it again, but next time I will really focus on chopping the sauerkraut into tinier bits. I thought I'd done a good job with the chopping, but there were still little strings. Other than that, the cake was terrific, and I was happy with my decision to incorporate coffee and miniature chocolate chips. Plus the frosting was surprisingly fabulous.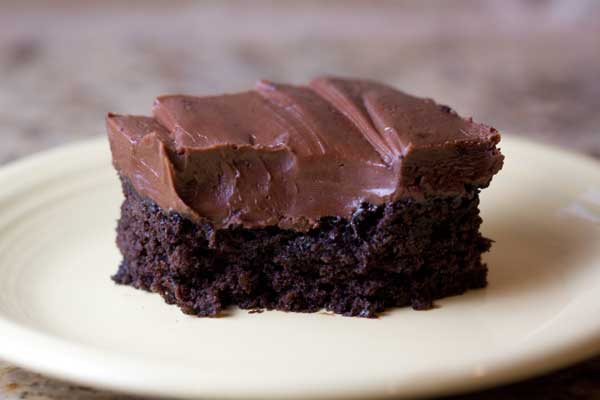 The frosting recipe was one that accompanied most other sauerkraut cake recipes. At first I wasn't sure whether it would be as good as my old standby, but I found that its smooth texture and the fact that it set up like creamy fudge, made it special. So as mentioned, I'd definitely make this one again, but might try it with drained applesauce instead of the sauerkraut…or maybe some other surprise ingredient.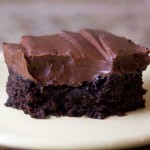 Print Recipe
Chocolate Sauerkraut Cake with Sour Cream Frosting
A serve-from-the-pan chocolate cake with a surprise ingredient -- sour cream! Try it for Wurstfest or some other German celebration.
Ingredients
1/2

of a 14 ounce can of sauerkraut

2

cups

9 ounces all-purpose flour

1/2

cup

unsweetened Dutch process cocoa powder

like Hershey's Dark

1

teaspoon

baking powder

1

teaspoon

baking soda

1/2

teaspoon

salt

4

ounces

1 stick unsalted butter, softened

1 1/2

cups

granulated sugar

1

teaspoon

vanilla extract

3

large eggs

room temperature

1

cup

warm brewed coffee

or water

1/2

cup

miniature semi-sweet chocolate chips
Frosting
4

tablespoons

unsalted butter

6

ounces

chopped bittersweet or semisweet chocolate

1/2

cup

room temperature sour cream

1

teaspoon

vanilla

1/4

teaspoon

salt

2 2/3

cup

unsifted powdered sugar OR 4 cups

12 oz sifted powdered sugar**

1-2

tablespoons

room temperature milk or as needed
Instructions
Preheat the oven to 350 degrees. Spray a 9x13 inch metal cake pan with flour-added baking spray.

Spoon half of the sauerkraut out of the can and into a sieve. Drain well, pat dry, and chop it up on a cutting board or better yet, in a mini chopper or food processor. Save the rest of the sauerkraut for something else.

In a medium size bowl, thoroughly mix the flour, cocoa powder, baking powder, baking soda and salt. Set aside.

In a large mixing bowl using an electric mixer, beat the butter and sugar until creamy. Beat in the vanilla. Scrape the sides of the bowl and beat in the eggs, one by one. When eggs are blended, add the flour mixture alternately with the coffee, stirring on low speed, just until mixed. Stir in the chopped sauerkraut and the miniature chocolate chips.

Pour the cake batter into the pan and bake on center rack for 33 to 35 minutes or until a toothpick inserted comes out clean. Let cool in the pan.

When ready to frost, melt the butter in a medium size microwave-safe bowl. Add the chopped chocolate and stir until it is almost fully melted. Microwave at 50% power for another 30 seconds and stir until chocolate is fully melted. Scrape into a large mixing bowl. Stir in the ROOM TEMPERATURE sour cream and vanilla. Add the powdered sugar 1 cup at a time and beat with an electric mixer until smooth and creamy. For thinner frosting, add a little milk. Spread over the cake.
Notes
**I sifted the powdered sugar before measuring so it was fluffy and only weighed about 3 ounces per cup. If you want to skip sifting because you plan on beating the lumps out with the mixer, just weigh out 12 ounces of un-sifted powdered sugar or measure out about 2 3/4 cups (volume) of powdered sugar. Whatever you do, don't measure out 4 cups of un-sifted powdered sugar or you'll be using over a pound of it. That being said, I recommend taking the time to sift the powdered sugar.