This Sour Cream Carrot Cake was a result of having a whole lot of sour cream leftover from a catered Mexican birthday dinner. I guess we don't put enough sour cream on our tacos because we had at least 2 cups left. It was a great excuse to make a cake calling for 3/4 cup of sour cream.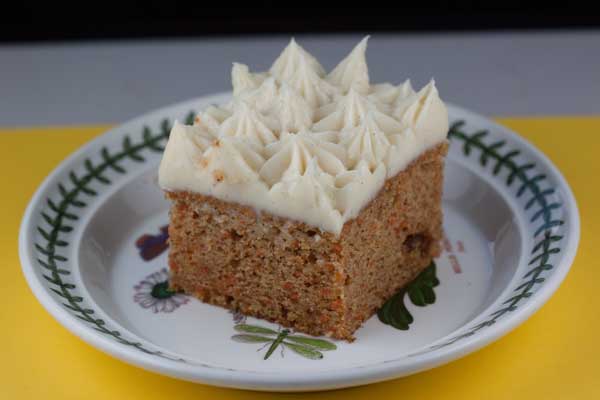 It's a pretty basic carrot cake where sour cream takes place of some of the oil and keeps the cake moist. This same cake can be made with applesauce in place of the sour cream, but since the Mexican place didn't serve us too much applesauce…
When I first posted this I didn't put sour cream in the frosting, but if you are seriously trying to get rid of sour cream, you should throw a couple of tablespoons in with the cream cheese frosting.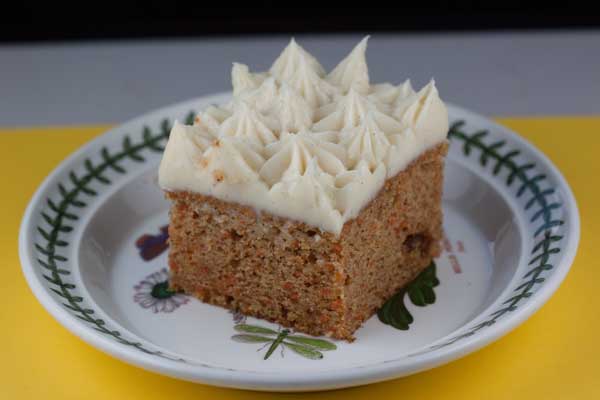 Sour Cream Carrot Cake
Sour Cream Carrot Cake
Ingredients 
2 1/2

cups

all purpose flour

(330 grams)

2

teaspoons

baking soda

2

teaspoons

cinnamon

1/2

teaspoon

salt

2

cups

sugar

(380 grams)

3/4

cup

vegetable oil

3

large eggs

3/4

cups

sour cream

1 1/2

teaspoons

vanilla

3

cups

shredded carrots

2/3

cup

nuts and/or raisins if desired
Frosting
2

packs

cream cheese

(450 grams)

1

stick

butter, softened

(114 grams)

1

teaspoon

vanilla or vanilla bean paste

2 1/3

cups

powdered sugar plus more as needed

(280 grams)
Instructions 
Preheat the oven to 350 degrees F. Grease and flour 3 (8-inch) round cake pans or grease the bottom of a 9×13 inch metal pan.

Thoroughly mix together the flour, baking soda, cinnamon and salt. Set aside.

In large mixing bowl using a handheld mixer, beat the sugar, eggs and oil until just until creamy. Add sour cream and vanilla and beat until blended. With a heavy duty scraper, stir in the flour, mixture, then stir in the carrots. Stir in nuts and/or raisins if using.

Pour the batter evenly into the pan (or pan) and bake for 25 to 30 minutes or until toothpick inserted in center comes out clean. Cool in the pans (or pan) for 10 minutes. Invert and let cool completely, or if making a 9×13 cake, just let it cool completely and frost the top.

To make the icing, beat the cream cheese and butter until smooth. Beat in the sugar and vanilla and continue beating until creamy. Add more sugar if desired.