I've been craving cookies with lots of oats and nuts lately — specifically, Monster Cookies. However, I already have so many Monster recipes that I decided to try something a little different. Unlike my favorite Monsters (that sounds like a sixties tv show, doesn't it?), these Butterscotch, Walnut and Oat Bars do not have peanut butter and are baked in bar form.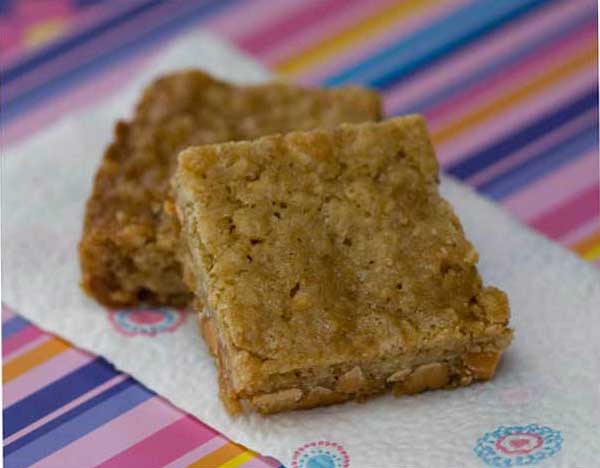 They also happen to be a one bowl cookie which you just stir, pour and bake. These were very flavorful and tasty, though I had to avoid the urge to throw Mini M&Ms on for color. They would have been cute, but I didn't want to interrupt the buttescotch theme with milk chocolate. Too bad they don't make butterscotch flavored M&Ms.

An easy bar cookie made with butterscotch chips, cereal and oats
Recipe type:
Butterscotch & Oat Bars
Ingredients
1 stick (4 ounces) unsalted butter
1 cup very firmly packed brown sugar
1/4 cup granulated sugar
2 tablespoons honey
1 teaspoon vanilla extract
1 large egg
1/2 teaspoon baking powder
3/4 teaspoon salt, or 1/4 if using salted butter
1 cup (4.5 ounces) all-purpose flour
1 cup quick-cooking oats, not instant
1 1/4 cup rice cereal (Krispies)
1 cup chopped and toasted walnuts nuts
1 cup butterscotch chips
Instructions
Preheat oven to 350 degrees F. Line a 13x9 inch pan with foil and spray foil with cooking spray.
Melt the butter in a microwave-safe mixing bowl. When melted, add the brown sugar to the hot butter and stir well. Stir in the granulated sugar, honey, vanilla and egg just until mixed. Beat in the baking powder and salt; stir in the flour. When well mixed, stir in the oats, cereal, nuts and butterscotch chips.
Bake for 22 to 25 minutes or until bars appear set. Let cool completely in the pan, then lift from pan and cut into bars
Notes
You can use chocolate chips instead of butterscotch chips. For a half batch, use an 8 inch square pan and cut all the ingredients in half. For the egg, that means using 2 tablespoons lightly beaten. The time should be reduced to about 18 to 20 minutes. To toast the nuts, just lay them on a baking sheet and bake at 350F for about 6 to 8 minutes or until aromatic.