Now that we're home from Disney World, I can officially say that late August is a decent time to go. It was very humid, but there were also scattered showers and periods where the sky was overcast and the temperature was pleasantly warm rather than hot. Those days were the best!  Our hotel was called The Boardwalk Inn. It was our first time at the hotel, but we knew the area well having stayed at the nearby Swan and Dolphin.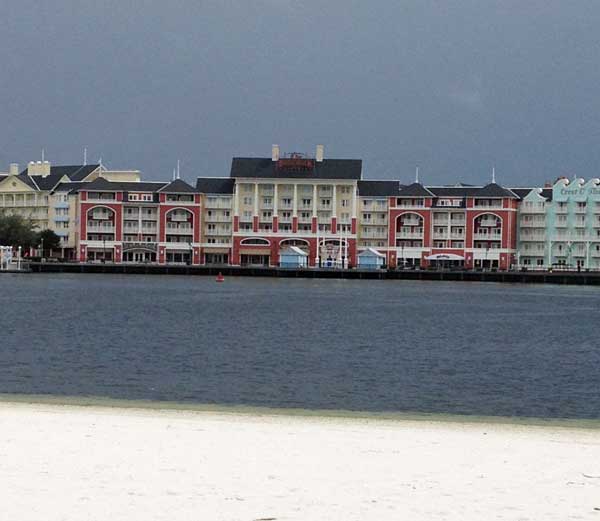 I took this picture of the Boardwalk from the front of the Beach Club hotel.  The area is designed to look like an old time New England beach resort – a combination of Martha's Vineyard, Cape Cod and Coney Island all rolled into one. There are jugglers, surrey rides, boats and everything is within walking distance to Epcot and Hollywood Studios, which are the two parks we like the most these days. So right now I'd say The Boardwalk area is my favorite place to lodge , and in honor of that I've made the famous brownies that are attributed to the area's favorite bakery.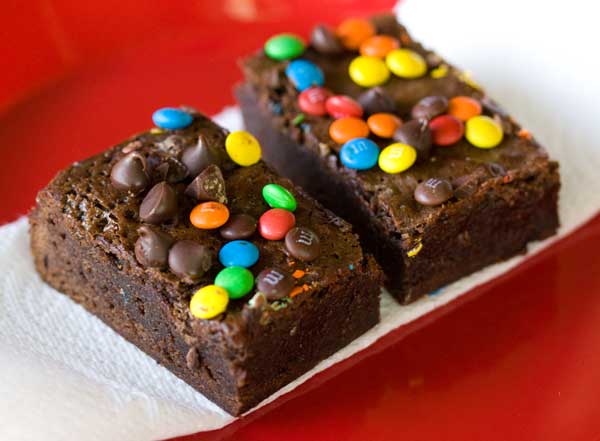 I don't know if this is truly a Disney recipe, but it's a nice tribute either way. As mentioned, the brownies are named after The Boardwalk Bakery (next door to Cat Cora's excellent restaurant, Kouzzina), which Fuzz and I discovered was so popular at breakfast time that in order to purchase anything, you had to wait in a very long line. This is my excuse for not actually buying one while at Disney World.  It's a bad excuse and I probably should have stood in the line, but I'd just about had it with lines and Fuzz and I ended up eating an orange back in the room. Plus I knew I had this recipe to come home to, so it wasn't a big deal.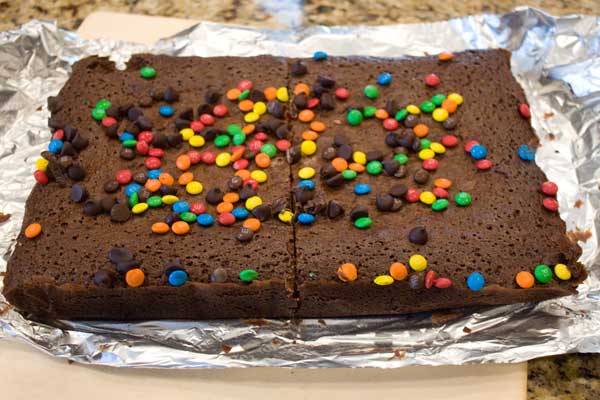 Okay, so about the recipe.  Some of you will immediately notice the copious amounts of butter and oil, but keep in mind there's a large amount of corn syrup, sugar, eggs and flour to balance it all out.  These brownies are rich and fudgy, but not greasy tasting/feeling….at least not to me, and especially not after having been chilled.   The recipe makes a full 9×13 inch pan of very hefty, bakery style brownies. I cut mine into 16ths for the photo and each 16th weighed about 3.5 ounces. That's a good size for bake sales, but if you're baking these for a group, you might want to go with 32 squares.
The other changes I made to the original recipe were to increase the baking time from 15 minutes (I'm pretty sure that was a typo in the original) to about 50, add 1 1/2 teaspoons of vanilla, and add a full teaspoon of salt to make up for the unsalted butter.  I also sprinkled M&Ms and chocolate chips on top of the hot brownies.  Why not?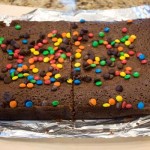 Print Recipe
Boardwalk Brownies
Brownie recipe which is said to be the one used by Disney's Boardwalk Bakery
Ingredients
2

sticks

8 ounces unsalted or salted butter

1

teaspoon

of salt only if using unsalted butter

if using salted, use 1/4 tsp

2

cups

granulated sugar

1

cup

light brown sugar

firmly packed

1

cup

light corn syrup

1 1/2

teaspoons

vanilla extract

6

large eggs

room temperature

1 1/8

cups

unsweetened cocoa powder

natural or Dutch

6

tablespoons

vegetable oil

2

cups

9 ounces all-purpose flour

Mini M&Ms and chocolate chips for garnish
Instructions
Preheat the oven to 350 degrees F. Line a 9x13 inch pan with nonstick foil or parchment paper.

In the bowl of a stand mixer with a paddle attached, beat the butter, salt (if using), both sugars, cocoa powder, corn syrup and vanilla until well mixed, scraping sides of bowl often.

With mixer on lowest speed, add the eggs one at a time, stirring just until mixed. Add the oil and stir until incorporated, then stir in the flour, scraping bowl. This takes some elbow grease because there's a lot of batter and it tends to stick to the bottom of the bowl.

Spread the batter in the pan and bake at 350 degrees F. for 45 to 50 minutes or until brownies appear set.

Sprinkle some M&Ms and chocolate chips over the hot brownies. They should melt a little and adhere. If not, you can drizzle melted chocolate over the brownies later and THEN add the toppings.

Let cool at room temperature, then chill for at least 3 hours before slicing. I'm convinced brownies taste better the second day, but that's just me.

Cut into 16 large or 32 small brownies. Store in refrigerator.