I've been making Shirley Corriher's Magnificent Moist Golden Cake for years now. The recipe is from Bakewise, a book you'll want to read carefully to learn the science behind why we (sometimes) do what we are supposed do when baking. In Bakewise, Shirley gives science lessons and offers recipes to illustrate each one. Her Magnificent Moist Golden Cake shows how folding unsweetened whipped cream into the batter adds moisture and produces a velvet-like texture. The recipe has other take-aways as well, but the one I always remember is that it's the velvety textured cake where you fold the whipped cream in at the end.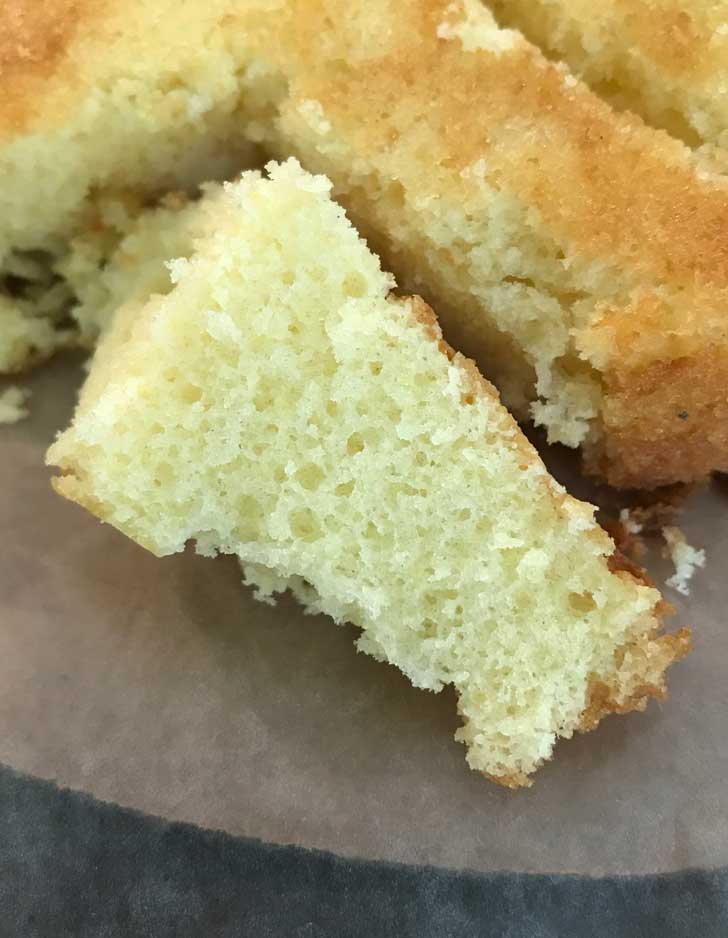 Magnificent Moist Golden Cake Pan Size
This has become one of my favorite yellow cake recipes. Shirley designed it to fit a 9x2 inch round cake pan, which makes it a very thick cake. When I first started making it, the only 9 inch round cake pans I had were less than 2 inches deep, so I had to divide the cake between two pans. I now have the proper size cake pans, but I still very often just halve the recipe and make it in one pan. It's a thinner layer, but it works perfectly for my other favorite trick, which is cutting out 3 4-inch circles, stacking and making a small 3-layer cake. I call this the Mickey Mouse method. It leaves lots of scraps for sampling, too.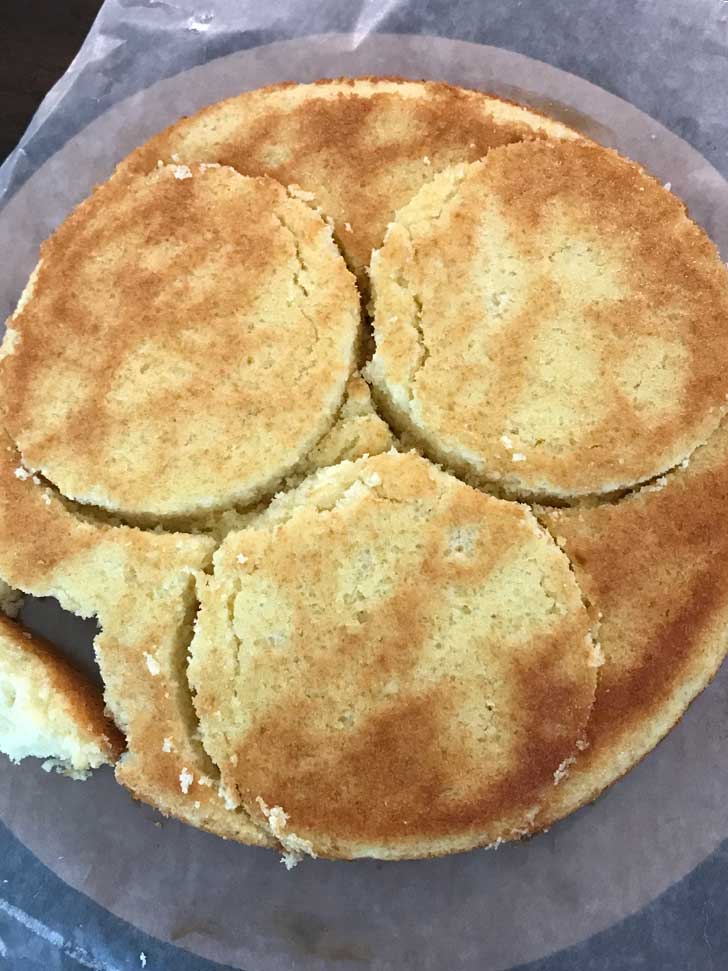 A Few More Notes About The Recipe
So I always think of this recipe as "the one with the whipped cream" but there are other interesting things about it. There's no creaming of the butter and sugar. Instead, Shirley has you pour boiling water over the sugar so that the sugar dissolves quickly. It's another contributor to that wonderfully soft texture. Like most other moist cakes, it includes oil. In this case, it's a combination of butter and oil -- butter for flavor and oil for texture. With the price of butter these days, I appreciate that you don't have to use so much. And the other thing worth noting is the cake flour. Be sure to use it or the recipe will not work. I usually use Swans Down brand.
Frosting Recipe
I didn't include a frosting recipe with this cake, but if you need a good chocolate frosting made with natural cocoa powder, here's a link to my very favorite chocolate frosting. The sour cream makes it special.
Here's a link to the book if you'd like to have the actual recipe with all of the notes. It's definitely worth buying! BakeWise: The Hows and Whys of Successful Baking with Over 200 Magnificent Recipes
Other Recipes You Might Like
Recipe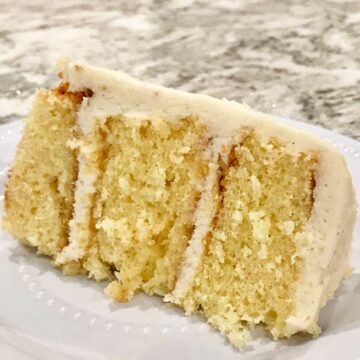 Yellow Cake Inspired by Shirley C.
Moist Yellow Cake adapted from a recipe by Shirley Corriher
Ingredients 
½

cup

heavy cream

(120 ml)

1 ¾

cup

cake flour

(200 grams)

1 ¾

teaspoon

baking powder

1 ½

cup

granulated sugar

(300 grams)

⅓

cup

boiling water

4

tablespoons

unsalted butter cut in 1 tbsp pieces, softened

(56 grams)

2

teaspoon

pure vanilla extract

½

teaspoon

salt

⅓

cup

vegetable oil

3

large

egg yolks -- bring to room temperature

2

large

eggs -- bring to room temperature
Instructions 
Preheat oven to 350 degrees F. Spray a 9x2 inch round cake pan with cooking or baking spray and line with a round of parchment paper. Alternatively, you can use two pans (for thinner layers).

With clean beaters, whip the cream and set aside. If you are worried your whipped cream won't hold up you can do this step last, but I like to do it first to get it out of the way, especially if making this cake with a handheld mixer and one set of beaters.

Thoroughly mix flour and baking powder in a bowl and set side.

Put the sugar in the mixing bowl. Add the hot water to the sugar and beat with a heavy duty scraper for a few seconds to dissolve the sugar. Add the butter, vanilla, and salt. Add the oil and mix on medium speed with an electric mixer to blend.

Sprinkle about ⅓ of the flour mixture over the sugar mixture. Beat by hand or with the mixer. Continue adding the flour until all is incorporated. By hand, stir in the egg yolks one at a time, and then stir in the whole eggs one at a time.

Fold about a third of the whipped cream into the batter to lighten, then fold in the rest.

Pour the batter into pans. Drop the pans onto the counter from a height of about 4 inches a few times to get out any bubbles. If making one thick layer, the bake time should be around 40 minutes. If making two thinner layers, the bake time will be closer to 25 to 30 minutes. The top will be very brown due to all the sugar and the internal temperature of the cake should be around 209F.

Frost with your choice of frosting.