Due to an empty box of cake flour, the yellow cake experiments were delayed until this morning. Don't worry. They're back!
For those of you just catching up, I've been baking and comparing yellow cakes all week. The first three, adapted from Magnolia, Carole Walter and Paula Deen recipes, were variations on 1-2-3-4 cake and were all very good.
This second round, adapted from Cook's Illustrated, Shirley Corriher and a blog called Egg Beater, are more like true yellow cakes rather than butter cakes, as they contain more egg yolks and are so less crumbly.
Up until now, my favorite of all cakes tested was Cook's Illustrated's recipe, but we have a new winner. Shirley Corriher's Magnificent Moist Yellow Cake has moved to the top of the heap.
The recipe I used is adapted from Shirley Corriher's book, Bakewise, which I accidentally packed away in storage until we move to our new house. Given the situation, I had to use an adapted version off Pink Antler Cakes, which I then "adapted" some more — and by that I mean streamlined. You could argue that because I didn't do things exactly the same as Shirley, it's a different recipe. However, given the excellent results I think I just used different means to reach the same end and you'll be safe using this recipe if you don't have the book yet.
Adapted from the every-baker-must-own cookbook BakeWise: The Hows and Whys of Successful Baking with Over 200 Magnificent Recipes
I didn't include a frosting recipe with this cake, but if you need a good chocolate frosting made with natural cocoa powder, here's a link to my very favorite chocolate frosting. The sour cream makes it special.
Other Recipes You Might Like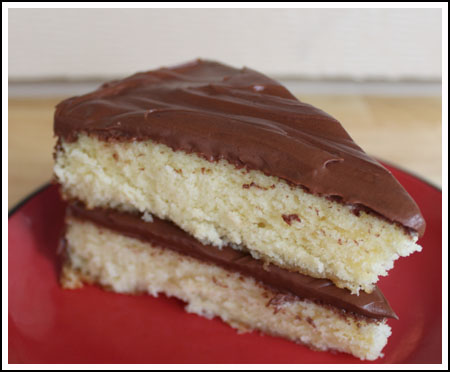 Yellow Cake Inspired by Shirley C.
Moist Yellow Cake adapted from a recipe by Shirley Corriher
Ingredients 
1/2

cup

heavy cream

(120 ml)

1 3/4

cup

cake flour

(200 grams)

1 3/4

teaspoon

baking powder

1 1/2

cup

granulated sugar

(150 grams)

1/3

cup

boiling water

4

tablespoons

unsalted butter cut in 1 tbsp pieces

(56 grams)

2

teaspoon

pure vanilla extract

1/2

teaspoon

salt

1/3

cup

vegetable oil

3

large

egg yolks

2

large

eggs
Instructions 
Preheat oven to 350 degrees F. Spray two 9-inch round pans with flour-added baking spray and line bottoms with rounds of parchment. For a taller cake, use 8 inch pans.

Put a stand mixer bowl and whisk attachment (or regular bowl and beaters) in the freezer to chill for about 5 minutes.

Take out the chilled mixing bowl and whip the cream just a little beyond soft peak stage. Scrape it out of the bowl and set it aside.

Thoroughly mix flour and baking powder in a bowl and set side.

Put the mixing bowl back onto the stand mixer (no need to rinse) and add the sugar. Add the hot water to the sugar and beat a few seconds to dissolve the sugar, then add the butter, vanilla, and salt. Add the oil and mix on medium speed to blend.

Sprinkle about 1/3 of the flour mixture over the sugar mixture. Stir by hand — I do this with a heavy duty scraper. Continue adding the flour until all is incorporated. By hand, stir in the egg yolks one at a time, and then stir in the whole eggs one at a time. Fold a little of the whipped cream into the batter to lighten, then fold in the rest.

Pour the batter into pans. Drop the pans onto the counter a few times to get out any bubbles. Bake for about 20-23 minutes, checking at 15 minutes.

Frost with your choice of frosting.