Watching Amy's tutorial on Pumpkin Challah motivated me to get in the kitchen and make yeast bread. And while the Pumpkin Challah is still on the agenda, I was sidetracked by something called Garlic Monkey Bread, which I'd never made but had always been curious about having seen a million variations of it in old Bake-Off cookbooks.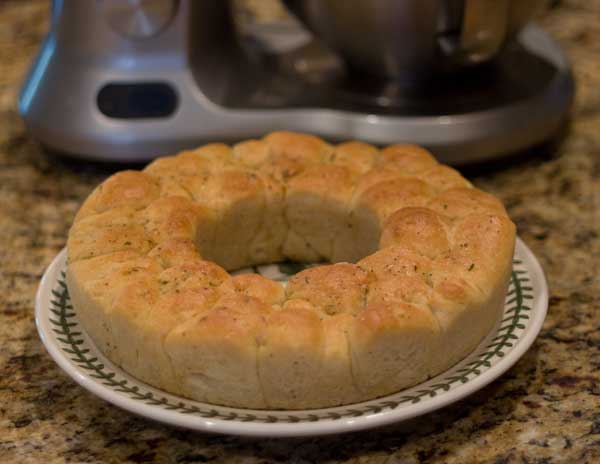 What is Monkey Bread?
Monkey bread is composed of little balls of dough all stuck together and baked. Made in a cake pan or ring pan, the result is a pretty loaf that can be easily pulled apart by gangs of monkeys.  Or at least that's what I imagined until I went to Wikipedia and saw that it was probably named for a tree. I like the "torn apart by monkeys" theory a little better.  Or maybe it's called Monkey Bread because it's so easy a monkey could make it?  Several versions are made with canned biscuit dough, canned cinnamon roll dough or frozen dough.  After making this scratch version, which is savory (many versions are sweet and more suited for breakfast), I'm looking forward to trying one of the convenience recipes -- one where I don't have to worry about killing any yeast.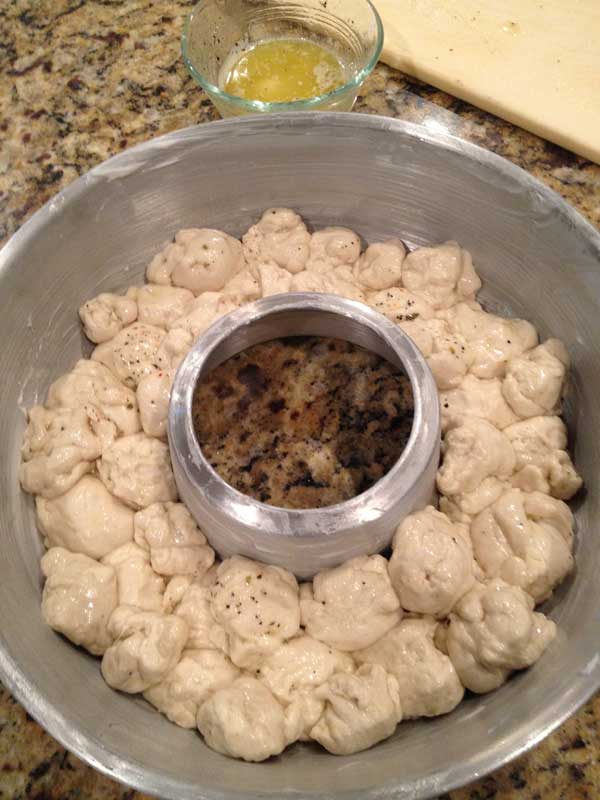 Despite the fact this one's from scratch, it's still fairly simple and I recommend it for those of you who like to make yeast breads.  For everyone else, I found another version on Food.com that uses packaged bread dough.  Whichever version you go with, don't be surprised if you pull it out of the oven and it gets attacked by a gang of monkeys.
So Where's The Recipe?
Back when I first posted this I linked to a scratch recipe on a site called Better Recipes. The recipe is no longer there. Looks like I'll have to make a new scratch Monkey Bread. That being said, the versions made with refrigerated bread dough are pretty darn good!