All-Bran Chocolate Chip Cookies are from a recipe adapted from the back of the cereal box. They have a little more flour and a little less butter than the usual Toll House recipe, and the recipe includes ½ cup of softened bran which bulks up the cookies and lowers the calorie count ounce per ounce. Not that these are low calorie cookies (especially my version -- I doubled the chocolate!), but they have less fat, ounce per ounce, than most chocolate chip cookies and an interesting flavor from the bran. No one around here thinks they taste "healthy". They're just less rich.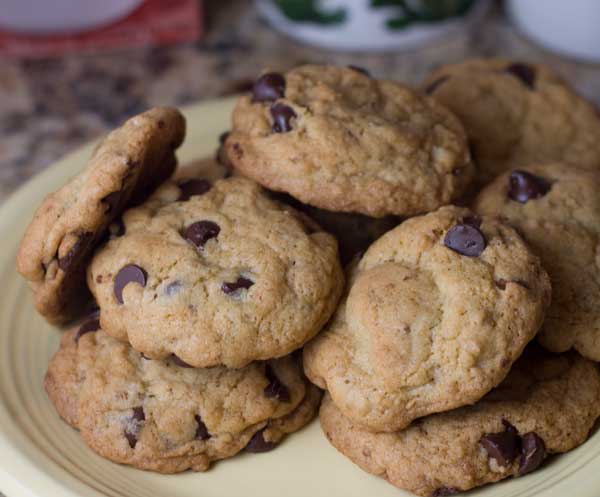 I have made a similar version before, but this time I made a few small changes which resulted in a big difference in texture. While the others were slightly cakey, this batch was denser and firmer and a little crunchier. I think it's because I used grapeseed oil in place of some of the butter and used a bit more flour. Flour amounts are variable depending on whether you sift and how you scoop, and this time I didn't sift. I just stirred the flour and aerated it as usual. All in all, these are better than the last batch and I love the fact that the grapeseed oil cut some of the saturated fat and improved the texture. Like coconut oil, it's an interesting fat to experiment with in baking. hope some of the health claims are true.
Update:  Just made a batch of All-Bran Chocolate Chip Cookies with Bran Buds and am not crazy about the results.  The Buds don't break down like regular All Bran so you get little nuggets of cereal in the cookie.  I recommend making these with regular All Bran rather than All Bran Buds.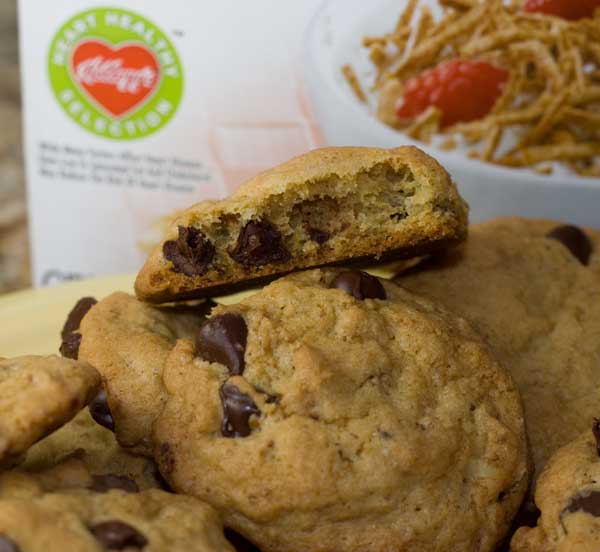 Recipe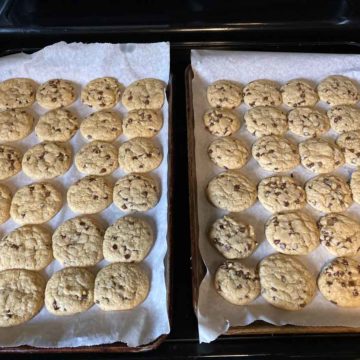 All-Bran Chocolate Chip Cookies from the Cereal Box
Chocolate chip cookies with a little extra fiber
Ingredients 
½

cup

All-Bran cereal

or 1 cup Bran flakes crushed to make ½ cup

¼

cup

hot water

8

tablespoons

unsalted butter

1 regular size stick

¼

cup

vegetable oil

preferably grapeseed oil

¾

cup

firmly packed light brown sugar

150 grams

¾

cup

granulated sugar

150 grams

2

large eggs

1

teaspoon

vanilla extract

2 ½

cups

all-purpose flour

313 grams

1

teaspoon

baking soda

¾

teaspoon

salt

or ¼ tsp if using salted butter

2

cups

extra dark chocolate chips

⅔

cup

toasted and chopped walnuts

optional
Instructions 
Preheat oven to 375 degrees F. Line two baking sheets with parchment paper or nonstick foil.

In a small bowl, combine the bran cereal and water. Set aside and allow bran to soften.

In a large mixing bowl using an electric mixer, beat the butter, oil and both sugars until creamy. Beat in the eggs, one at a time, then beat in the vanilla.

Stir the softened bran into the batter.

Combine the flour, baking soda and salt, and gradually add the flour mixture to the batter, stirring by hand or using lowest speed of mixer.

Stir in the chocolate chips and nuts.

Using a level tablespoon, shape dough into balls and arrange about 2 ½ inches apart on baking sheets.

Bake cookies for 10 to 13 minutes on center rack (they should be golden brown and appear set).

Remove from oven and let cool on baking sheet for 10 minutes. Transfer to a wire rack and let cool completely.
Notes
I used a full teaspoon of salt and while I liked the sweet/salty flavor, but ¾ teaspoon is a safer bet if you don't like a hint of salt in each bite. If you use salted butter or margarine, reduce the salt to ¼ teaspoon.