My daughter loves autumn and all the pumpkin spice flavors that go with it. Unfortunately, her enthusiasm for fall flavors got the best of her when she impulsively bought some pumpkin spice flavored Greek yogurt to eat for breakfast. Long story short. She forgot she didn't really like yogurt and I ended up using it in Small Batch Greek Yogurt Brownies.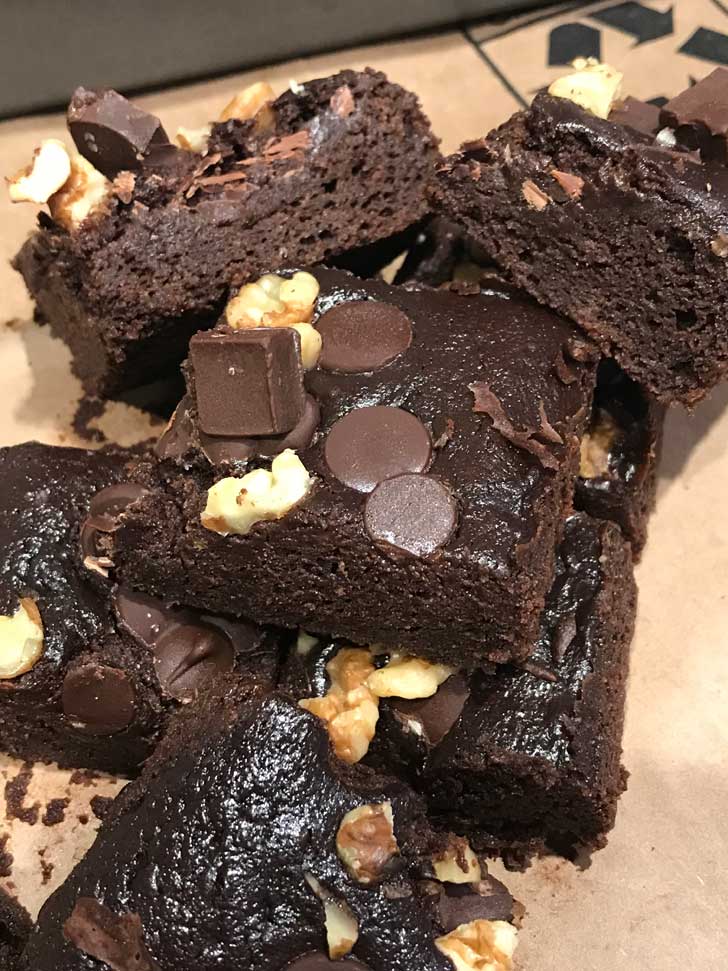 Greek Yogurt Brownies Texture
The texture and chocolate flavor were wonderful, but the pumpkin spice flavor was a distraction.  I ended up running across the street for another carton of yogurt so I could make a second batch with plain Greek yogurt.  Much better! The texture is similar to No Pudge brownies, but a little richer because these brownies are low fat rather than fat free.  So they have some fat, but are lower in fat than the original version from Bon Appetit which uses 6 tablespoons of butter.  These call for just a little bit of coconut oil and some applesauce.  As for the batch size, this recipe will give you 8 brownies -- just enough for the family to enjoy.
Small Batch Skillet Greek Yogurt Brownies
I recently baked a batch of the Greek Yogurt Brownies in my small cast iron skillet -- one that measure 6.5 inches across the top and holds a little over 2 cup of batter. This recipe worked perfectly. The batter goes to the top of the pan so the brownies are pretty thick and the bake time needs to be increased to about 35 minutes.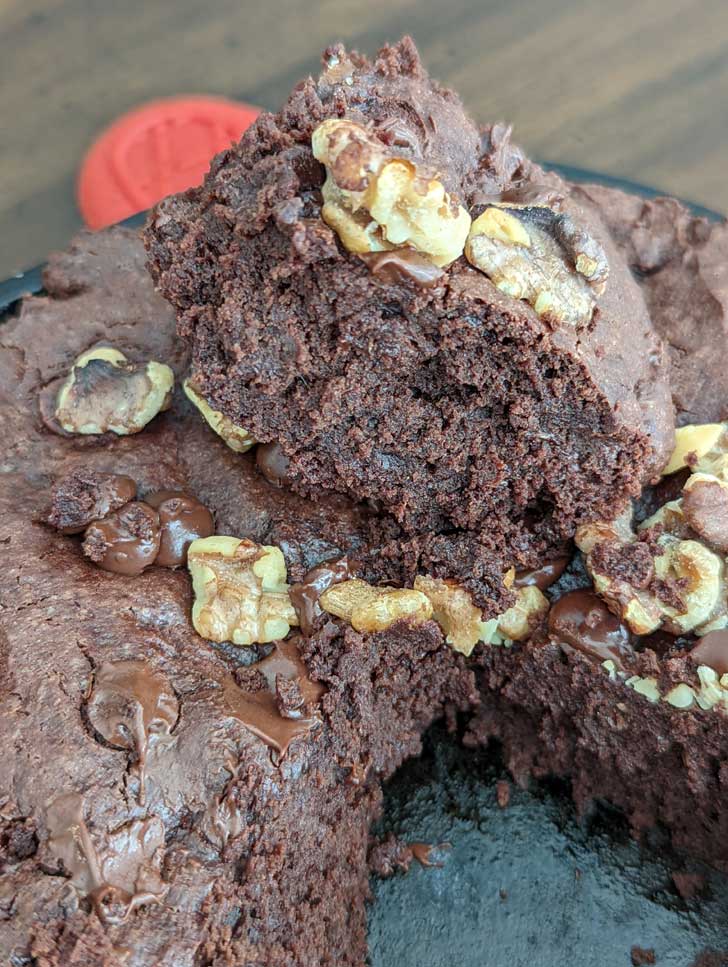 Gluten-Free Version
I recently tested these with a 1:1 gluten-free blend (Bob's) and it worked well. Just use 63 grams of a gluten-free blend in place of the AP flour.
Recipe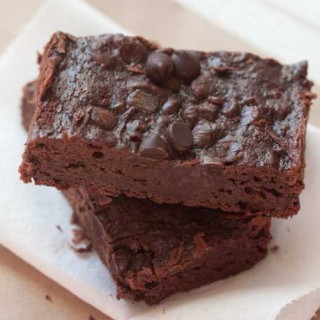 Small Batch Greek Yogurt Brownies
Small Batch Greek Yogurt Brownies are reduced fat brownies baked in a loaf pan.
Ingredients 
½

cup

all-purpose flour or pastry flour or 63-68 grams of a gluten-free blend (I've tested with Bob's)

(63 grams)

¼

teaspoon

baking powder

⅛

teaspoon

salt

1

tablespoon

coconut oil

(14 grams)

½

cup

semisweet chocolate chips

divided (90 grams)

¼

cup

unsweetened cocoa powder

Dutch processed (24 grams)

½

cup

granulated sugar

(100 grams)

½

teaspoon

vanilla

2

tablespoons

unsweetened applesauce (or omit and just use an extra 28 grams of yogurt)

½

cup

low fat Greek yogurt

(114 grams)
Instructions 
Preheat oven to 325 degrees. Line a 9x5 inch metal loaf pan with nonstick foil.

Mix the flour, baking powder, and salt in a small bowl and set aside.

Combine ¼ cup of the chocolate chips and 1 tablespoon coconut oil in a medium size microwave-safe mixing bowl and heat for 30 seconds to soften chips. Stir until chips are melted and smooth. If chips aren't completely melted, microwave for another 15 seconds and stir.

Using a heavy duty heat-proof scraper, stir the cocoa powder into the melted chocolate chips until smooth.

Add sugar, applesauce and vanilla to chocolate mixture and stir, scraping sides of bowl, until smooth and thick. Add the yogurt and stir until incorporated.

Add the flour and stir until blended, then stir in the remaining chocolate chips.

Scrape into the loaf pan (it will be very thick) and spread evenly to the corners.

Bake at 325 for 28-30 minutes or until a tester inserted comes out clean or with most crumbs (as opposed to batter). Top will still be a little shiny.

Let cool at room temperature for about 20 minutes, then transfer to the refrigerator and chill thoroughly. Lift from pan and cut into 8 brownies.
Notes
If you don't want to use the microwave, you can make the whole recipe in a saucepan using gentle heat or in a double boiler.