This is an old (2012) post from back when Brownie Brittle was a new thing. Now it's popular and comes in regular and gluten-free. My recipe is for Brownie Bark, and its history lies in the old post. My friend Nancy sent me a bag of the original packaged type, I tried it, then put together my own version. Now there are probably hundreds of copycats. Recently, I tried to make Gluten-Free Brownie Bark. It was as simple as replacing the flour with a gluten-free blend. In the process I tried a second, crunchier more bark/less brittle version that includes water. Notes for that are at the bottom.
Old Post for Brownie Bark
Last week my friend Nancy (Tag Sale Tastes) and I were discussing our favorite brands of packaged cookies.  I told her my favorite cookie was an Oreo, and she told me hers was a thin, crisp cookie called Brownie Brittle.  Nancy was so in love with it that she sent me a bag to sample.  The whole family loved it.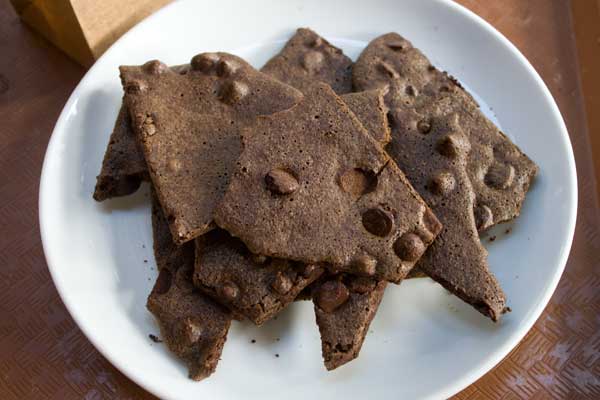 Homemade Brownie Bark
Rather than drive to Central Market for another bag, I decided to come up with my own recipe.  What I liked about the cookie Nancy sent me was that the flavor was very much like a brownie and the texture was extra crispy without being greasy or having any sort of burnt taste.  After making 5 different versions, I settled on this one.  It's not the same as the Brownie Brittle (which I've since seen at Costco), but it's really good. Since creating this one, I've come up with a peanut butter version called Monster Bark and a Snickerdoodle Cookie Bark and other flavors.
Gluten-Free Brownie Bark
It's super easy to make this brittle cookie gluten-free. Just use the equivalent gluten-free blend in place of all-purpose flour. I tested with Cup4Cup and it worked perfectly. I forgot how good this recipe was. It was a perfect chocolate counterpart to Michelle Obama's Shortbread which is also very thin, but not super crispy.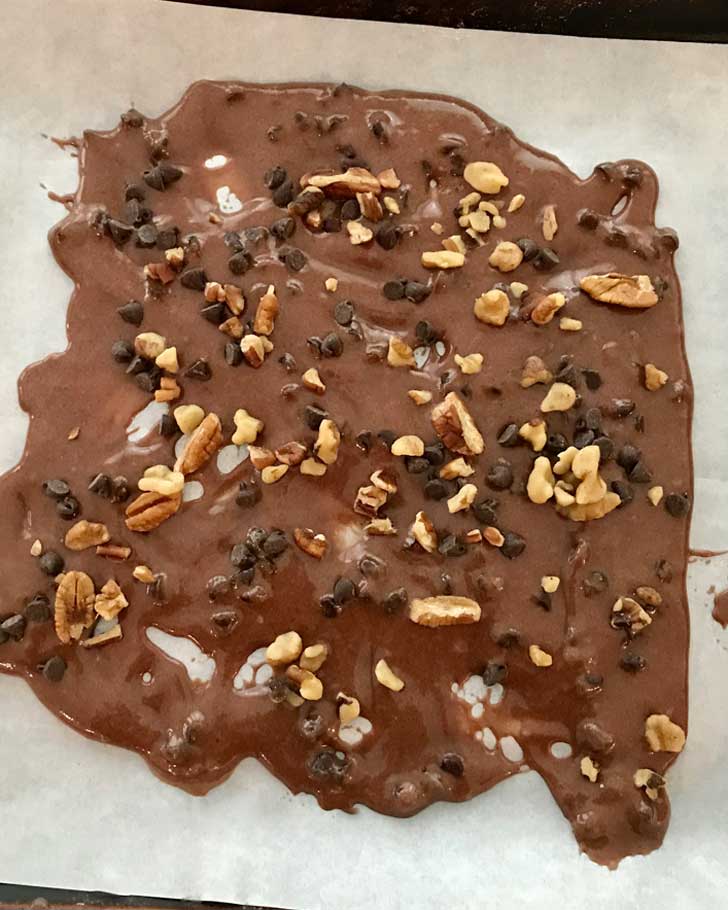 Crunchier Version
Note: Cup4Cup has milk flour in the blend, so I tried omitting it in the gluten-free version and ended up with a variation. Use 70 grams Cup4Cup in place of flour, reduce oil to 3 tablespoons, add 1 tablespoon of water and increase cocoa powder to 2 tablespoons. This makes a slightly crunchier but less crispy/brittle bark.
Krusteaz Brownie Bark
Krusteaz has a recipe on their site that starts with their gluten-free brownie mix. To make Brownie Bark with a mix, just beat together a 20 oz box of Krusteaz gluten-free brownie mix, ⅓ cup water, ⅓ cup oil and one egg. Spread the brownie batter on a parchment lined sheet pan and bake at 325 for about 35 to 38 minutes.
Recipe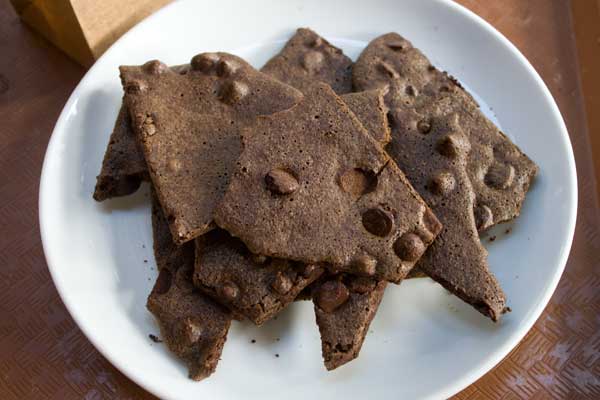 Brownie Bark
Brownie Bark
Ingredients 
2

large

egg whites

½

cup

granulated sugar plus 1 ½ teaspoons granulated sugar

1 ½

tablespoon

any brand good Dutch cocoa powder

¼

cup

vegetable oil

¼

teaspoon

vanilla

¼

teaspoon

salt

¼

teaspoon

baking powder

1

tablespoon

nonfat dry milk powder

½

cup

all-purpose flour -- make sure to aerate and stir before measuring.

½

cup

of dark chocolate chips plus a couple of tablespoons extra
Instructions 
Preheat the oven to 325 degrees F. Line a heavy duty 13x18 inch baking sheet with nonstick foil or parchment paper.

In a mixing bowl, whisk the egg whites until foamy. Gradually whisk in the sugar, then whisk in the cocoa powder, oil and vanilla until smooth. Whisk in the salt and baking powder (making sure the baking powder doesn't clump), then whisk in the nonfat milk powder. Add the flour and stir until smooth, then stir in ½ cup of the chocolate chips.

Empty batter onto the lined cookie sheet and spread as thinly as possible using the back of a spoon or scraper. Sprinkle a few more chocolate chips into areas where they did not clump together (the chips tend to congregate). Remember to try to make the bark as thin as possible.

Bake on center rack for 20 minutes. Remove from oven. With a pizza cutter or knife, cut into pieces without separating – you want shards, similar to what you'd get if making peanut brittle. Return to oven for 5 minutes.

Remove from oven and let cool completely. Pull apart. At this point, it should be completely crisp. If you are left with a few thick, chewy, pieces, return them to the oven and bake at 250 for 20 minutes, then re-cool. If your batter is thin enough the first time, you should not need the second bake.
Notes
For a double batch, I recommend making the recipe once, then repeating and baking on a second baking sheet rather than doubling the ingredients. I'm still testing larger batch sizes. Sometimes things go awry when scaling up.
If you don't have any nonfat milk powder, just skip it. I think it adds a little crispness, but I forgot to add it to one batch and the bark was fine.