I've never been to The Davenport Hotel in Spokane, WA, but apparently they  are well known for serving a soft peanut brittle called "Peanut Butter Brittle". I didn't know this when I posted my version of soft peanut brittle a few years ago. All I knew was that it was a good candy and the flavor and texture were unique.
Soft Peanut Brittle Cooking Temperature
This version of soft peanut brittle is from Robert "Bob" Ryno from Spokane. Unlike the other version that's floating around on the Internet, this one is cooked to 270 degrees rather than the usual 300 degrees.  I was a little worried about cooking the candy to a temperature so much lower than the tried and true version, but it set up perfectly.  I think it might be a little softer than the 300 degree version, but I'd have to try both versions side-by-side to really tell.
So I'm sharing this version from Bob, but I have paraphrased it a bit and reordered the ingredients.  Bob's original version is below, so between the two version you are off to a good start.
Weather and Peanut Brittle
Bob included a lot of notes about humidity and weather, but if you live in a climate controlled home, this will probably not be an issue.  Of course if it doesn't turn out, you can then blame the weather! I think it was about 45 degrees and humid when I made it, but my kitchen is about 70 degrees F.
More Ingredient Notes
Also, using the right peanut butter is important.  I couldn't find Bob's recommended brand of regular Skippy, so I used Reese's peanut butter and it worked just fine.  The important thing is to use a mainstream sweetened peanut butter rather than one that has no sugar or which requires stirring.   I did use butter instead of margarine  and it worked (though  some candy does seem to work better with margarine) and I made sure to soften my peanut butter and  mix with the vanilla before I started cooking.
Assemble Your Ingredients
If you assemble all your ingredients and have everything prepped and ready to go, the candy is pretty simple.  Just watch your temps!  As for thermometers, I always use a big metal deep fry thermometer and never a snap-on-the-side bulb type. Mine is the Taylor 5983 Candy and Deep Fry Stainless Steel Thermometer
.
Recipe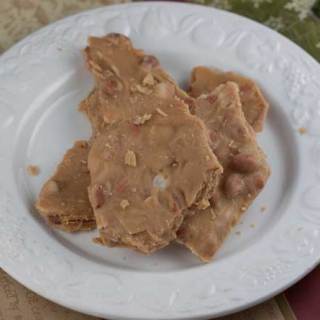 Peanut Butter Brittle
"This soft peanut brittle is a recipe from an 89 year old friend. It is similar to the Davenport Hotel's Peanut Butter Brittle. We have used it and made some changes in the directions. We have spent 25 years making about 14 batches each Christmas. Be prepared to have many friends wanting you to make it all the time." -- Bob Ryno
Ingredients 
1

teaspoon

baking soda

1

teaspoon

water

2

cups

Skippy Peanut Butter

creamy (18 ounces)

1

tsp

vanilla

1 ½

cups

white sugar

10 ½ oz weight)

1 ½

cups

white corn syrup

15 oz weight

¼

cup

cold water

2

tablespoons

margarine or butter

room temperature

2

cups

Spanish unsalted peanuts

about a pound
Instructions 
Line a 13x18 inch rimmed baking sheet with parchment paper or nonstick foil.

In a small cup, combine the soda and water. Set next to the stove.

Soften the peanut butter in your microwave or in the top of a double boiler and have it ready to go. You won't have time to waste scraping it out of the jar. Mix the vanilla into the peanut butter.

Also, have ready two frozen dinner forks for spreading.

In a large heavy saucepan that is not so heavy that you can't lift it to pour (I used a 3 ½ quart, thick, nonstick saucepan), combine the sugar, corn syrup and water. Heat over high, stirring often (I didn't really need to stir that much), until mixture reaches 260 degrees. Bob notes mixture should be a light yellow tan color. Mine was very light yellow and barely tan, but it was definitely 260 degrees.

At 260 degrees, immediately remove from burner, and lower the stove heat to medium.

While off the burner, quickly add the margarine (or butter) and stir vigorously, then add the peanuts. Return to the stove and cook over medium heat, stirring continuously until mixture reaches 270 degrees. This process should take about 4 or 6 minutes, but make sure to go by the reading on the thermometer and not time.

Remove from heat and quickly stir in the baking soda mixture. Candy will bubble up.

Stir in the peanut butter/vanilla mixture -- everything will start thickening at this point so work quickly.

Pour onto the lined baking sheet and spread evenly with two frozen dinner forks (I completely ignored the part about the forks and just spread it). This part is tricky. If you spread with a spoon or scraper, the top might not look as pretty.

Let it cool completely. Don't even think about breaking it apart until it is completely cool. It will still be chewy and "bend-y" while warm

When completely cool, break it apart into big chunks.

This recipe makes a little over 3 pounds of candy.
Notes
Make sure whatever peanut butter you use is a full 1 pound 2 oz (18 oz). Some brands have downsized.
Here's Bob's version without edits.
Bob's Version
………. PEANUT BUTTER BRITTLE ……….
1 ½ Cups white sugar soft-ball": 234-240°F
1 ½ Cups white syrup firm-ball": 244-248°F
¼ Cup cold water hard-ball": 250-266°F
1 tsp soda mix 2 tsp water soft-crack": 270-290°
1 tsp vanilla hard-crack": 295-310°F
2 Tablespoons margarine
2 Cups Skippy Peanut Butter (Or Safeway Creamy) Don't use old peanut butter.
1 bowl (2 cups) Spanish unsalted Peanuts (2 lbs= 3 bowls or 6 cups.)
Directions
Use a good metal candy thermometer. Leave it in until the final blending of the peanut butter. If the product goes over the two limits I list, it will turn out HARD.
Cook the sugar,syrup, water in heavy sauce pan on high heat, stir a lot; cook to 260 degrees. Immediately Remove from burner, and lower the stove heat to medium.
(It should have turned light yellow tan; this is the right color. If you cook it hotter, it turns darker
brown, and will turn out darker and be harder.)
While off the burner, Immediately add the margarine and stir vigorously. Immediately add the peanuts. Cook on Medium. If it takes more than 4 to 5 minutes to come up to 270/275. Stir continuously, cooking for 4 to 5 minutes to 265/270 degrees. Remove from heat and quickly stir in the dissolved pre mixed combination of the 1 soda & 2 water.
(When starting a batch, Put peanut butter and vanilla in double boiler. Soften the peanut butter.)
Add the peanut butter as the last step.
Blend together well. Pour on to (spray with Pam) 13×18 pan with sides. Spread evenly with two frozen dinner forks. You must work QUICKLY.
Bob's Notes
Too much water will make the product too wet and sticky. The brand of peanut butter is critical. Do Not use peanut butter with oil on top of it. Use ONLY creamy. SKIPPY IS BEST.
I live at 1900 feet above sea level. The temperatures I listed work best at this altitude. Remember, you are making SOFT Peanut butter brittle, not hard crack.
All ingredients are off the shelf at any supermarket. Shop wisely or your cost per pound will be way too high.
When removing the syrup from burner at 260 from the stove. TURN DOWN THE BURNER TO MEDIUM. Watch you thermometer and find cool spots to set the pan onto while you are putting in the butter and peanuts. The temp will start to drop. Put it back on the burner and I turn my burner to a little less than ¾. The time of cooking IS NOT EXACTLY 5 minutes. Cook to your final temperature.
I just finished making 10 batches. I used the 260 degrees to put in the butter and peanuts and the final was cooked to 270. All batches turned out the same. It almost melts in your mouth
You must also stir all ingredients long enough before going to the next step. Before you put in the Soda/Water, it will be a tan color. After putting the soda in, Stir it until it turns a brighter yellow. Then Put in the Peanut Butter.