These cookies were a last minute experiment to see what would happen if I put Tito's Vodka in a batch of white chip cookies. What does vodka do to cookie dough? Does it relax the gluten? Does it just make dough easier to work with? I need to investigate this more, but these cookies were the first experiment (not counting pie dough).
Vodka Cookies Notes
As far as chemistry goes, I'm not sure the vodka really did anything, but it's always fun to have a secret ingredient, and the cookies were definitely good.   The dough was easy to work with and the cookies had crispy edges and relatively soft centers depending on how long they were baked. I like mine pretty crispy, so I baked most of them until they were golden brown (about 15 minutes), but you can adjust the time and size of the cookies accordingly.
Update: Here's a picture of my latest batch. These were thicker and prettier because I added a lot of salted macadamia nuts, used a cookie scoop for a nicely rounded dough ball, then chilled the scooped dough balls. This dries out the outer part of the dough slightly so it cracks more in the oven.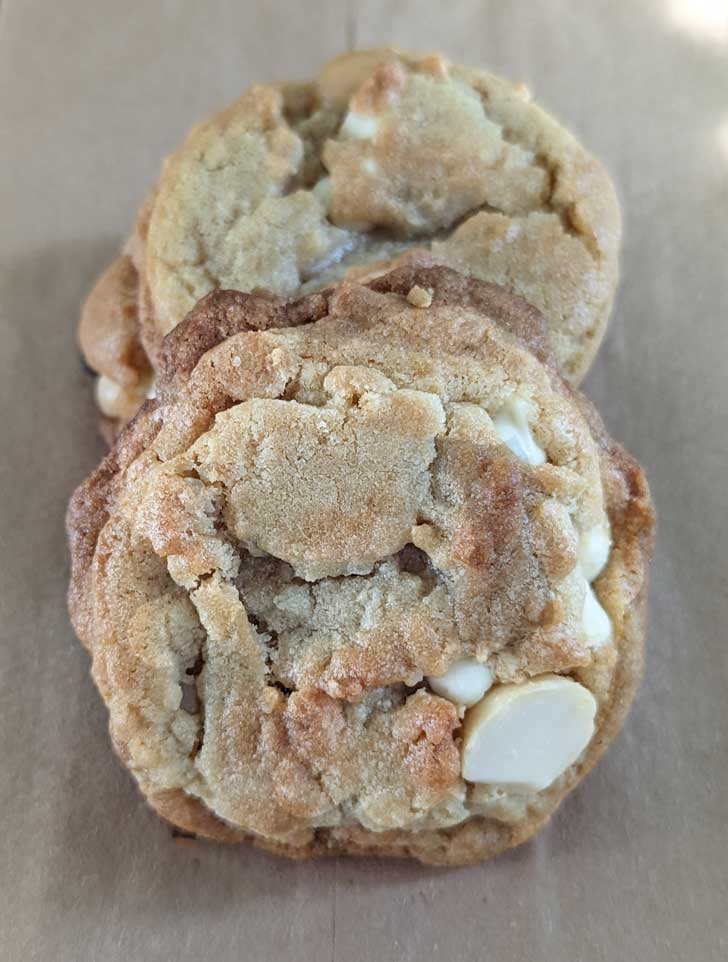 Half Batch Measures
The full batch recipe is below, but if you'd rather do a half batch, here are the measurements.
56 grams softened unsalted butter (4 tablespoons)
48 grams of shortening (4 tablespoons)
50 grams brown sugar (¼ cup)
50 grams granulated sugar (¼ cup)
1 egg
1 tablespoon vodka
168 grams flour, I've been using bread flour lately
22 grams cornstarch (2 tablespoons plus about a teaspoon)
½ teaspoon baking soda
¼ teaspoon salt -- you can increase it if you want.
NEW FAVORITE ADDITION -- A bunch of salted macadamia nuts!
Recipe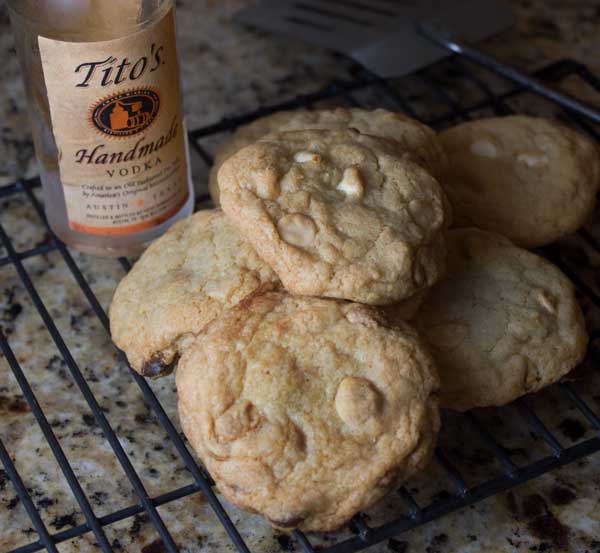 White Chip & Vodka Cookies
White chocolate chip cookies with a little Vodka in them.
Ingredients 
1

stick

unsalted butter, room temperature

(114 grams)

½

cup

shortening**

(96 grams)

1

cup

packed light brown sugar

(200 grams)

1

cup

granulated sugar

(200 gram)s

2

large

eggs

1

teaspoon

vanilla

2

tablespoons

Vodka

2 ⅔

cups

unbleached all-purpose flour**

(336 grams)

⅓

cup

cornstarch

1

teaspoon

baking soda

½

teaspoon

salt

2

cups

white chips

1

cup

roasted macadamia nuts (coarsely chopped)

optional but good!
Instructions 
Preheat oven to 375 degrees F. If making larger cookies, you may want to use 350 and bake slightly longer.

In a mixing bowl, using low speed of a stand mixer, beat the butter, shortening and both sugars just until mixed (not light and fluffy, just mixed). Gradually add the eggs, stirring just until blended. Then stir in the vanilla and Vodka.

Combine the flour, cornstarch, baking soda and salt in a separate bowl and stir well. Add the flour mixture to the butter mixture and stir until blended. Stir in the white chips (and macadamia nuts, if using).

Drop dough by rounded tablespoons (or scoop with a medium size cookie scoop) onto a parchment or nonstick foil lined baking sheet. Bake for 12-15 minutes or until cookies are nicely browned all over. Makes about 32 to 36 depending on how large you make the cookies
Notes
If you don't have a scale and can't weigh out 12 oz of flour, measure by volume using a very light hand. That is, scoop the flour into the cup and level it off with a knife.
.