My mom dropped by yesterday, and since she's always open to trying experiments, I made her this lemon blueberry loaf cake. Keeping with this week's theme of baking accidents, I forgot to add the baking soda and had to pull the cake out of the oven and stir it into the hot batter. Despite that, the cake still rose okay and tasted great. It was really tight crumbed, moist, and not too sweet.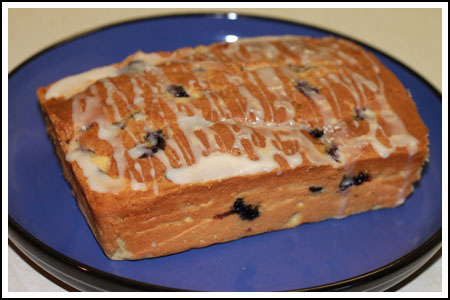 My loaf pan is a little larger than most so the cake is kind of wide and I ended up cutting it into squares instead of slices. They looked okay , but I think it might rise higher and look better in an 8 ½ x 4 ½ inch pan. That aside, the cake was really good. It was so good that I wish I'd kept it, but I gave it away and have to make another one.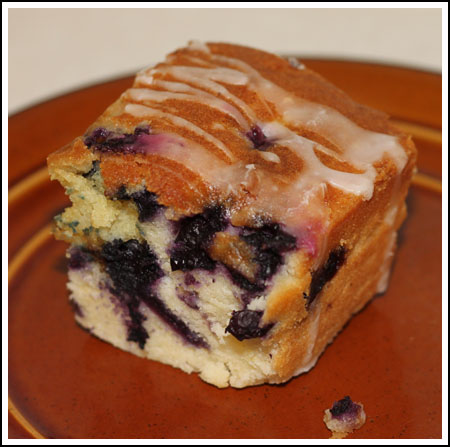 Lemon Blueberry Loaf Cake Updates
Update: Since posting this recipe I've made it many times -- without forgetting the baking soda! Here are some more recent photos. These versions do not include the icing and the cake is just fine without it. For the lemon, I like to add juice, zest and lemon oil (Boyjian). And I really pack the bread with blueberries.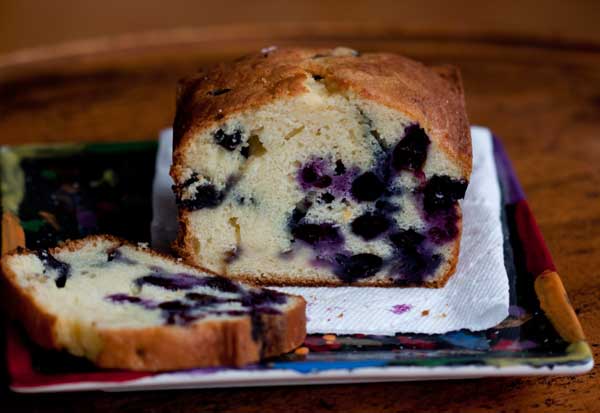 Recipe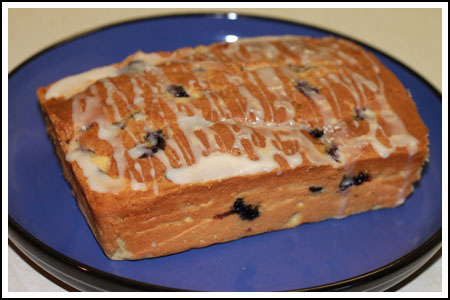 Lemon Blueberry Loaf Cake
Lemon Blueberry Loaf Cake made with sour cream, fresh blueberries and lots of lemon.
Ingredients 
¾

cup

to 1 cup fresh blueberries

114

grams

unsalted butter, at cool room temperature

(1 stick)

½

teaspoon

teaspoon salt

200

grams

granulated sugar

(1 cup_

3

large

eggs, room temperature

(150 grams)

190

grams

all purpose flour

(1 ½ cups)

¼

teaspoon

baking soda

¾

teaspoon

lemon extract or ½ teaspoon good Boyjian lemon oil

2 ½

teaspoons

lemon zest**

1

tablespoon

fresh lemon juice

120

grams

sour cream, room temperature

(½ cup)
Glaze
2

teaspoons

butter

(20 grams)

½

cup

sifted powdered sugar

(55 grams)

1-2

tablespoons

lemon juice

(14 to 28 grams)
Instructions 
Put the berries in the freezer for about 30 minutes to freeze – this will help keep them from staining the batter.

Preheat oven at 350 degrees F. Grease an 8 ½ by 4 ½ inch loaf pan (9x5 is okay too) and line with a strip of parchment. Dust with flour.

In a stand mixer with the paddle attached, cream the butter, salt and sugar until light and fluffy. On low speed, add the eggs one at a time letting the mixer go for 30 seconds (increasing speed slightly) after each egg. Scrape sides of bowl often.

By hand or with lowest speed of mixer, add all but two teaspoons of the flour (leave the 2 teaspoons behind to dust the blueberries). Stir in baking soda, making sure it doesn't clump, then stir in lemon juice, lemon zest and lemon flavoring. Stir in the sour cream. Remove bowl from the stand, toss the frozen blueberries in the remaining two teaspoons of flour, then stir into the batter.

Spoon the batter into the prepared loaf pan, smoothing edges. Bake the cake for 60-75 minutes or until a toothpick inserted into the center of the cake is clean or a meat thermometer inserted in the center registers 205 degrees F. Make sure to check the cake at about 50 minutes, and if the top is brown, go ahead and cover loosely with foil.

Set the cake on a rack to cool for about 10 minutes. Loosen sides and let cool for another 20 minutes in the pan. Turn the cake from the pan and let cool completely. Make the glaze. Melt the butter in a bowl, add the sugar and stir until it looks pasty and moist. Add one tablespoon of the lemon juice and stir until smooth. If you need more lemon juice then add the rest. Drizzle over the cake

**For more lemon flavor, add up to 4 teaspoons lemon zest