These Giant Coconut Macaroons are a lot like the big, fat, coconut macaroons you see at bakeries. They're a little different from Condensed Milk Macaroons and Chewy Chocolate Macaroons, and more dramatic because of their size. Even more so when dipped in chocolate.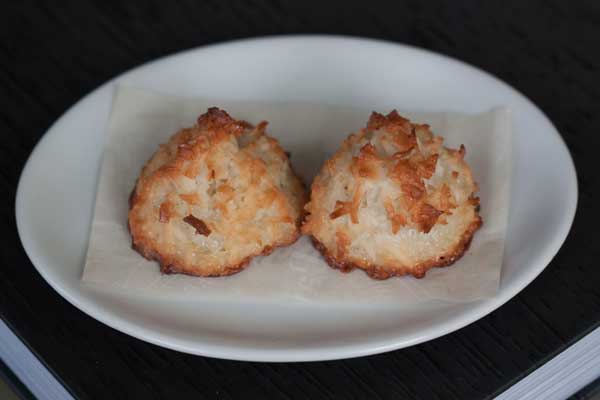 Instead of condensed milk, these macaroons are made with egg whites, sugar, coconut and a couple of extracts. The chocolate dip (or drizzle) is optional.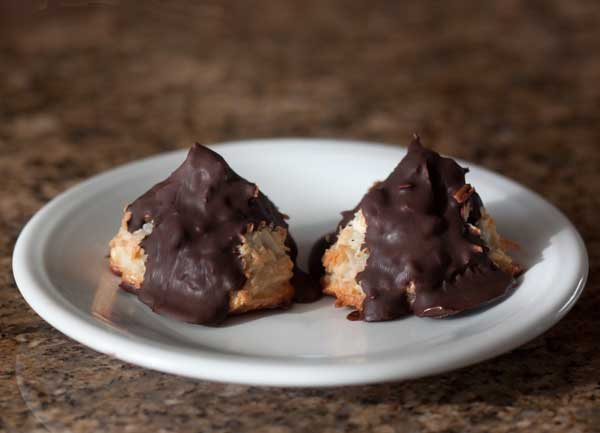 Giant Coconut Macaroons are made with a two-step process. You mix and heat the ingredients to make a coconut sludge of sorts. You then chill it for an hour until it thickens, then shape. I shaped mine into rather tight clumps and they expanded a bit as they baked. You could also try shaping into pyramids or other structure, and of course you can always make these smaller. Either way, this recipe is a lot of fun and you can use the leftover egg yolks in cracked sugar cookies.
Giant Bakery Style Macaroons Ingredients
Sugar -- Just regular granulated
Egg Whites -- You can use four fresh ones. Egg whites weigh about 32 grams each, so you'll need about 128 grams total or somewhere around ½ cup. If you've been saving up whites, you can weigh out the amount.
Coconut -- Sweetened flaked type.
Vanilla -- You can really taste the vanilla in these macaroons, so try to use a top quality brand.
Almond Extract -- Leave it out if you're not a fan, but it really adds so much!
Recipe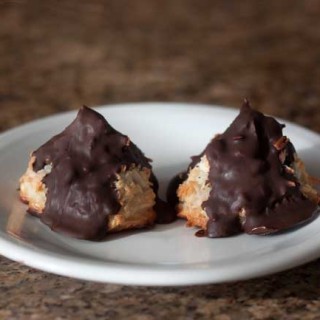 Giant Coconut Macaroons
Giant Coconut Macaroons like the ones you see in bakeries. These macaroons do not use condensed milk, but are made with egg whites, sugar and coconut.
Ingredients 
½

cup

sugar

4

large

egg whites (about ½ cup)

2

cups

packed sweetened flaked coconut

1

teaspoon

vanilla extract

⅛

teaspoon

almond extract
Instructions 
In a 3 quart heavy saucepan, stir together the sugar and egg whites until very well mixed. Add the coconut and stir until coated with egg white mixture. Set the mixture over medium heat and cook over medium, stirring often with a wooden spoon or silicone scraper, until mixture is shiny and syrup begins to form. This should take 7 to 10 minutes. Remove from heat and stir in the extracts.

Empty the mixture onto a parchment lined baking sheet or a couple of parchment lined plates and put in the refrigerator to chill. Let mixture for about an hour or until cold.

Preheat oven to 325 and line a large baking sheet with parchment paper or nonstick foil.

Shape the cold coconut mixture into 8 large, tight mounds and arrange about 2 ½ inches apart. Bake for 25 to 30 minutes or until mounds are golden. Allow them to cool for about 20 minutes on the baking sheet, then carefully remove.

If you're interested in dipping them in chocolate, coat about ½ cup chocolate chips with a little coconut oil and melt on medium heat in the microwave, stirring ever 30 seconds. Dip or drizzle over macaroons.