Ever heard of melted ice cream bread? You take a pint of melted ice cream, mix it with 2 cups of self-rising flour and bake it into a quick bread. It sounds too good to be true, but the mixture bakes into a cross between quick bread and pound cake.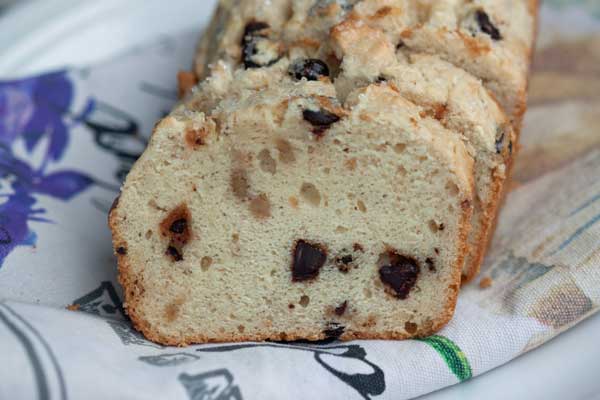 And you can vary the flavors! I made this loaf using McConnell's Sea Salt Cream and Cookies, a homemade version of self-rising flour and chocolate chips.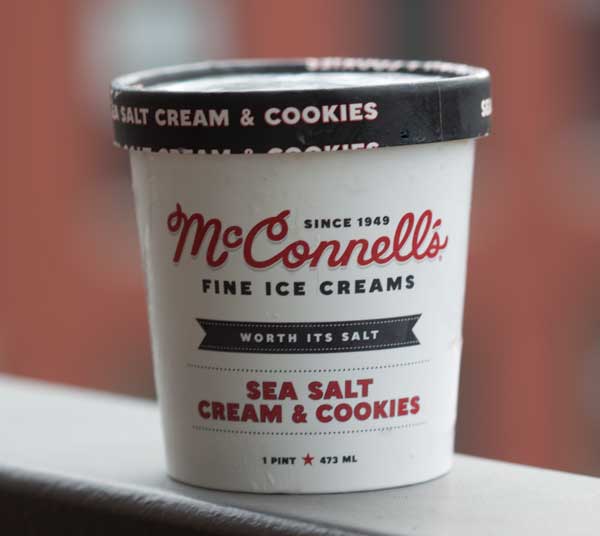 Weigh the Ice Cream
To make melted ice cream bread, you'll need to use premium or homemade ice cream rather than ice cream with air and fillers. A 2 cups volume measurement should weigh 16 oz.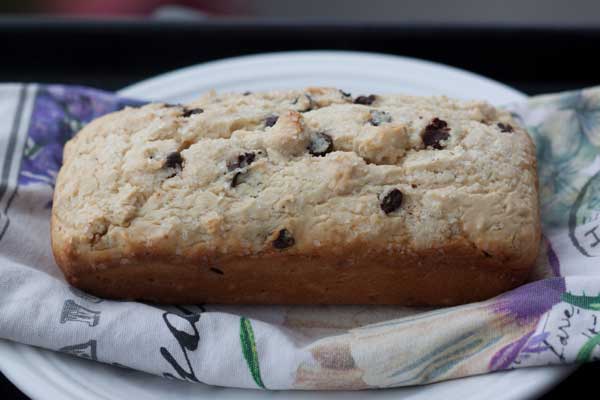 The bread is sweet, but to make it dessert-worthy it needs chocolate chips, dried fruit or a sprinkling of sugar on top. I don't recommend adding sugar to the batter because it might throw off the composition of the loaf. Then again, that's going to vary anyway depending on how much sugar is in the brand of ice cream you use. For now, I recommend using a good amount of add-ins like chocolate chips, berries and maybe nuts.
Here's a picture of the batter. There's no baking soda, so it's very pale – another reason to jazz up the appearance with chocolate chips or a sprinkling of sugar.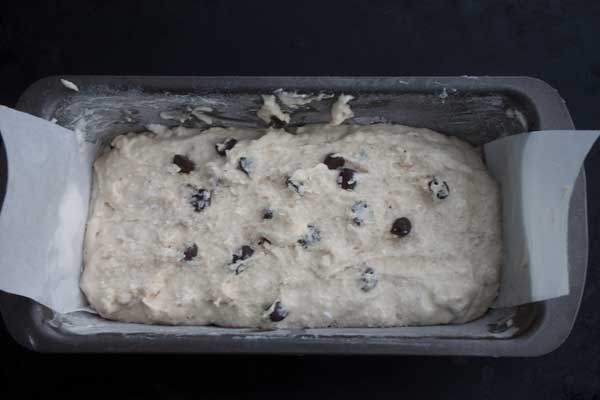 Loaf size can be altered. The original version calls for a pint (2 cups) of ice cream and is baked in a 9×5 inch pan. I like using an 8×4 inch pans, so I used 1 1/2 cups (12 oz) of ice cream, 1 ½ cups flour, etc. etc. Bake time was about 45 minutes.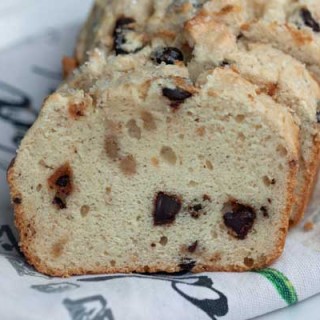 Melted Ice Cream Bread
Melted Ice Cream Bread is made by melting premium ice cream and mixing it with self-rising flour (or a mixture of flour, baking powder and salt), adding chocolate chips or fruit and baking it. It's similar to a pound cake, but not quite as sweet, so make sure to sprinkle with sugar or add lots of chocolate chips.
Ingredients 
1 1/2

cups

all-purpose flour

(190 grams)

1 1/2

teaspoons

baking powder

3/8

teaspoon

salt

1 1/2

cups

12 oz melted premium ice cream**

(336 grams)

1

cup

chocolate chips or other add-in

Sparkling Sugar or Cinnamon Sugar
Instructions 
Preheat oven to 350 degrees F. Grease and flour an 8×4 inch loaf pan.

In a mixing bowl, thoroughly mix together the flour, baking powder and salt.

Weigh your melted ice cream to make sure you have 12 oz by weight.

Pour the ice cream over the dry ingredients and stir with a heavy duty scraper until mixed. Do not over beat, just stir thoroughly.

Fold in the chocolate chips or whatever add-ins you like.

Scrape the thick batter into the pan and sprinkle top generously with sugar.

Bake for 45 minutes or until a skewer inserted in the center comes out clean.

Let cool completely before serving.
Notes
Since I'd already eaten some of my ice cream, I went with the 1 ½ cups/8×4 inch version of the recipe. If you only have a 9×5 inch loaf pan, you should increase the recipe by 1/3 (2 cups ice cream 2 cups flour, 2 teaspoons baking powder and ½ teaspoon salt, etc.).
And make sure to either weigh your flour or measure using a gentle hand.