It's starting to feel like Spring around here, so how about a nice lemony dessert? Er, sort of. This "Lemon Lush" doesn't contain any actual lemons, but rather a box of instant lemon pudding, Cool Whip and cream cheese. In other words, it's my husband's favorite type of dessert.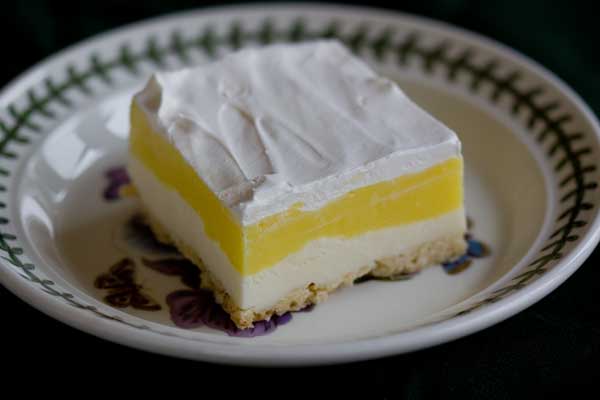 The recipe is called Lemon Lush and the original source is Allrecipes.com.  However, I might have missed it if I hadn't seen it in a sample of the new All Recipes magazine which came bundled with the latest issue of Family Circle.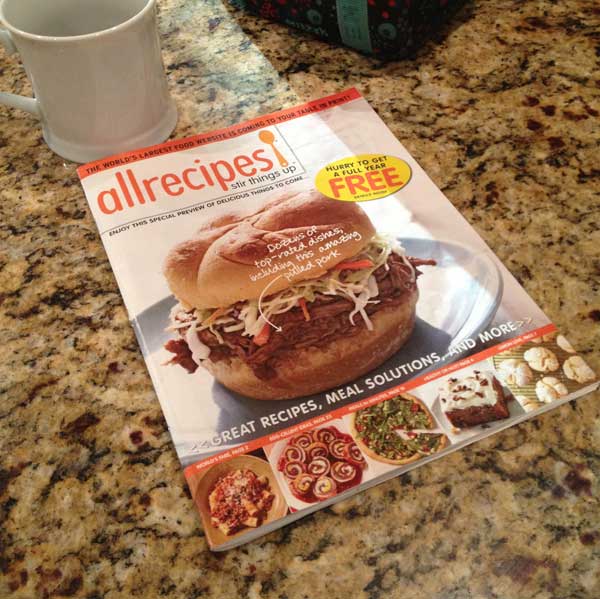 It reminds me of a cross between Taste of Home and Food Network Magazine, with articles written especially for the magazine as well as recipes and tips pulled straight from allrecipes.com. They've done a nice job laying out sidebars and blurbs with reader tips, recipe recommendation and quotes you might not have noticed while scrolling through the reviews.  This being just a preview, I'm anxious to see how they will fill a full magazine.  Food Network has all their Food TV celebrity features, so maybe allrecipes.com will make readers the stars and feature more everyday people kind of like Taste of Home does.  We shall see.
Anyway, because Todd's pretty much the only person who will be eating this, I halved the recipe and made it in an 8 inch metal pan. To slice it neatly, I lined the pan with nonstick foil, froze the entire dessert, lifted it from the pan while frozen, and cut into squares a few hours before serving.  That step is completely optional, but I like things to look nice on a plate.
UPDATE:  I've made this many times since posting.  I usually halve the recipe and bake it in an 8 inch square dish, but when making for a group of people I go with the full version (below).
These days I no longer use instant lemon pudding.  Instead, I use Dr. Oetker's Lemon Pie Filling which is a bit more tart and lemon-y.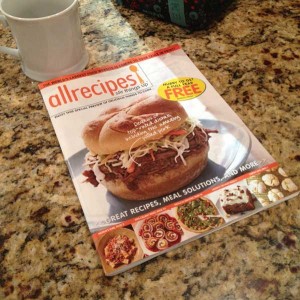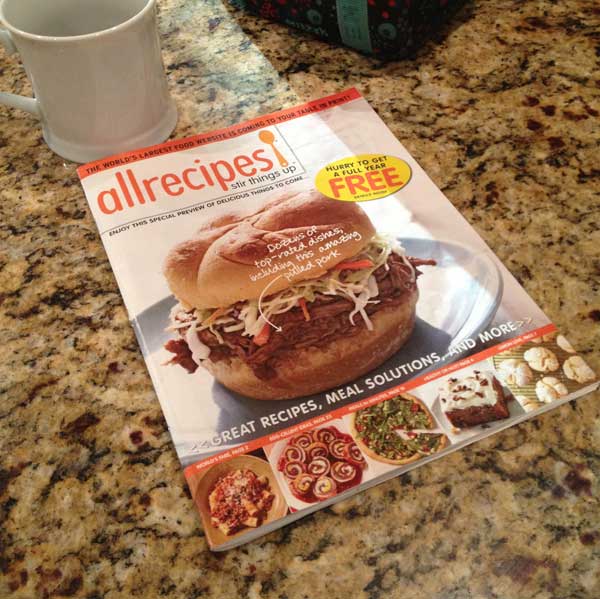 Lemon Lush from All Recipes Magazine
An easy lemon dessert made with instant lemon pudding mix (or pie filling), cream cheese and a shortbread crust.
Ingredients 
Crust:
2

sticks

8 oz salted butter, softened (or use unsalted and add 3/4 tsp salt)

1/3

cup

granulated sugar

2

cups

all-purpose flour

9 oz
Filling
1

box Dr. Oetker's Lemon Pie Filling mix plus ingredients on package

egg yolks & water**

2

8 oz packages cream cheese, softened

1

cup

granulated sugar

2

cups

heavy whipping cream

1/3

cup

powdered sugar

or to taste

1

teaspoon

of vanilla extract
Instructions 
Preheat oven to 325 F . Spray a 13×9 inch baking dish with cooking spray or grease with butter.

In a medium bowl, beat the butter until creamy. Beat in the sugar. Add the flour and stir until well mixed. Press into bottom of pan and bake on center rack for 20 minutes or until it appears set. Be careful not to over bake or the crust will be hard.

Meanwhile, prepare the Dr. Oetker's lemon pie filling as per the directions. Set aside and allow it to cool completely.

In a mixing bowl, beat the cream cheese and sugar with an electric mixer until smooth and well blended. Spread evenly over the cooled crust.

Spread the cooled lemon pie filling mixture over the cream cheese mixture.

Whip the cream and sugar until stiff peaks form, then stir in the vanilla. Spread or pipe over the lemon pie filling.

Chill for at least 4 hours before serving.
Notes
If you can't find Dr. Oetker's, use 2 packages instant lemon pudding mixed with 3 1/2 cups milk.