A few weeks ago I started on a mission to find my favorite vanilla extract. What I've learned is that vanilla is like wine. It's tough to find one favorite, because different vanillas go better with different things. For instance, Mexican vanilla might be better in certain cookies, while Indonesian vanilla bean adds nice bit of "burnt" flavor to vanilla ice cream. Madagascar vanilla is good in pretty much anything that is supposed to be "vanilla", while Tahitian vanilla goes well with caramel. It's also great in mixed drinks.
The point is, after you start tasting a variety of different vanillas, you will never be comfortable with the old term "plain vanilla".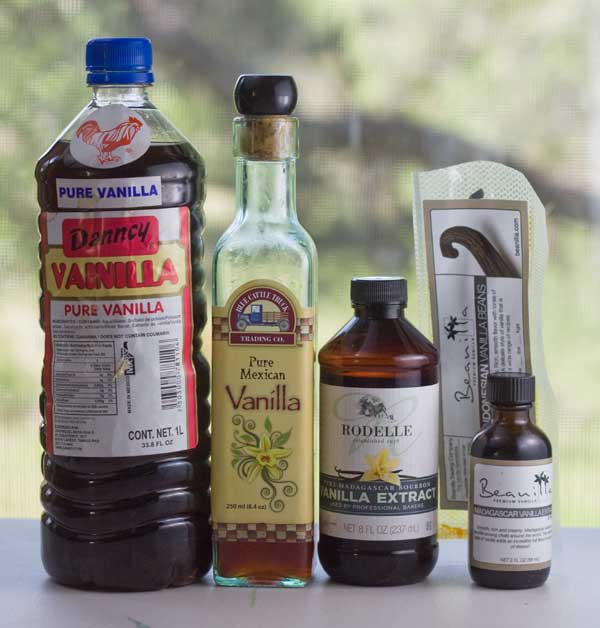 So this post is a) an excuse to show you a photo of my vanilla collection and find out if you have any favorites and b) share a terrific vanilla gelato recipe that was recommended a while back by Sheri at Pork Cracklins.
Vanilla Gelato
Originally from The Ciao Bella Book of Gelato and Sorbetto: Bold, Fresh Flavors to Make at Home
, it's fantastic if you like full flavored vanilla ice cream that is not quite as fatty as other homemade ice cream recipes. Oh, it's still rich – just not over-the-top butter fat rich. It has more milk than cream, yet is as smooth and satisfying.  I also discovered that it didn't get rock hard in the freezer like some other homemade vanilla ice creams. This was a definite plus in my book, because I get really irritated with hard or icy textured ice cream.  Ick.   The downside of this recipe is it's not quite as velvety as some of the fattier ice creams, but it's not icy, either.  Or at least it shouldn't be. And finally, it is not too eggy. I've seen some gelato recipes similar to this one with more egg yolks. I wouldn't use any more than four.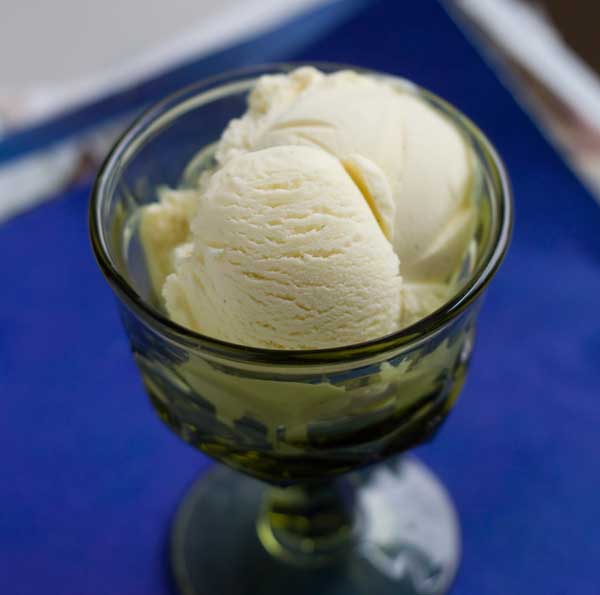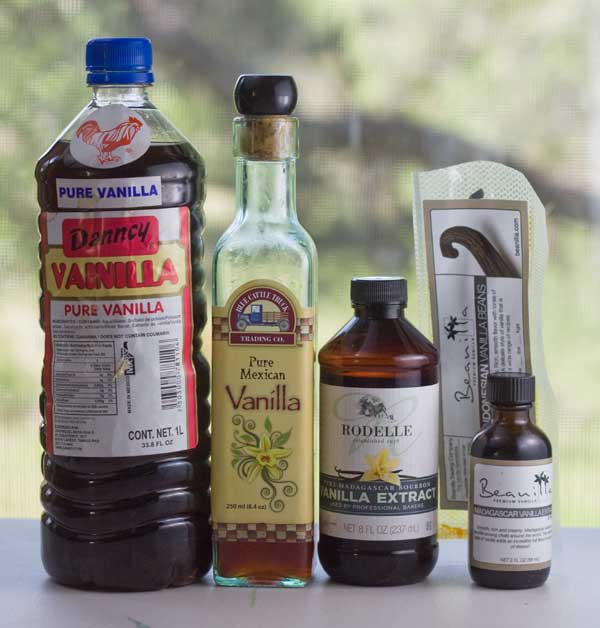 Vanilla Gelato
Vanilla Gelato made with Indonesian vanilla bean.
Ingredients 
2

cups

whole milk

1

cup

heavy whipping cream

1/2

vanilla bean or 1 whole Indonesian vanilla bean

smokier bean

4

large egg yolks

2/3

cup

granulated sugar

1

pinch

of salt

1

teaspoon

really good quality vanilla extract
Instructions 
In a saucepan, combine the milk and cream. Scrape in the vanilla bean and throw in the whole pod. Heat over medium heat, stirring often, until mixture is 170 degrees F. Remove from heat and let vanilla bean steep for 20 minutes. Strain out any vanilla bits if you like.

In a mixing bowl, mix the egg yolks with the sugar and salt.

Put the saucepan with the milk mixture back on the stove and heat again to 170 degrees F. Slowly pour about half the hot milk mixture into the egg mixture, whisking constantly, then pour it all back into the saucepan. Heat, stirring constantly with a wooden spoon, until mixture reaches 185F.

Remove from heat and strain into a bowl or for faster cooling, a rectangular casserole dish. Let cool for about five minutes, then stir in the vanilla extract.

Let cool slightly at room temperature and then chill thoroughly (several hours).

Pour into ice cream maker and churn according to manufacturer's direction. Freeze for another hour or so before serving.