I have two recipes for you this evening, and both are spins on the ever-popular lemon square. The first vegan lemon squares, the second is a modified version of a Family Circle magazine recipe which incorporates cream cheese.
First off, the vegan lemon squares. This recipe is from Vegweb and a lot of Vegweb readers love it. Since I just happened to have egg replacers and vegan "butter" (didn't use margarine), I whipped up a batch. They are tasty, but the lemon filling had a different texture than you'd get from egg-based lemon squares. Still, I highly recommend this recipe to vegan cooks or those of you with vegan friends who need sweets. My only complaint about this recipe was that it lists "two lemons". I measured the juice and rind, and two lemons yielded 1/3 cup juice and 1 tablespoon zest.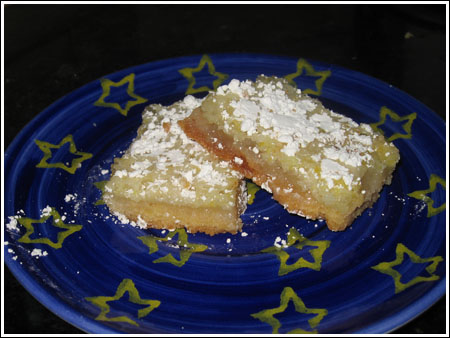 Moving on to the next recipe. My friend Gigi modified the old Family Circle recipe a bit to make a lime version. Here's a picture of what we now call the Double-Layer Lime Bars.
Gigi's only issue with this recipe was that she didn't particularly care for the cornmeal in the crust. If you like the taste and texture of cornmeal, leave it in. Otherwise, consider going with one of the many other lemon square crusts recipes out there.
Vegan Recipe at link.
Gigi Recipe Below.
Gigi's Double Layer Lime Bars from Family Circle
Crust:
9 ounces all purpose flour
4 1/2 ounces cornmeal
2 ounces powdered sugar
zest of 1 lime
1/2 teaspoon salt
4 ounces unsalted butter, melted
Cream Cheese layer:
6 ounces vanilla yogurt
2 ounces sour cream
Juice of 1/2 a lime
16 ounces cream cheese, softened
2 tablespoons flour
1 egg
3 tablespoons sugar
Lime Topping:
3 eggs
1 1/2 cups sugar
3 tablespoons all purpose flour
1/4 teaspoon baking powder
zest of 1 lime
1/3 cup fresh lime juice
Preheat oven to 350 degrees F. Line a 13″ x 9″ x 2″ pan with buttered foil (or, Anna notes, use Reynolds Release foil)
To make crust, whisk together flour, cornmeal, powdered sugar, lime
zest and salt. Add butter and stir until moist. Press dough over
bottom of pan.
To make cream cheese layer, in large bowl, beat together yogurt, sour
cream, lime juice and cream cheese. Add flour, egg and sugar and beat
until mixed. Pour over crust. Bake for 20 minutes or until the top
is just set.
Meanwhile, to prepare lime topping beat eggs and sugar in a
medium-sized bowl. Add flour, baking powder, lime zest and juice and
beat until smooth. Remove baking pan from oven and pour topping over
cream cheese layer. Bake for 30 minutes or until top is light golden
and set. Let cool in pan on wire rack to room temperature then refrigerate for 1 hour before serving.