Imperial sugar introduced the Pretzel Cashew Seven Layer Bars as a Father's Day recipe, but I couldn't wait until June 16th to serve them! Seven Layer Bars are one of my favorite cookies, and this version not only has a salty pretzel crust but a topping of cashews, coconut, chocolate and butterscotch chips. In addition, these are Seven Layer Bars without condensed milk. A mixture of cream and two kinds of sugar is used in its place.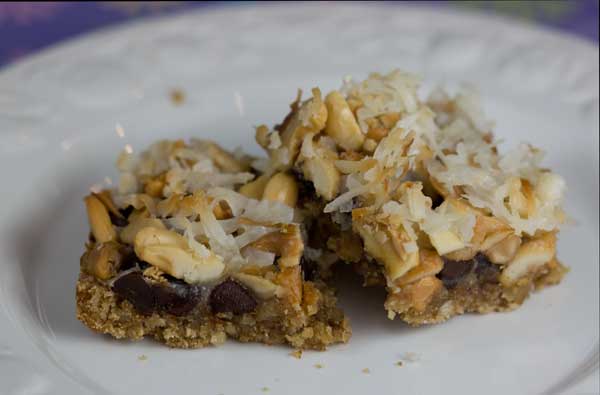 Imperial Sugar's full 9×13 inch version of Pretzel Cashew Seven Layer Bars is located on their site, and below is my 8 inch square pan version. They hold together well even though the cream binding lacks any egg or butter. Chill helps. These are definitely worth trying, especially if you like the sweet & salty combo.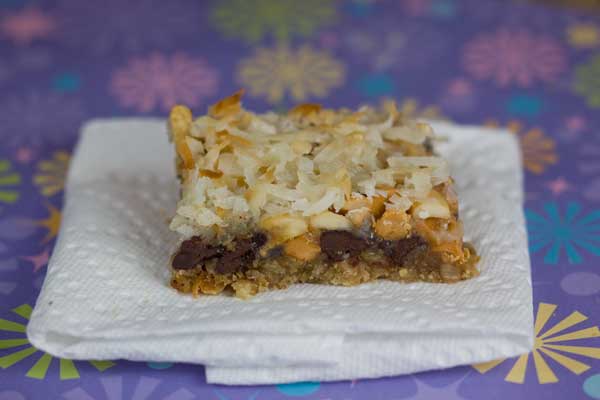 Pretzel Cashew Seven Layer Bars
A version of Seven Layer Bars made without condensed milk.
Ingredients
1 cup finely crushed salted pretzels (measure after crushing)**
2 tablespoons Imperial Sugar Extra Fine Granulated Sugar
1/4 cup butter, melted (I used unsalted)
1/2 cup each semi-sweet chocolate chips, butterscotch chips and cashews.
3/4 cup heavy whipping cream
1/4 cup Imperial Sugar Extra Fine Granulated Sugar
1 tablespoons Imperial Sugar Dark Brown Sugar
1/4 teaspoon of vanilla extract (optional)
1/2 cup shredded coconut
Instructions
Preheat oven to 350°F. Line an 8 inch square metal pan with nonstick foil or parchment paper.
Combine crushed pretzels, 2 tablespoons of sugar and the butter; mixing until well blended. Press onto bottom of pan.
Bake for 10 minutes. Remove from oven and cool 15 minutes (this is important).
Sprinkle cooled baked crust with chocolate chips, butterscotch chips and nuts.
Combine heavy whipping cream, 1/4 cup sugar and 1 tablespoon brown sugar (also add vanilla, if using); mixing until well blended. Spoon evenly over bars so that it kind of sinks into the coconut.
Bake for 25 minutes or until coconut is lightly browned and chips start to melt. Cool at room temperature for about 30 minutes, then chill until very firm.
Lift from pan by grasping foil or parchment, set on a cutting board, cut into bars.
Notes
I ground the pretzels in a mini chopper. If you don't have a chopper you can put the pretzels in a heavy duty freezer bag and crush with a rolling pin. I also put the coconut on before pouring the cream mixture over to give the cream something to soak into. Not sure if that matters, but putting the coconut on first worked well.