The recipe for Peanut Butter Coconut Bars is from one of my favorite cookbooks – the big yellow book from Gourmet, which was written with the concept of sorting through the magazine's old recipes, selecting the best, re-testing them and reintroducing them. The book has never steered me wrong, so I was excited about making these even though all two of the reviewers on Epicurious said they were dry. In fact, I was looking forward to giving the recipe five forks and telling "Mandy in Virginia Beach" to take some baking lessons. But when I tasted the bars, I started to wish I had a big old can of condensed milk to pour over them. Mandy was right and "Shannon in Sacramento" wasn't crazy.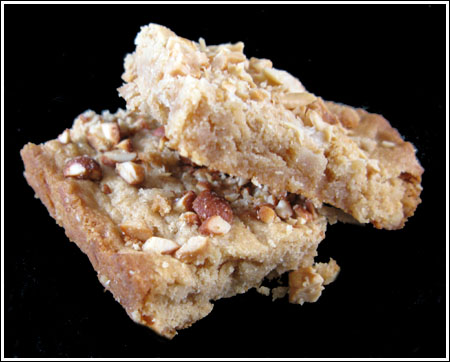 I was kind of irritated, and went off to mope. A little later, I came back to photograph the bars before throwing them in the trash. But while taking the picture, I took another taste….and then another and another. Yes, they were kind of dry….but not really bad. I think I just wasn't hungry enough when I first tasted them, and I also think you need to be very careful with how you measure the flour or else they will be dry.
If you don't want to commit to a full 15×10 inch pan you can halve the recipe and bake the Coconut Peanut Bars in a 9 inch square pan.
My advice is to start with a half batch and see what you think.
Recipe
Peanut Butter Coconut Bars
Ingredients 
1 1/2

sticks

unsalted butter

(170 grams)

1

cup

sugar

1

cup

peanut butter

1

teaspoon

vanilla extract

1

large

egg

room temperature

1

teaspoon

baking powder

1/2

teaspoon

salt

plus an extra pinch

2

cups

all-purpose flour, measured with a light hand

(250 grams)

2

cups

sweetened flaked coconut

1/2

cup

chopped roasted peanuts
Instructions 
Preheat oven to 350°F. Grease a 15×10 inch baking pan. If making a half batch, use a 9 inch square pan.

Beat the butter and sugar with an electric mixer until creamy. Beat in the peanut butter until blended, then beat in the egg, vanilla and salt.

Add flour and stir until blended, then stir in coconut.

Spread in the pan, then sprinkle peanuts on the top. Bake for about 18 to 22 minutes (maybe up to 25) or until skewer inserted comes out clean.
Notes
— For a half batch, use half the ingredients and bake in an 8 inch square pan.
— If eggs are room temperature, you won't have to beat (whisk) them quite as hard to mix them with the other ingredients and will probably end up whisking less air into the batter. In my experience, whisking or stirring ingredients rather than beating them usually makes a denser, less cakey, bar. these are not cakey at all.