The recipe for Peanut Butter Coconut Bars is from one of my favorite cookbooks – the big yellow book from Gourmet, which was written with the concept of sorting through the magazine's old recipes, selecting the best, re-testing them and reintroducing them. The book has never steered me wrong, so I was excited about making these even though all two of the reviewers on Epicurious said they were dry. In fact, I was looking forward to giving the recipe five forks and telling "Mandy in Virginia Beach" to take some baking lessons. But when I tasted the bars, I started to wish I had a big old can of condensed milk to pour over them. Mandy was right and "Shannon in Sacramento" wasn't crazy.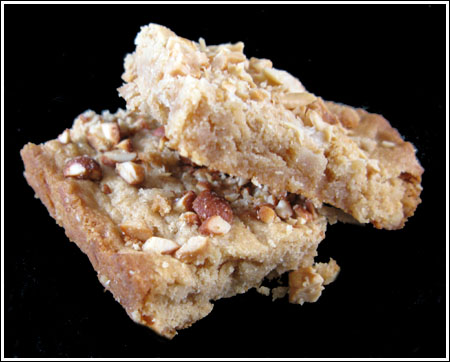 I was kind of irritated, and went off to mope. A little later, I came back to photograph the bars before throwing them in the trash. But while taking the picture, I took another taste….and then another and another. Yes, they were kind of dry….but not really bad. And then I started to think of them as flakey. And then I started enjoying them. And now I DO have to go to that @#%*@%* spin class today and I DO have a stomachache. But the bars are good. You just have to know what you are in for. Enjoy with coffee, tea or some milk.
They're very crumbly, though.
My advice is to start with a half batch and see what you think.