If you're lucky enough to have some pure maple syrup in the kitchen, this Maple Cashew Caramel Corn is a fun way to use it.  This caramel corn is less buttery than others, but has just as much flavor thanks to the maple syrup.  It is not greasy like some, nor is it over-the-top maple flavored and you might not even realize the maple syrup is there. The syrup flavor just adds a little something extra.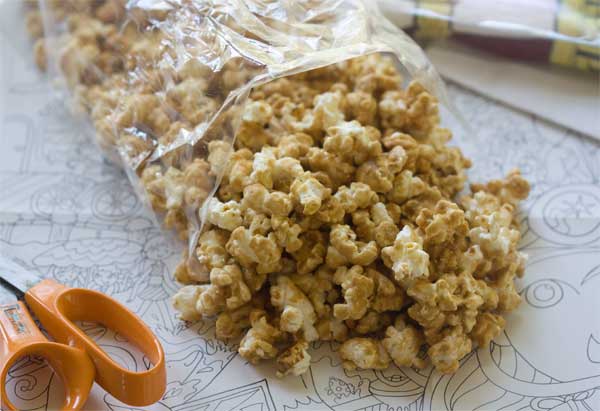 Maple Cashew Caramel Corn Flavor
Unlike other versions which are made with molasses, this caramel corn has a lighter color and kind of reminds me of Poppycock. I used cashews leftover from my Clodhopper recipe, but any nut will do. Next time I'm going to make this with mixed nuts. Oh, and I apologize that it is not red, white and blue; but it would still be great to serve at a Fourth of July party.
Recipe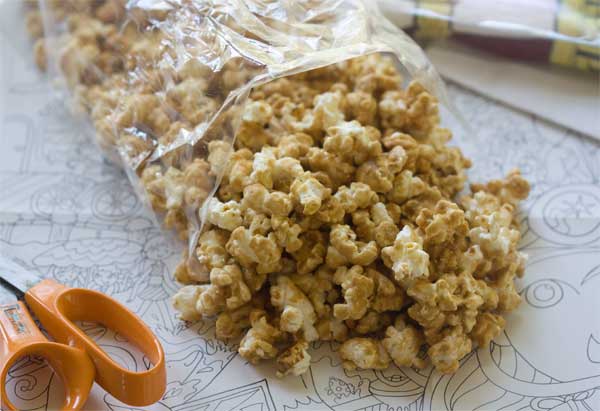 Maple Cashew Caramel Corn
Caramel corn made with maple syrup
Ingredients 
4

tablespoons

unsalted butter plus more for greasing pan

11

cups

popped popcorn

I used air popped

1

cup

cashews or other mixed nuts

1

cup

packed light brown sugar

½

cup

pure maple syrup

1

teaspoon

Kosher salt

Morton

1

teaspoon

vanilla

½

teaspoon

baking soda
Instructions 
Preheat oven to 250°F. Rub a large roasting pan generously with butter or spray with cooking spray.

Spread the popcorn in the roasting pan and stir in the nuts.

Melt 4 tablespoons of butter in a saucepan set over medium heat. Stir in brown sugar, maple syrup, and salt. Bring to a boil, and boil for 2 minutes, stirring constantly.

Remove from heat and carefully stir in vanilla and baking soda. Mixture should bubble up into a light brown foam. Pour over popcorn.

Using a heat proof scraper or a wooden spoon, fold the sugar mixture over the popcorn until it is coated.

Bake on lower rack of oven for 45 minutes, stirring and breaking up clumps with a spoon every 15 to 20 minutes.

Remove from oven. At this point it won't be completely crisp, but will crisp as it cools. Let cool completely.

Makes about 12 cups