After many childhood trips to Dairy Queen where I was told I could have either the Dilly Bar or the plain vanilla cone, the day my mom finally bought me a Buster Bar is one I'll never forget. And that's pretty strange because I have forgotten a lot of things, but the Buster Bar memory is so vivid I can almost taste the peanuts which to my four year old palate, were obtrusive. And I'd somehow made a mess with the bar, so I remember feeling sticky, irritated with the peanuts and wishing I'd just ordered the Dilly Bar as usual. I never asked for another Buster Bars and pretty much forgot about them until one day when I saw this recipe.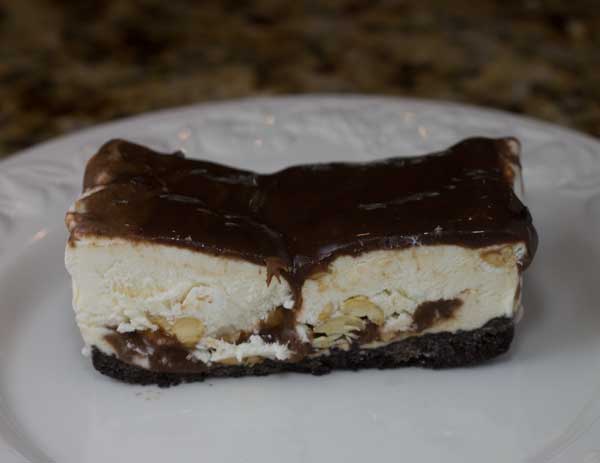 It's a frozen dessert with a chocolate cookie base, vanilla ice cream, peanuts, and a fudge sauce. It doesn't sound very fancy, but the sum is better than the parts, and as you can see by the reviews on allrecipes.com, it's a very popular treat. I didn't bother trying it until this week when I was feeling kind of desperate to do something with ice cream. And now I see what all the fuss is about. The dessert is really fun to make and open to so many variations. While I wouldn't change a thing with the Oreo crust, the ice cream can be either homemade or store bought and the fudge sauce can be whatever type you feel like. In this case, I wanted to make efficient use of a 14 oz can of condensed milk, so I used half the can to make the ice cream and the rest to make the fudge sauce.  And I also wanted to keep the batch small, which is why I used a plastic wrap lined loaf pan and which worked out perfectly because you just freeze the cake, pull it out and slice into servings. Lining the pan makes it so much easier to serve.
So here's my loaf pan version which uses the usual Oreo crust, a no-ice-cream-maker required ice cream recipe made with Eagle Brand, and a topping that uses the rest of the condensed milk. The reason the middle is sunken is because I was impatient and added the peanuts and fudge sauce before the ice cream was sufficiently firm.  The nuts and sauce sank to the bottom, requiring a second layer of sauce.  I don't recommend making this mistake, but it's one of those mistakes you might *want* to recreate if you want a hidden layer of fudge sauce.
If you make this as directed, you'll have some extra ice cream and extra fudge sauce to be used later. If you want to make it in an 8 or 9 inch square pan, just double the crust but keep the ice cream and fudge amounts the same.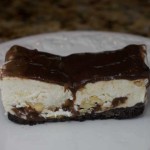 Print Recipe
Small Batch Buster Bar Dessert
Dessert with an Oreo cookie base, a layer of ice cream, some peanuts and fudge sauce.
Ingredients
Oreo Crust
9

Oreos

crushed or ground into crumbs

2

tablespoon

regular salted butter

melted
Ice Cream
1

cup

plus 2 tablespoons heavy whipping cream

2

tablespoons

milk

7

ounces

1/2 can or about 2/3 cup Eagle Brand condensed milk**

1 1/2

teaspoons

vanilla extract
Fudge Sauce
1/2

can

7 oz of condensed milk

1/2

cup

semisweet or dark chocolate chips

1

tablespoon

regular salted butter

1

teaspoon

vanilla

1/3 to 1/2

cup

dry roasted peanuts

lightly salted**
Instructions
Line the inside of a 9x5 or an 8 1/2 x 4 1/2 inch loaf pan with plastic wrap making sure it covers the bottom and goes all the way up the sides. I like Press & Seal brand.

In a mixing bowl, combine the crushed Oreos and melted butter. Press into bottom of the lined pan and chill while you make the ice cream.

To make the ice cream, put 1 cup of the cream in a deep bowl and beat with a handheld electric mixer until stiff peaks form. In a second bowl, mix together the remaining 2 tablespoons of cream, 2 tablespoons of milk, half can of condensed milk and vanilla extract. Fold in the whipped cream. Pour about half to two thirds of the ice cream mixture over crumb crust and put in the freezer for four hours or until firm. You'll have extra ice cream mixture, so you can put that in a little container and freeze it for another day.

Prepare the fudge sauce. Combine remaining half can (2/3 cup) condensed milk and chocolate chips in a small saucepan; heat over medium, stirring constantly, until chips are melted. Remove from heat and stir in butter, water and vanilla extract. Let cool to room temperature.

When fudge sauce is cool and the ice cream that you've spread over the crust is firm, sprinkle peanuts over ice cream, pressing them down slightly. Spread some (or all!) of the cooled chocolate sauce over the peanuts. Return to the freezer and freeze for another 4 to 6 more hours or until very firm.

When ready to serve, lift from the pan by grasping the plastic wrap and pulling the cake out of the loaf. Peel off the plastic wrap and cut the loaf into four to six servings.
Notes
Make sure the ice cream layer is very firm before you put the fudge sauce on top. If it's not, the fudge sauce will sink to the bottom and you will have a layer of fudge sauce between the cookie base and the ice cream. It's not necessarily a bad thing, and if you want two layers of fudge sauce you can put half of the fudge sauce on while the ice cream is soft and half on after it is very firm. I think it's a little too rich that way, though.