I have a great little ice cream maker, but haven't felt motivated to pull it out lately. Instead I've been using a no-churn recipe from Eagle Brand. It's the one where you mixed condensed milk with flavorings, whip the cream separately, then fold it in. The theory is that you are adding the air yourself, negating the need for the machine. The technique works really well, and I love being able to whip up relatively small batches of ice cream that I can customize and pour into molds or pans.
This recipe is great for using as an ice cream cake filler. Customize the ice cream to your liking, pour it into a plastic wrap lined cake pan and freeze until firm.
For this cake, I used Hershey's Perfectly Chocolate Cake, which is an old standby at our house. I also garnished the edges with chocolate whipped cream which is just so easy to work with and perfect for ice cream cakes.
Recipe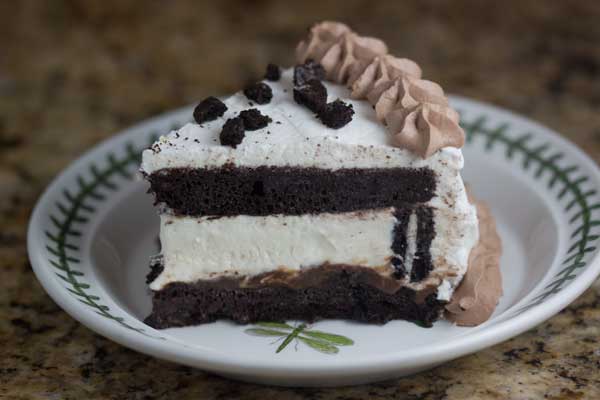 Oreo Ice Cream Cake
An easy chocolate ice cream cake with an Oreo and vanilla ice cream filling.
Ingredients 
Cake Layer
1

cup

granulated sugar

¾

cup

plus 2 tablespoons

110 grams all-purpose flour

¼

cup

plus 2 tablespoons natural or Dutch cocoa powder

¾

teaspoon

baking powder

¾

teaspoon

baking soda

½

teaspoon

salt

1

large egg

½

cup

buttermilk

¼

cup

vegetable oil

1

teaspoon

vanilla extract

½

cup

boiling water or very hot coffee
Ice Cream Layer
1

cup

plus 2 tablespoons heavy whipping cream

2

tablespoons

milk

7

ounces

½ can or about ⅔ cup Eagle Brand condensed milk

2

teaspoons

vanilla extract

¾

cup

chopped Oreos or Oreo Minis

use however many you want
Easy Fudge Sauce
½

cup

semisweet or dark chocolate chips

½

can

7 oz of condensed milk

1 ½

tablespoons

butter at room temperature

cut into small chunks

1

tablespoon

hot water

½

teaspoon

vanilla
Coating
1

cup

whipping cream

4

tablespoons

powdered sugar

1

teaspoon

vanilla extract

Garnish: Decorating icing

Chocolate Whipped Cream (see note), Crushed Cookies
Instructions 
Preheat oven to 350°F. Grease and flour two 9 inch round, 2 inch deep metal pans. If your pans are dark (black), use 325 degrees F.

In a mixing bowl, stir together sugar, flour, cocoa, baking powder, baking soda and salt. Add egg, milk, oil and vanilla; stir until well mixed. Stir in boiling water (batter will be thin), and stir until mixed. Batter maybe have a few lumps in it, Pour batter into prepared pans (unless you doubled it, the layers should be very thin) and bake for 20 minutes or until wooden pick inserted in center comes out clean.

Let cool 10 minutes; remove from pans and let cool on a wire rack.

Line the inside of one of the round pans (make sure it's cool) with plastic wrap. Put one of the cake layers in the lined pan and put in the freezer while you make the ice cream.

To make the ice cream, beat 1 cup of the cream in a mixing bowl with a handheld electric mixer until stiff peaks form. In a second bowl, beat together the remaining 2 tablespoons of cream, 2 tablespoons of milk, 7 ounces (⅔ cup) condensed milk (weigh it out if you can) and vanilla extract. Fold in the whipped cream and about half of the chopped Oreos. Pour this mixture over the cake that's in the lined pan. Return to freezer and freeze for 4 hours or until very firm

Prepare the fudge sauce. Combine the chocolate chips and condensed milk in a small saucepan and heat over medium low, stirring gently to melt the chips. Remove from heat and stir in the butter. Stir until butter melts. Add the water and vanilla. Let mixture cool to room temperature. Spread the room temperature fudge sauce over the firm ice cream, then scatter remaining Oreos over the fudge sauce. Cap with the other layer of cake and put everything back in the freezer overnight or until very solid.

Put the cream in a bowl and whip until stiff peaks start to form. Beat in the sugar and vanilla.

Lift the cake from the pan by pulling up the plastic wrap and spread cream mixture all over the cake. Put the cake back in the freezer until your whipped cream icing is firm. To serve, set on a cake platter and decorate with chocolate syrup, chocolate flavored or regular sweetened whipped cream. Sprinkle crushed Oreos in the center.

Let the cake stand for about 10 minutes before you cut it, or cut it and let the cut pieces stand for a few minutes before serving.
Notes
I wanted a higher ratio of ice cream to cake. If you'd like a taller cake with thicker cake layers, double the cake part of the recipe. When it's time to stack one of the cake layers in a lined pan, use a 9 inch round pan with higher sides, such as a 9 inch round, 3 inch high springform. That should give you enough room for 1 layer of cake and a layer of ice cream. The final layer of cake will come up and out of the pan. Alternatively, you can just use any standard cake mix cake.
To make chocolate whipped cream, whisk ½ cup confectioners' sugar, ¼ cup unsweetened cocoa powder, 2 tablespoons of milk and a pinch of cream of tartar in the bowl of a stand mixer. Put the mixer bowl in the refrigerator and chill for an hour. Add 1 cup of cream to the bowl and whip until stiff peaks start to form. Beat in a teaspoon of vanilla extract.