Today's recipe is for inspiration. That is, I hope to inspire you to enter the Martha White Muffin Mix challenge and win $5,000! All you have to do is come up with a creative way to use muffin mix in one of two categories:"Crowd Pleasers" in which you create a muffin mix based dessert suitable for entertaining, or "Just Six" where you do the same thing, but with six or fewer ingredients.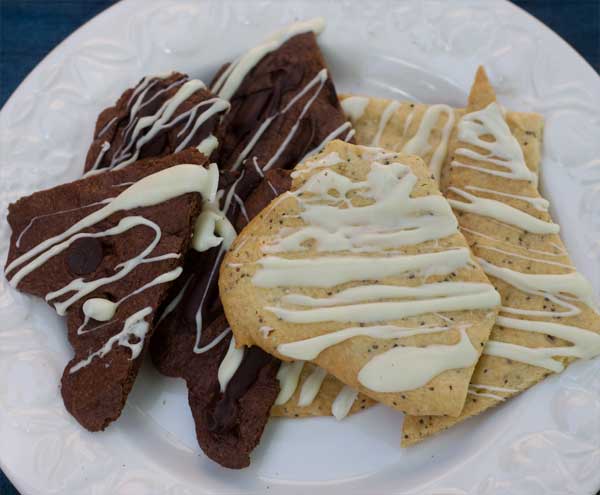 My Muffin Mix Cookie Bark is an example of a Just Six entry which (hypothetically) I would submit with a note saying it's perfect for holiday parties or for wrapping in pretty paper and giving as teacher gifts.The base is made with muffin mix, while the top is decorated with different types of melted chocolate, candies, sprinkles -- whatever!
The two barks at the top are made with Martha White Chocolate-Chocolate Chip and Martha White Lemon Poppy Seed, while the bark below is made with Martha White Chocolate Chip. I went a little crazy with this one and topped it with drizzles of melted chocolate, chopped nuts and Hershey's Kisses. I also made a peanut butter cup themed version, which would have been even better hand I had some peanut butter baking chips to throw into the dough.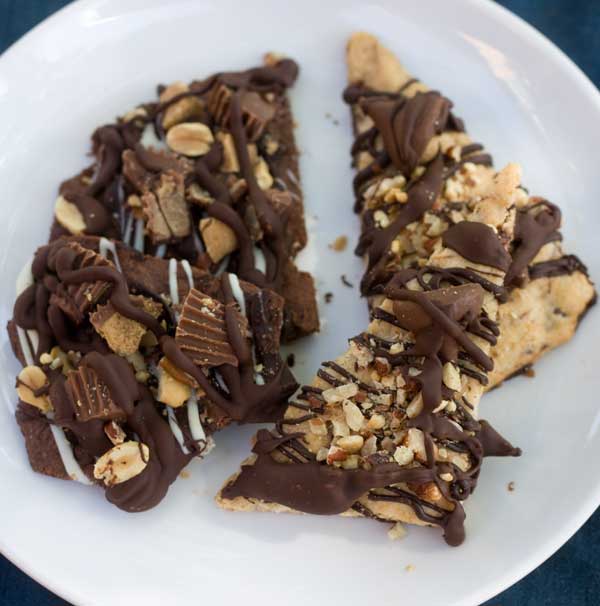 Based on the consistently good results that came with testing three flavors of muffin mix, I'm pretty sure you could make muffin mix cookie bark with any of Martha White's other flavors.Blueberry Bark, anyone? Strawberry Bark?
So that's my pretend entry, but you can submit a real one to the contest. For more ideas, check out the past winners featured at the bottom of the contest page. Kurt Wait's (if you recognize that name, it's because he won the Pillsbury Bake Off one year for a chocolate cake with canned pears in it) Triple Fudge Peppermint Pie which uses chocolate muffin mix as a crust sounds very interesting. I'd also like to try the Coconut Almond Fudge Bars
For now, here's the cookie bark recipe.
Recipe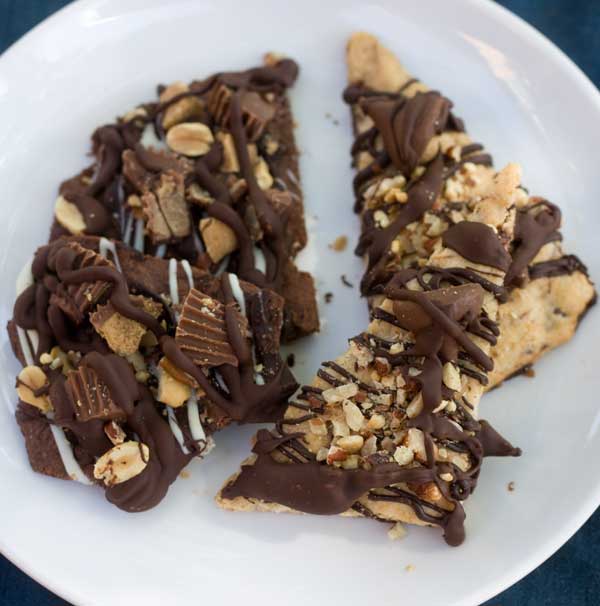 Pick Your Flavor Muffin Mix Cookie Bark
A simple cookie bark made with Martha White brand muffin mix.
Ingredients 
1

large egg white

2

tablespoons

vegetable oil

1

package Martha White Chocolate-Chocolate Chip

Chocolate Chip or Lemon Poppyseed Muffin Mix

3

oz

dark chocolate

chopped (omit if using lemon)

3

oz

of white chocolate

chopped, optional)
Instructions 
Preheat oven to 325 degrees F. Line a heavy duty rimmed baking sheet with parchment paper or a silicone mat. I've tested all my batches with a silicone mat.

In a mixing bowl, whisk together the egg white and the oil. Add the muffin mix and stir until you have a very soft dough.

Press the batter into a thin rectangle about 12x8 inches directly onto the lined baking sheet; bake on the center rack for 18 minutes or until dough starts to look set and one or two areas are lightly browned. Remove from the oven and using a pizza cutter, slice into about 12 large triangles or pieces. Separate the pieces slightly, remove any of the pieces that appear browned, and then return the rest to the oven for another minute.

Carefully remove cookie pieces from baking sheet and let cool on a rack. It will crisp as it cools.

Put the chocolate in a microwave-safe bowl and heat at 50% power, stirring every 30 seconds. Drizzle the melted chocolate over the bark and then chill for a few minutes or until set. Repeat with the chopped white chocolate. Drizzle lines of white chocolate over the bark.

Variation: For peppermint bark, use mint flavored chocolate chips.