Raise your hand if you are ready to say goodbye to Summer! Now if your hand is up in the air, that's okay because you can still make these Cashew Chews with the other.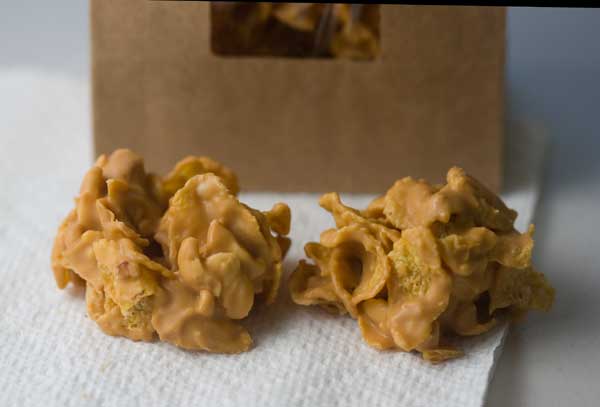 Cashew Chews are super easy and call for only four ingredients — cashews, butterscotch chips, peanut butter and flaked corn cereal. Thanks to my friend KAnn for this recipe, which her family has been making for generations.

Butterscotch Corn Flake Cashew Chews
An easy drop cookie made with peanut butter, melted butterscotch chips and roasted cashews.
Ingredients
1/4 cup creamy peanut butter
1 cup butterscotch chips
3 cups corn flakes
1 cup roasted cashews, lightly chopped
Instructions
Combine the peanut butter and butterscotch chips and heat over a very low heat until melted. Alternatively, you can do this in a microwave-safe bowl using 50% power and stirring every 30 seconds.
Mix together the melted chips, cereal and nuts with a rubber spatula. Working quickly, drop by spoonfuls onto a tray lined with parchment or wax paper. Chill until set.