I don't know if the cookies are the same now that Disney has remodeled Main Street Bakery and added a Starbucks, but this recipe for Main Street Bakery Double Chocolate Cookies is a good one.
Main Street Bakery Cookie Copycat Notes
I'm glad I tried the recipe.
I wasn't sure the cookies would be chocolatey enough, but the 18 oz of chocolate chunks (or in this case, chips) added at the end certainly did the trick. The dough started out a little soft, but after a 30 minute stint in the refrigerator, it was easy to work with. The recipe is also interesting in that it calls for only ¼ teaspoon of baking soda. The cookies rise just fine and have an interesting cakey but still kind of dense texture that works well with all the chocolate without overpowering it. So the dough was good, but not so rich that it clashes with the chips. This one's definitely a keeper. Now I just have to make my way back to Disney World and try the cookies on Main Street.
Recipe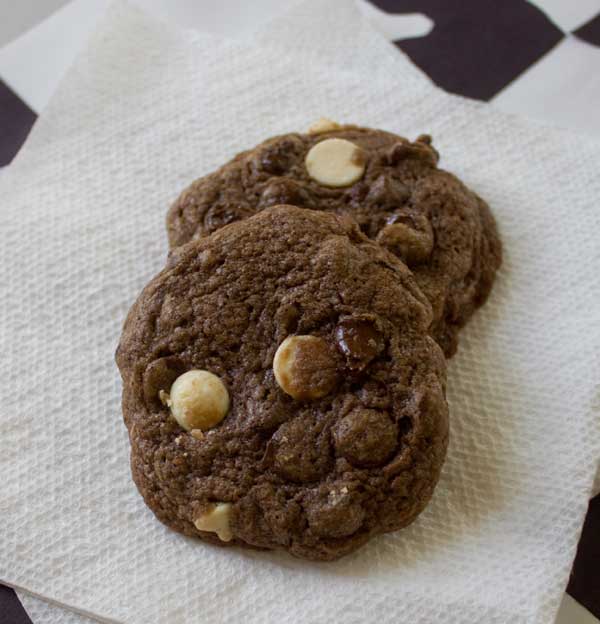 Gourmet Double Chocolate Chunk Cookies
These are supposed to be similar to the cookies served on Main Street in Disney's Magic Kingdom. I'm not sure if this is really the recipe they use, but the cookies were great!
Ingredients 
2

sticks

salted butter, softened

(230 grams)

1

tablespoon

light brown sugar

(12 grams)

1

cup

granulated sugar

(200 grams)

2

large

eggs

whisked in a separate bowl

1

teaspoon

vanilla extract

¼

cup

unsweetened cocoa powder, natural

(20 grams)

1 ½

cups

all-purpose flour

(200 grams)

¼

teaspoon

baking soda

¼

teaspoon

salt or 1 teaspoon of salt if using unsalted butter

3

cups

semisweet chocolate chunks
Instructions 
Preheat oven 350 F.

In a large mixing bowl, beat the butter until creamy. Gradually add both sugars, then gradually add the eggs. Beat until light and fluffy, then beat in the cocoa powder.

Combine the flour, baking soda and salt in a separate bowl and stir well, then stir into the batter. Add the chocolate chunks or chips and white chips (if using). Chill the dough for at least 30 minutes.

Drop dough by rounded teaspoons or tablespoons onto ungreased or foil lined baking sheets spacing about 2 ½ inches apart. Bake until cookies are set, 8-10 minutes for small cookies or up to 12 minutes for larger cookies.

Let the cookies cool in the baking sheet for about 5 minutes, then transfer to a wire rack and let cool completely.
I'm still slightly obsessed with Epcot's Strawberry Shortcake and am working on a new version, but for now, here's another Disney inspired recipe.