Last week I tried making a cake similar to Epcot's Sunshine Season's Strawberry Shortcake. The recipe I used was close, but the cake wasn't quite as yellow and didn't have the same crumb, leading me to try a few more variations. I finally found one similar to the Sunshine Season's cake and will post it soon, but I wanted to share another one I discovered along the way -- a basic and very versatile hot milk sponge cake.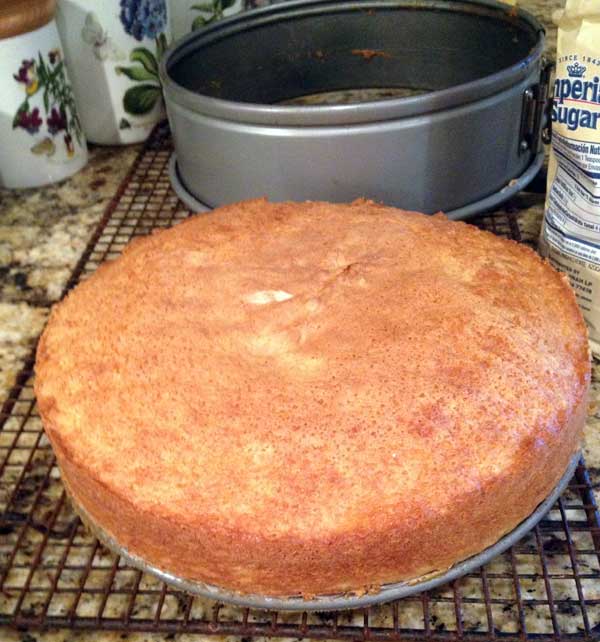 This recipe is from my friend Bev, who has a background in pastry and tons of great recipes. She's been making this cake for 30 years and says it's one of her favorites. I can see why! It wasn't very much like the Disney cake in color or crumb, but it was good in its own right and not so dry that it required soaking. You could serve it with frosting, with whipped cream and berries, or turn it into Boston Cream Pie.
Hot Milk Sponge Cake Boston Cream Pie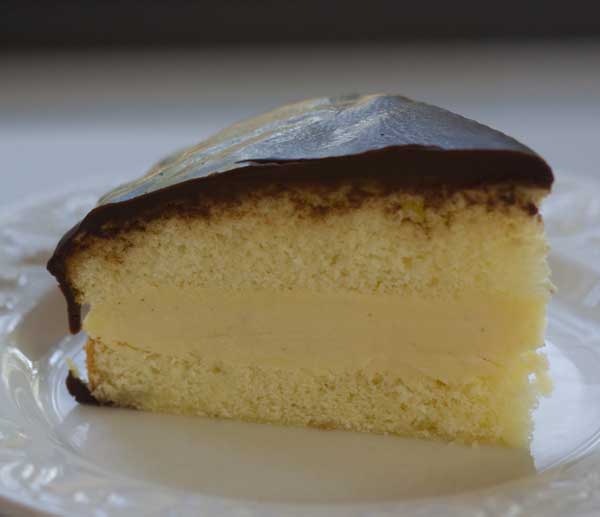 You can make it in a variety of sizes. For the Boston Cream Pie, I made ¾ of the recipe, baked it in a 9 inch round springform pan, then filled it with pastry cream and topped it with my favorite ganache glaze.
Recipe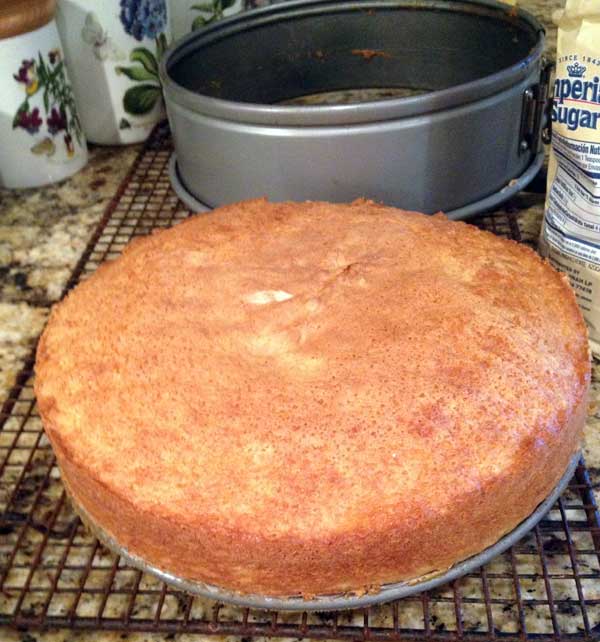 Bev's Hot Milk Sponge Cake Recipe and Boston Cream Pie
This is one of those recipes where a stand mixer really comes in handy. The reward is light, sweet sponge cake perfect for Boston Cream Pie or serving with fresh fruit and whipped cream.
Ingredients 
4

large

eggs, room temperature

2

cups

granulated sugar

(400 grams)

2 ¼

cups

cake flour or 2 cups all-purpose flour

(260 grams)

2

teaspoons

baking powder

½

cup

unsalted butter

(114 grams)

1

cup

milk

whole or 2% okay

½

teaspoon

salt

Reduce to a pinch of using salted butter

1

teaspoon

vanilla extract
Instructions 
Preheat oven to 350 degrees F. and place the rack just below center.

In the bowl of a stand mixer, beat the eggs for 5 minutes or until they've tripled in volume. Add sugar and beat for 10 minutes longer (or more like 5! I never beat for a full 10 minutes). While the sugar and eggs are beating, sift together the flour and the baking powder.

Combine the butter, milk, and salt in a large glass microwave-safe measuring cup or saucepan and heat just until mixture boils and butter is melted Add the vanilla extract and set aside.

With mixer on low speed or by hand, mix the flour mixture into the whipped egg mixture.

Remove about 2 cups of batter and put it in a separate bowl. Stir the hot milk mixture into that batter, then add it all back into the main mixing bowl and stir until combined.

Pour the batter into your chosen pans (or pan) and bake until done.

-- 9 inch round pans will take about 30 minutes, a 9x13 pan will take about 40 minutes, a jelly roll should only take about 16 to 18 minutes. But watch closely and go buy appearance.