When I think of iconic cheesecakes, three come to mind — Eli's, Lindy's and Junior's.
Eli's is from a Chicago cheesecake company, and I haven't had any in a while and can't remember the texture. Lindy's is associated with an old restaurant in New York and is dense, creamy, and has a shortbread crust. As for Junior's, it's served at a famous New York deli (which also makes awesome Black and White Cookies) and has a signature sponge cake crust. Up until this week my favorite homemade version has been the Lindy's style New York Cheesecake, but yesterday I made a copycat version of the Junior's cheesecake and I suppose I now have two favorites.
The recipe I used is based on one from a Junior's booklet published by Fine Cooking. The results were outstanding! With a good amount of cornstarch to assist, the cheesecake had nary a crack. It was smooth and pretty, and the spongecake crust made it very much like Junior's. Here's a photo of the sponge cake before I poured the batter over it.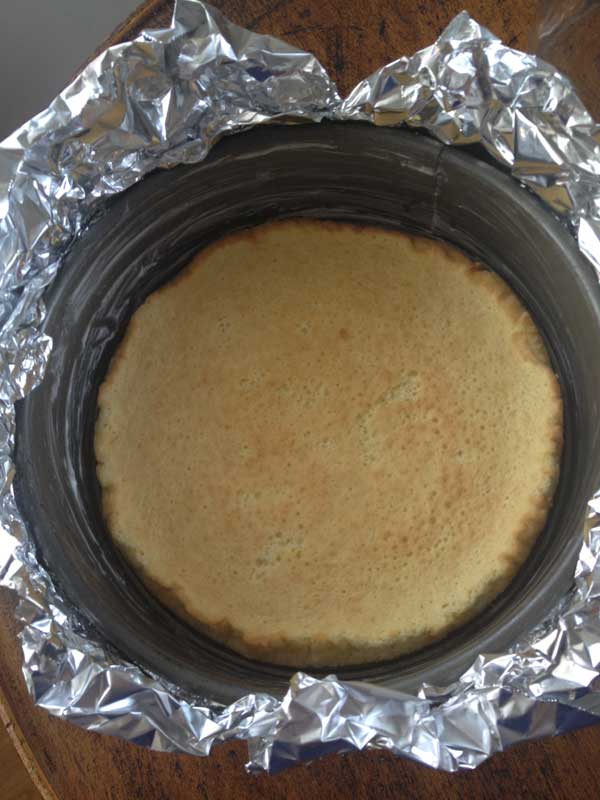 I made the sponge cake crust the day before, took it out of the pan and froze it, then plopped it back in there the next day when I was ready to make the filling. It shrank a bit, so even though I'd baked it in a 9 inch pan there was about a 1/4 inch gap between the perimeter of the cake and the pan and the edges of the cake sloped slightly inward. I just poured the batter over all of it thinking it would taste good no matter how odd the crust appeared; but oddly enough, it baked up with a nicely placed crust even though I'd poured batter in the crevice.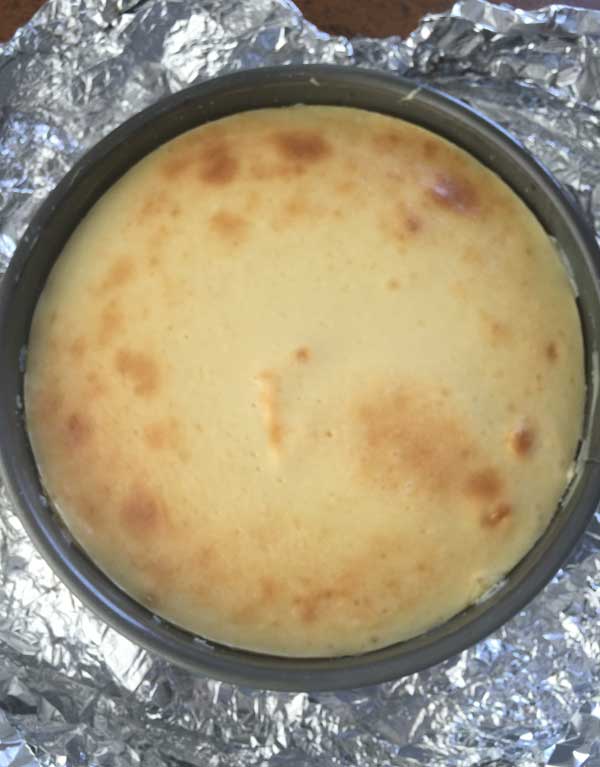 I didn't get a completely brown top, but I never do unless I employ tricks like the New York one of baking at a high temp for 10 minutes.
Overall, this was a great cheesecake with a texture that was creamy, but a little less dense than the Lindy's recipe. When I make this again I will probably just use a graham cracker crust because I like the flavor and texture contrast, but it was fun trying to replicate the Junior's sponge cake crust.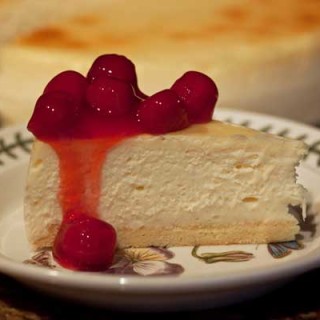 Like Junior's Cheesecake
This is a cheesecake I call Like Junior's Cheesecake because it's not identical, but it's creamy and smooth and has a sponge cake crust. Feel free to skip the cake crust and just use graham crackers mixed with butter and sugar.
Ingredients 
Sponge
1/3

cup

sifted cake flour

3/4

teaspoon

baking powder

1

pinch

salt

2

extra-large or jumbo eggs

about 130 grams

1/4

teaspoon

cream of tartar

1/3

cup

sugar

1

teaspoon

vanilla extract

2

drops lemon extract or use 1 lemon and 1 orange

2

tablespoons

melted unsalted butter
Cream Cheese Filling
4

8 ounce packages cream cheese, softened

1 2/3

cups

sugar

1/4

cup

cornstarch

1

tablespoon

pure vanilla extract

2

extra-large eggs

3/4

cup

heavy whipping cream
Instructions 
Preheat the oven to 350 F. Grease bottom and sides of a 9 inch springform pan and prepare it for a water bath by wrapping in foil and bringing it up past the sides. If you've never done this, take a look at a tutorial on You Tube. I always use too much foil because I'm paranoid about water seeping in.

Make the sponge. Sift the cake flour, baking powder, and salt together; set aside.

In a clean bowl, using clean dry beaters (I used a handheld mixer), beat the egg whites and cream of tartar together on high until frothy. Gradually add all but about 2 tablespoons of the sugar, then set aside.

In a large mixing bowl, beat the yolks on high for about 3 minutes. With the mixer still running, gradually add what remains of the 1/3 cup sugar and continue beating ribbons form in the bowl, about 5 minutes more. Beat in the vanilla and lemon extracts.

Sift the flour mixture over the batter and stir it in with a heavy duty scraper. Add the butter and stir until blended.

Stir about 1/3 cup of the beaten whites into the batter, then gently fold in the remaining whites. Gently spread the batter across the bottom of the pan, then bake at 350 for 10 to 15 minutes or until cake springs back when touched.

Leave the cake in the pan and proceed with the filling.

Filling: Heat the oven to 350 degrees F.

Place one 8-ounce package of the cream cheese, 1/3 cup of the sugar, and the cornstarch in a large bowl and beat with an electric mixer on medium, scraping bottom and sides of bowl often, until creamy.

Beat in remaining packs of cream cheese, one at a time, then increase the mixer speed to high and beat in remaining sugar and vanilla, scraping sides and bottom of bowl to ensure mixture is smooth.

Add each egg, one at a time, stirring or beating at the lowest speed until incorporated. The goal is not to beat a lot of extra air in with the eggs.

Pour the cream into the batter and stir on low (or by hand if you prefer) until smooth and creamy. Pour over crust. Run a scraper through the batter, smoothing top. At this point, I like to drop the cheesecake 5 inches onto the counter to bring air bubbles to the top.

Set the foil-lined springform pan in a roasting pan and pour hot water around it so that it comes an inch up the sides. Put the springform pan and water bath in the oven and bake for 1 ¼ hours or until the top is lightly browned (level of browning will vary with different ovens – mine was just brown in spots).

The cheesecake will look set and might be quite puffed up. It should settle as it cools.

Let cool at room temperature for about 2 hours, then transfer to the refrigerator and chill for at least 6 hours or overnight.Remove the sides.