Today's recipe is from Stef, who loves to bake and share recipes. These "Peanut Butter Brookies"are one of her latest creations. She's so proud of them she mailed me not only the recipe, but a batch to try.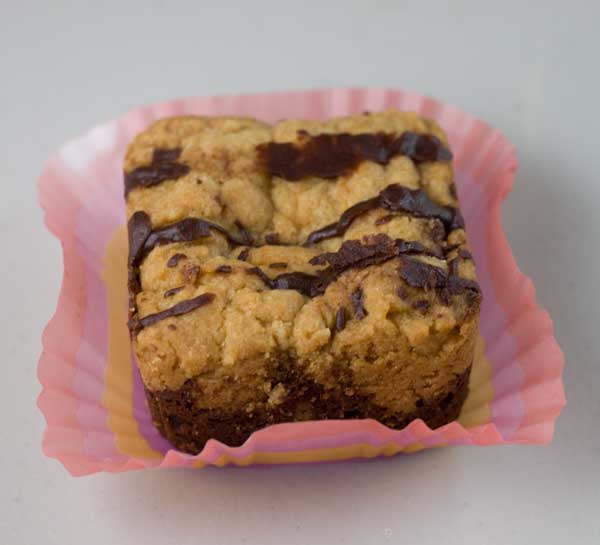 Stef makes her brookies (half brownie, half cookie) with organic peanut butter cookie dough and brownie batter and bakes them in a paper lined square muffin or bar cookie pan
. This makes a lovely presentation, plus the shape is also perfect for packaging and shipping. For my package, she wrapped six brookies individually, fit them into a rectangular Ziplock container, and tied it all together with a ribbon.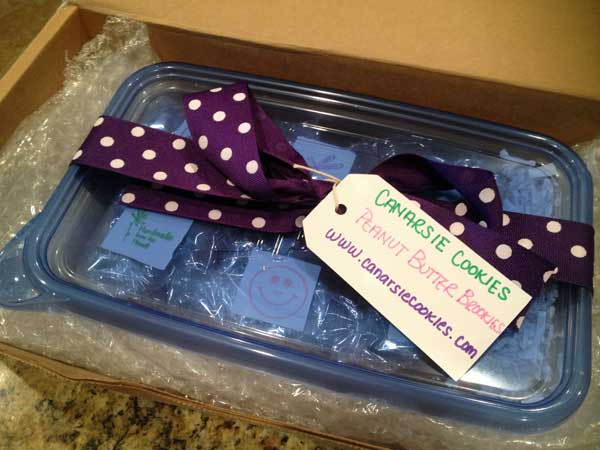 The stamped labels were a nice touch, too!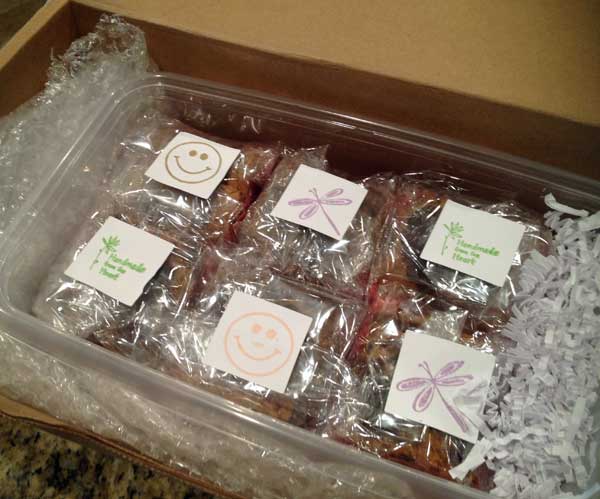 So thanks to Stef for sharing her recipe, and I look forward to making it very soon.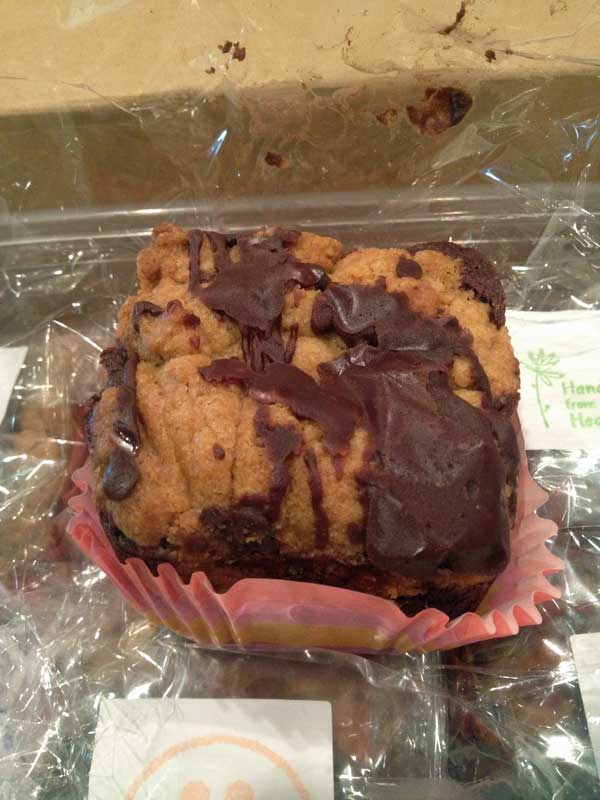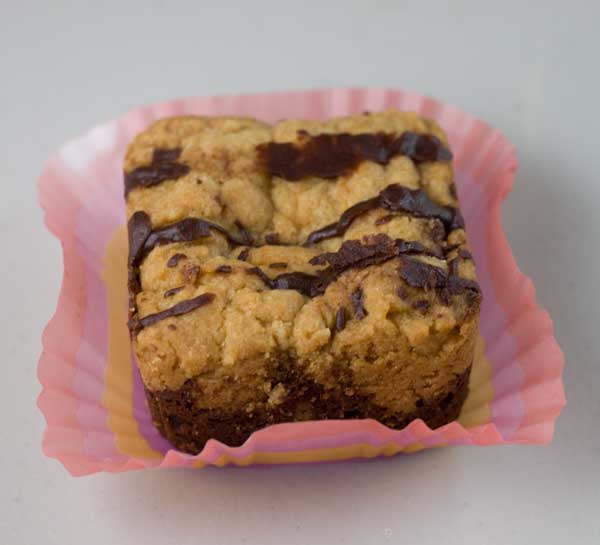 Canarsie Cookies Peanut Butter Brookies
The Peanut Butter Brookie
Ingredients 
Brownie
1/2

cup

unsalted butter

1/3

cup

unbleached all purpose flour

1

cup

white granulated sugar

2

eggs

1/4

tsp

vanilla extract

1/2

cup

unsweetened cocoa powder

1/4

tsp

baking powder

¼

tsp

salt
Cookie
1/4

cup

unsalted butter

1/4

cup

smooth peanut butter

1/4

cup

white granulated sugar

1/4

cup

packed light brown sugar

1

egg

2/3

cup

unbleached all purpose flour

2/3

tsp

baking soda

1/4

tsp

baking powder

1/8

tsp

salt
Chocolate Glaze
1/4

cup

semisweet chocolate chips

1

tbl butter

1/3

tbl light corn syrup

1

tbl milk

1/8

tsp

vanilla extract
Other Supplies
Cooking spray or vegetable shortening for greasing pan

Square or round cup cupcake pan
Instructions 
Preheat oven to 350 degrees F.

Grease square/round cup cupcake pan on all sides.

To Prepare Brownie Batter: Melt butter in small or medium saucepan.

Remove butter from heat and pour butter into large mixing bowl. Mix in sugar, eggs and vanilla until smooth. Mix in flour, cocoa powder, baking powder, and salt until well mixed. Set batter aside.

To Prepare Cookie Dough: Soften butter in microwave for about 20 seconds or until super soft, but not melted completely.

Cream together butter, white sugar, brown sugar, and peanut butter until smooth. Mix in egg until smooth. Stir in flour, salt, baking soda, and baking powder.

Baking: Fill cupcake cups about ¼ full with brownie batter. Put cookie dough on top of brownie batter until cups are about ¾ full. You don't want to fill cups to top because they may overflow when baked. Repeat until all cupcake cups are full and batters are used.

Bake on 350 degrees F for 20 minutes or until toothpick when inserted comes out clean and cookie dough is lightly browned.Once baked, let cool.

To prepare glaze: In a double boiler over hot, but not boiling water, combine chocolate chips, butter, corn syrup, and milk. Once mixture is melted and smooth, mix in vanilla. Drizzle glaze over cooled brookies.