This Grilled Pound Cake was inspired by a photo on Crisco's website.  It's gone now so I've deleted the link, but I guess it did its job since it tempted me to make the cake.    However, mine looked nothing like the cake in Crisco's photo, unfortunately.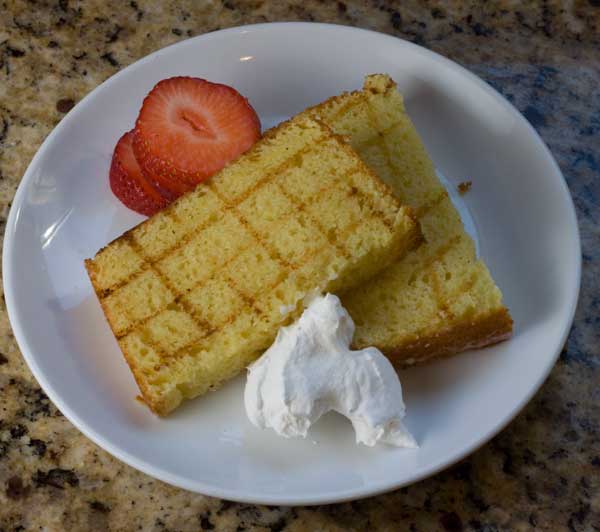 But it was a good tasting cake and I like Crisco's method of making a pound cake with oil and using the easiest mixing method in the world, the muffin method.
Perfect Texture For Grilling
The texture is kind of like a really dense, sweet, muffin. Not entirely, just sort of. It is definitely a heavier than usual cake, but that is a benefit because it makes it more amenable to grilling without falling apart. But that doesn't mean you have to grill it, because it's perfectly fine iced and served by the slice.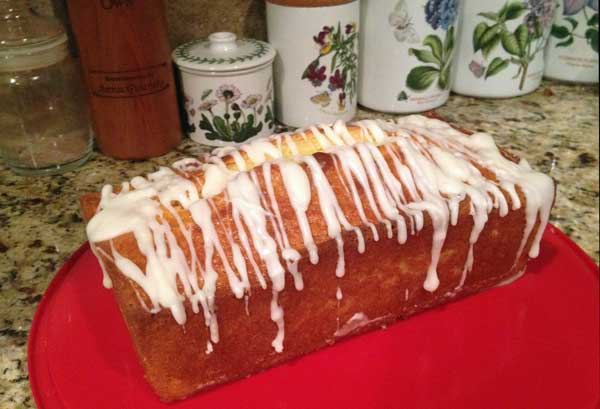 And then there's the issue of how clean your grill is. I'm not saying my grilled pound cake slices tasted completely like smoke, chicken and Cajun seasoning, but let's just say there were some subtle nuances in the background. I preferred the cake un-grilled, but loved the idea.
Flavoring The Cake
Finally, I didn't use the lemon and almond extract, but rather a mixture of  McCormick Vanilla, Butter & Nut extract and Sonoma Syrup's Vanilla Bean Crush.   Using oil instead of butter wasn't a problem as far as flavor goes because the cake had plenty of it.  Do make sure you use really fresh, good quality vegetable oil.  If the oil is older you might detect it in the cake.
Recipe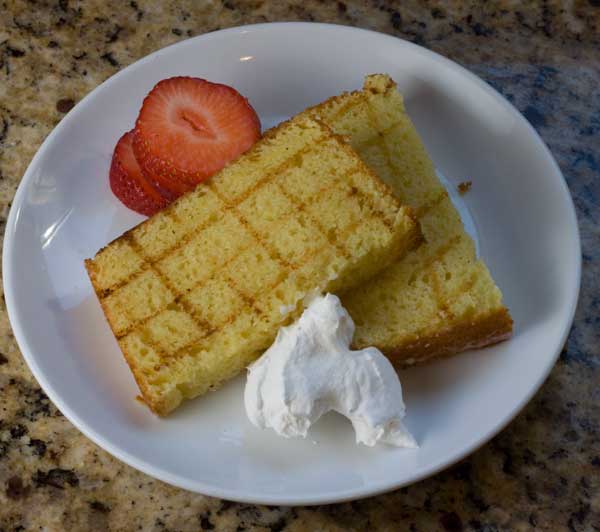 Grilled Pound Cake
A grilled pound cake made with Crisco oil.
Ingredients 
1 ½

cups

all-purpose flour, preferably bleached

(190 grams)

2

teaspoons

baking powder

¼

teaspoon

salt

1

cup

plain yogurt, full fat

(240 grams)

1

cup

granulated sugar

(200 grams)

3

large

eggs

Peel of 1 lemon

(I sometimes use yellow cake flavoring)

1

teaspoon

almond extract (or just use vanilla

½

cup

canola oil or any clean and neutral oil
Instructions 
Preheat the oven to 350 degrees F. and spray a 9x5 inch loaf pan with flour-added cooking spray.

Mix the flour, baking powder and salt in medium bowl. I sifted the flour because I'm suddenly in the habit of doing it even though it's not always necessary if you weigh your flour.

Combine the yogurt, sugar, eggs, and flavorings in a large bowl; whisk well to blend. Gradually whisk dry ingredients into yogurt mixture. Stir in oil; mix until well combined. Pour mixture into prepared pan.

Bake until cake begins to pull away from sides and toothpick inserted into the center comes out clean, about 50 minutes. Cool in pan on rack for 5 minutes. Using a small, sharp knife, cut around edge of cake to loosen. Turn cake out onto rack; turn upright and cool completely.

At this point, you can pour icing over it or take it to the next level and grill it. Heat your grill as you usually would, spray grill with cooking spray, and grill slices of cake for 1 to 2 minutes per side.