If you like the idea of a pumpkin scone but want to make something a little easier, here's the perfect recipe. Not that Pumpkin Biscuits are really easier than scones. They're practically the same recipe, but I always perceive biscuits as being easier than scones because biscuits are something I grew up with and scones, well....not so much.
Whatever your take on the matter, these are worth a try. The dough is rather soft and the biscuits aren't the most beautifully shaped in the world, but they are absolutely delicious with just the right balance of sweetness and spice. The shell is kind of crispy and the interior is very soft. Other than that, I don't have much to say about the recipe other than try it! I posted it on a Friday night so it would be there for you at breakfast on Saturday. We'll discuss what to do with the leftover pumpkin later.
Vegan Pumpkin Biscuits
You can easily make a Vegan Pumpkin Biscuits. For the butter, use your favorite "plant butter" or vegan margarine. For the buttermilk use soy or almond milk soured with a teaspoon of lemon juice.
Recipe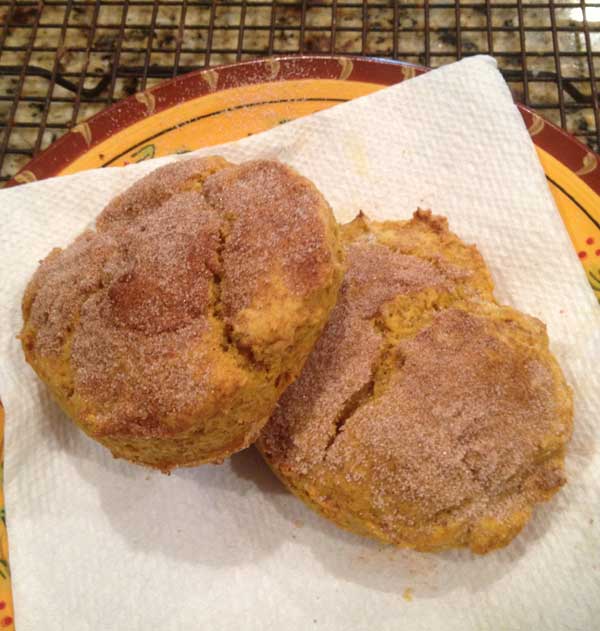 Pumpkin Biscuits with Cinnamon Sugar
Quick and easy recipe for pumpkin biscuits topped with cinnamon sugar.
Ingredients 
2

cups

all-purpose flour

2

tablespoons

granulated sugar

1

tablespoon

baking powder

1

teaspoon

baking soda

¼

teaspoon

of salt**

2

teaspoons

pumpkin pie spice

1

stick

salted butter, cold and cut into small chunks**

(114 grams)

⅔

cup

canned pumpkin

measure carefully

½

cup

buttermilk or milk soured with a little lemon juice
Topping
2

tablespoons

granulated sugar

½ to 1

teaspoon

of cinnamon
Instructions 
Preheat oven to 425 degrees F. Line a baking sheet with parchment paper.

In a mixing bowl, combine the flour, sugar, baking powder, baking soda, salt and pumpkin pie spice and stir until very well mixed.

Scatter bits of butter over the flour mixture. Using your fingers or a pastry cutter, cut in the butter until mixture is coarse and crumbly.

Mix together the pumpkin and buttermilk. Add it to the dry mixture and stir to make a very soft dough.

Empty mixture out onto a floured surface and press down to about 1 inch. Using a 2 ½ inch cutter, cut about 9 biscuits and arrange on the baking sheet. If you use a smaller cutter, you'll get more biscuits. A larger cutter will give you fewer biscuits.

Combine the 2 tablespoons of granulated sugar with the cinnamon and sprinkle cinnamon sugar generously over the tops of the muffins.

Bake for about 15 minutes or until muffins appear brown and cooked through.
Notes
**If you use unsalted butter, increase the salt by a generous ¼ teaspoon.  You can also substitute for ounces of already shredded butter.
This dough is pretty soft. To keep the dough from sticking to your fingers, dampen your hands with a little water -- not to much that you get extra water in the dough.