These Chocolate Chip Biscuits are a sweet variation of my favorite flaky, layered biscuits. I've played with the size over the years using different size cookie cutters and thicknesses of dough, and I think I like the 2 ½ inch size biscuits best. The yield will be 7 or 8 biscuits. I've also added an alternate technique for the butter. Instead of using chunks and a pastry cutter, I grate it in with a flat grater.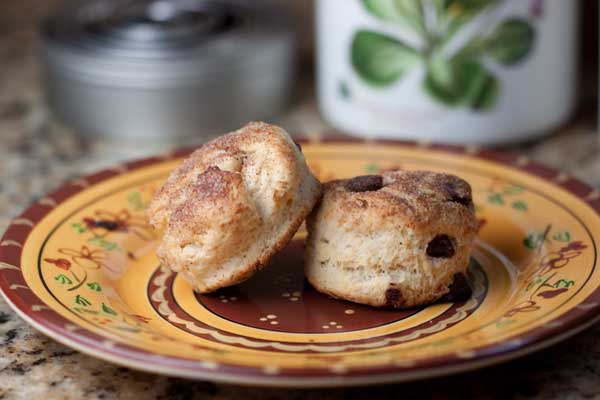 Chocolate Chip Biscuits make a great late morning or afternoon snack. And believe it or not, they are sweet even with only 4 teaspoons of sugar in the dough. The dark chocolate chips add sweetness and the sugary cinnamon topping finishes everything off.
Plain Layered Biscuits
For plain biscuits, you don't need to make many changes. Just leave out the chocolate chips and cinnamon sugar. You can also make biscuits with very distinct layers. To get layered biscuits, just fold the dough over on itself in thirds three times.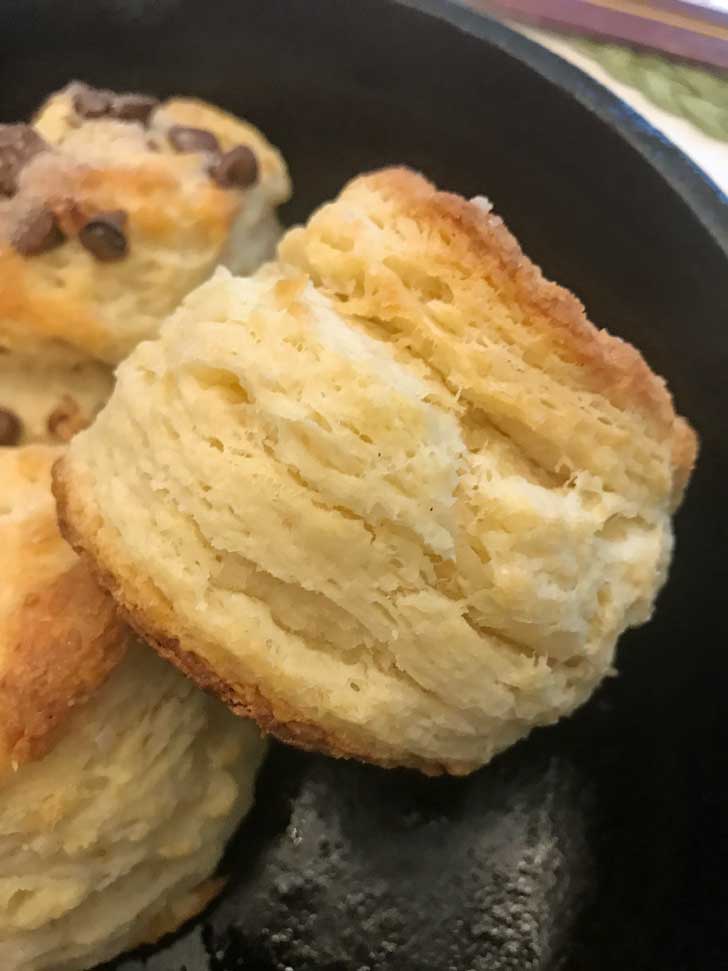 Half Batch Chocolate Chip Biscuits
Another thing you can do with this recipe is halve or even quarter it and make small batches. Here's a half batch (minus one) about to get baked in a six inch cast iron skillet. I only put chocolate chips in one of the biscuits.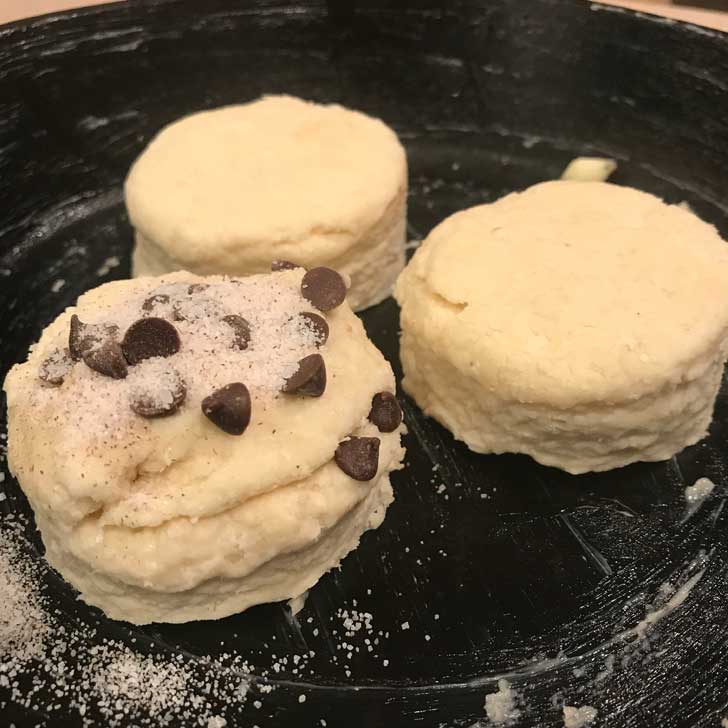 One last thing. For the baking powder, I almost always use Rumford, but for this batch I used Bakewell Cream Baking Powder (which is different from regular Bakewell Cream). My husband brought this home from the King Arthur store, so if you are interested you can order it. Amazon has it as well. So far I've been impressed with its performance and clean flavor.
Recipe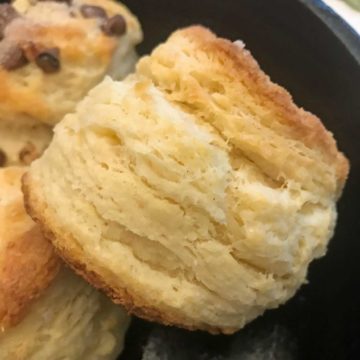 Chocolate Chip Biscuits
Rich and buttery biscuits with chocolate chips.
Ingredients 
2

cups

cold all-purpose flour

(250 grams)

1

tablespoon

double acting baking powder

4

teaspoons

sugar

(18-20 grams)

½

teaspoon

salt

6

tablespoons

unsalted butter, cold

(84 grams)

¾

cup

well-shaken buttermilk, plus more as needed

½

cup

dark chocolate chips

½ to 1

teaspoon

of cinnamon mixed with 1 ½ tablespoons of sugar**

2-3

tablespoons

melted butter for brushing on top
Instructions 
Put the flour in a large mixing bold and stir in baking powder, sugar and salt. Cut the butter into small chunks and scatter chunks of butter over flour. Toss to coat, then use a pastry cutter or your fingers to rub the butter into the flour to make a coarse meal with a few pea-size flecks of butter. Put the mixture in the freezer for about 20 minutes.

Alternative Method: Mix the flour, salt, baking powder and sugar as above, but grate the butter over, tossing occasionally. If you have a flat grater, this a good way to distribute it evenly throughout the flour mixture.

Position the oven rack to the center and preheat the oven to 425 degrees F.

Add the cold buttermilk to the flour mixture and stir gently until mixture just starts to come together. You will probably need to add a little more buttermilk, so just add it gradually until the dough doesn't seem flour. Add the chocolate chips and stir until everything has come together to form a dough.

On a floured surface, press dough into a ½ inch thick slab, then fold slab over itself into thirds. Press down and repeat twice so that it's a little over half inch (you can make it thicker if you want) thick. Using a 2 ½ inch round cutter, cut as many rounds as you can, gently pulling together scraps as you go.

Sprinkle dough rounds generously with the cinnamon sugar.

Put the biscuit rounds on a heavy, parchment lined baking sheet or arrange ¾ of an inch apart in a cast iron skillet. Bake at 425 degrees F. for about 15-18 minutes or until biscuits have browned. Remove from oven and immediately brush with melted butter. The time will vary depending on how thick you make the dough rounds and what size cutter you use.
Notes
If you want, you can add a tiny dash of vanilla to the buttermilk. As for the cinnamon, I preferred the larger amount, but my daughter said the cinnamon was overwhelming when a full teaspoon was used, so I gave a range. You can leave the cinnamon off altogether if you don't love it.