I'm hopeless when it comes to decorating, but this morning a friend came over and together we made some cute football cake pops. These were for our local Pop Warner team, but I am looking forward to making them again when Super Bowl rolls around.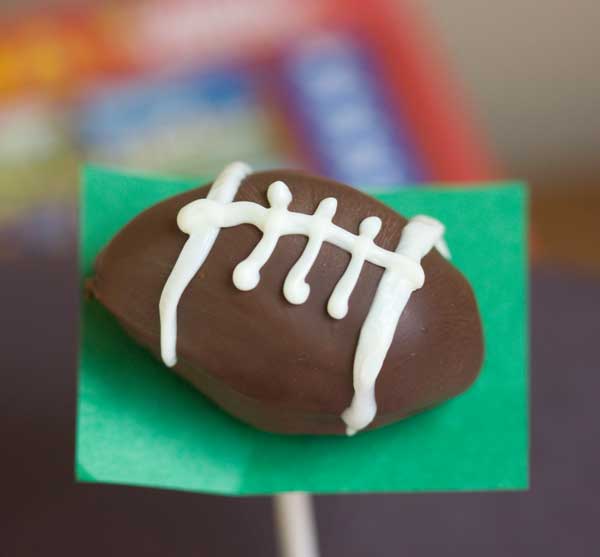 My only complaint is that to make football shaped pops, we had to use the mashed cake and frosting recipe. A lot of people like that recipe, but I prefer cake balls that are made in a cake pop maker and are basically just tiny cakes enrobed in chocolate. But again — minor complaint. Overall these were very good, so I thought I'd post a couple of things I learned along the way.
First, the Wilton Chocolate Pro Melting Pot is a good investment. With the holidays rolling around, you might as well buy one or consider buying one as a gift for the baker in your life. I bought this over a year ago and have used it many times since.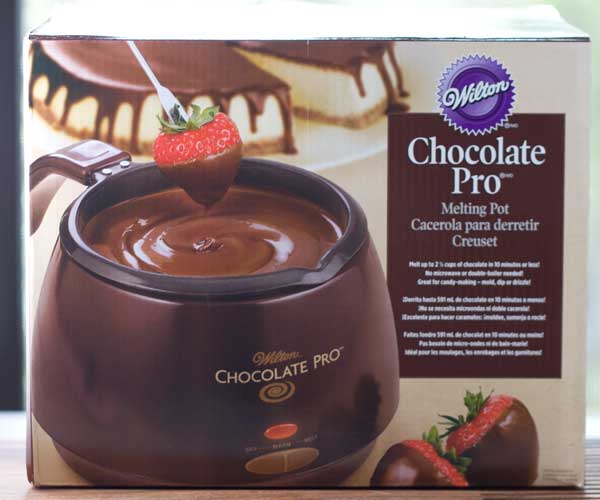 Another tip: look for the new Ghirardelli Melting Wafers, which are designed especially for dipping and don't require tempering or any added shortening. They set up with a nice sheen and have a good flavor; however, they don't set up quite as fast as the cheaper almond bark which starts solidifying almost as soon as you dip it. The downside was we needed to chill the pops a bit to get them to set. The plus side was when we used the white melting chips to pipe lacing, we didn't have to microwave it over and over to keep it soft.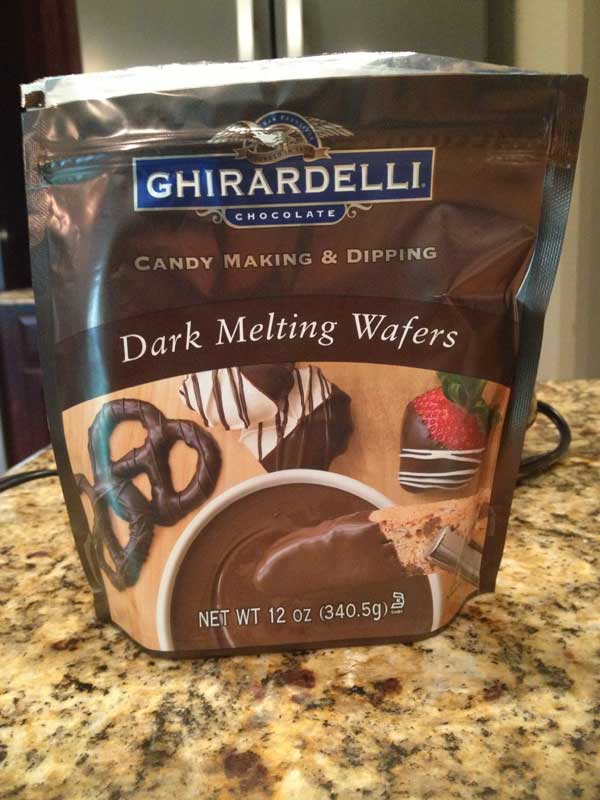 I was also reminded just how important it is to have the right decorating bag for piping white chocolate. First I piped the white chocolate out of a freezer bag with the tip cut off. Unfortunately the tip of the bag got a little gnarly and the white chocolate kept coming out in a curly pattern. Next I tried an off-brand disposable decorating bag and had the same problem. The third and final bag was a Wilton disposable, and for some reason that worked perfectly. Maybe they are sturdier? I don't know, but I've also heard that parchment paper cones are good for piping white chocolate. I'll try them next, but I will definitely continue practicing with melted chocolate rather than icing because it sets up hard and doesn't smear against the side of the treat bag.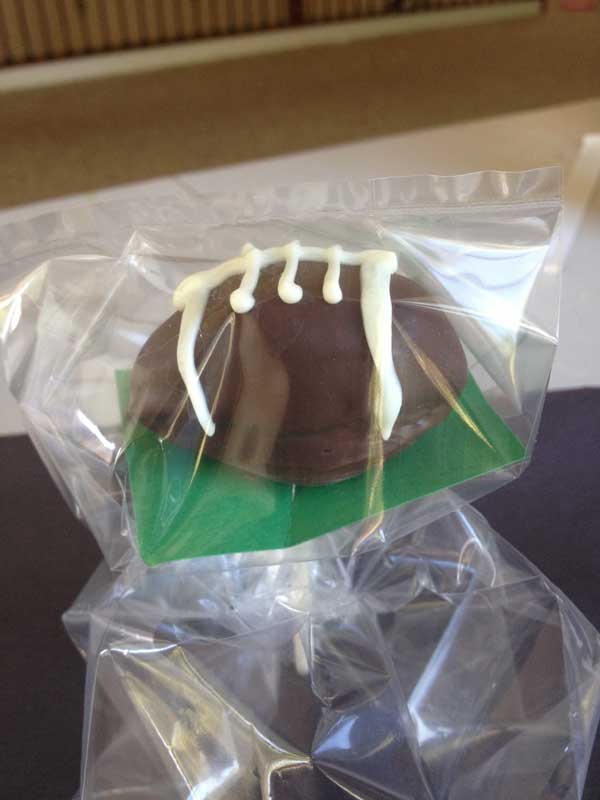 Speaking of which, this is how we packaged them. We put cellophane treat bags over the top and tied them off on the stick with twisty ties. To add a little color, we cut up some green cardboard and laminated it (though you don't have to) and made little "lawns".
Football Cake Pops and Brownies
Cake balls shaped as footballs
Ingredients 
50

sticks

50

little bags

Cake pop stand

1

box Betty Crocker Triple Chocolate Cake Mix

1

can

you probably won't use all of it Chocolate Frosting

1

pound

Ghirardelli Melting Chocolate

Some Ghirardelli White Melting Chocolate
Instructions 
Prepare cake as directed using the eggs, oil and water amounts noted on the box. Let cool completely.

Crumble cake in a large mixing bowl. Stir in enough frosting so that the mixture can be shaped into balls. This may vary, so rather than give you an exact amount I'll say that I used about ¾ of a 15 oz can.

Line a large cookie sheet or a couple of plates with parchment. Scoop up small balls of mixture and shape into footballs. This takes practice. I started with a cyclinder and kind of pinched the ends to make triangles. Chill the footballs for several hours. You'll be able to touch them up a bit before dipping because the chilled footballs are easier to shape.

Take them out of the refrigerator and shape any of the irregular footballs into neater footballs.

Melt a small amount of chocolate. Dip ends of sticks into chocolate and poke the chocolate dipped stick into the football. Quickly put it on a plate in the freezer. Continue until all the footballs are on sticks. Freeze for several hours or until your footballs on sticks are nice and sturdy.

Now comes the fun part! Melt the melting chips in the top of a double boiler or a chocolate melting pot. Carefully dip the frozen cake pops and tap off any excess chocolate.

Stand them on a cake pop stand or poke the sticks in Styrofoam and put them in the refrigerator to chill.

To make the lacing, melt some white chocolate in the microwave. Spoon it into a Wilton decorating bag and let it cool for a minute so it's not too hot and runny. Snip the tip off the bag and carefully pipe the lacing. If you have a hard time with melted white chocolate, you can use royal icing instead. However, the white chocolate holds up better when packaged.

Return pops to the refrigerator. When they are very firm, take a small piece of green cardboard, fold it in half and make a snip in the center so that you have a cut. Poke the stick through. Now put a bag over the pop and tie it off with a twist tye.
Notes
We kind of lost count of how many pops this recipe made, but you should get at least 45 because that's what we were shooting for and we got at least that many.