As much as I love making big, decadent, dramatic looking brownies or cookies, I also enjoy miniature cookies that are crunchy through and through. A while back I came up with these Miniature Chocolate Chip Cookies which are always crunchy due to a long, slow bake time. This weekend I decided to try a miniature butterscotch oat cookies.
Miniature Butterscotch Oat Cookies

If the recipe looks familiar, it's because it's a variation of the Oatmeal Scotchies recipe on the back of the Nestle Toll House butterscotch morsel bag. Instead of making the full batch I halved it, added pecans, made the cookies very small and baked them using the low and slow method for crunchiness. They're definitely crunchy, with no burnt edges or chewy centers. If you try them, I recommend baking half of the dough or even a fraction of the dough just to make sure the 30 minutes at 300 works for you.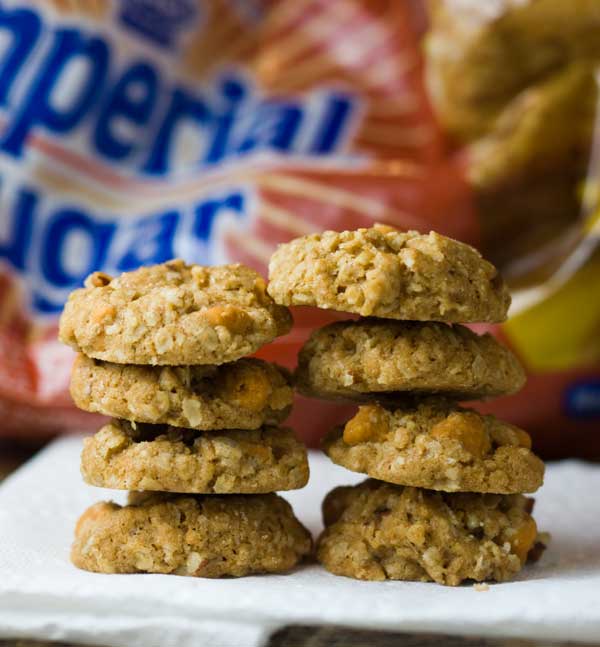 Crunchy Miniature Butterscotch Oat Cookies
Miniature oatmeal butterscotch cookies which are crunchy through and through. The yield is approximate.
Ingredients 
1/2

cup

plus 2 tablespoons

2.8 oz flour

1/2

teaspoon

baking soda

1/2

teaspoon

salt

1/4

teaspoon

cinnamon

1

stick

4 oz unsalted butter, softened

6

tablespoons

dark brown sugar

6

tablespoons

granulated sugar

1

large egg

1

teaspoon

vanilla extract

1 1/2

cups

of quick oats

3/4

cup

butterscotch chips

1/3

cup

toasted and chopped pecans.
Instructions 
Preheat the oven to 300 degrees. Line two large baking sheets with parchment paper.

Mix together the flour, baking soda, salt and cinnamon and set aside.

In a mixing bowl, beat the butter until creamy. Beat in both sugars and continue beating until light and fluffy. Add the egg and beat just until mixed. Beat in the vanilla.

Add the flour mixture and stir until blended, then stir in the oats, butterscotch chips and pecans.

Shape the dough into marble size balls and arrange about 1 1/2 inches apart on baking sheets.

Bake for 30 minutes (check at 22 minutes), switching racks halfway through.

When cookies appear set and baked and slightly brown around the edges, remove from oven and let cool completely. They will not be completely crunchy and crisp until they finish cooling.