Last year a friend asked if I'd auction off a kind of "Cookie of the Month" service for our school's silent auction. The highest bidder would get freshly made cookies dropped off at their house once a month. I was worried Todd would end up having to bid on me, but someone beat him to it and for the past few months I've been taking cookies to a sweet family who are open minded about the arrangement and have happily accepted whatever I've felt like making including what are currently my best sugar cookies.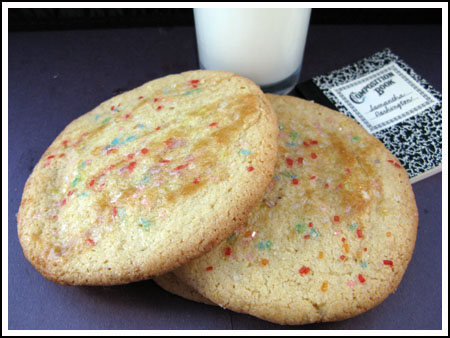 Best Sugar Cookies Update! I have a new favorite.
While "best sugar cookies" is certainly subjective, this recipe is my favorite sugar cookie. The recipe calls for a mixture of cream cheese and vegetable oil which gives the cookies an interesting texture. In addition, I use a special extract to give them a flavor that reminds some people of the sugar cookies served at Potbelly. These cookies, which are adapted from an old recipe from Cook's Illustrated, can be made big or small. And finally, the recipe doesn't require an electric mixer!
My second favorite would be Secret Ingredient Sugar Cookies. The secret ingredient is instant pudding mix. Readers seem to think these are the best sugar cookies.