We eat a lot of pizza. Maybe more than I care to admit, really. But at least we make the dough from scratch! Well, usually. I use all manner of breads for pizza crust, but the family favorite is homemade crust with this homemade dough.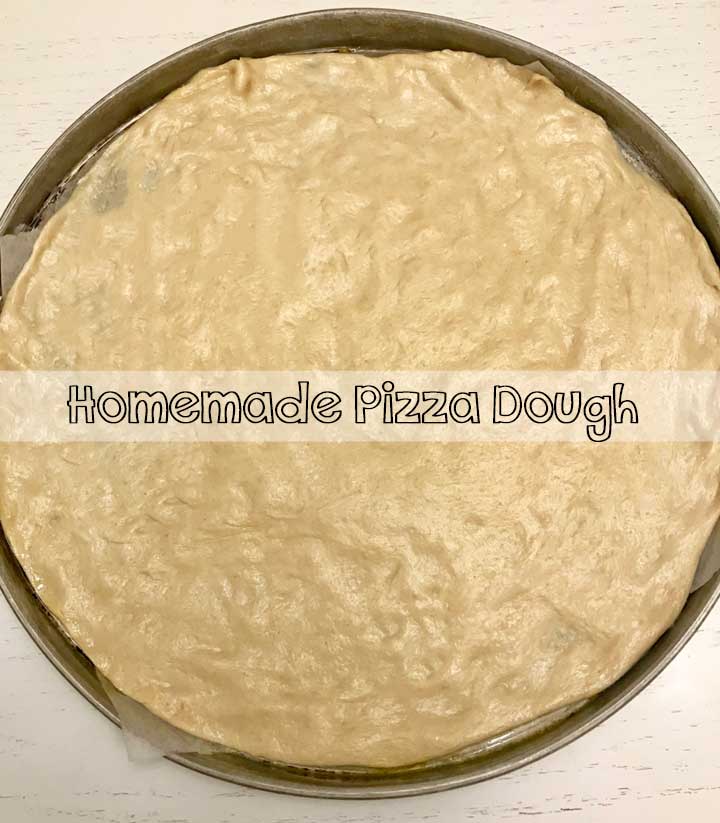 There's really no reason not to make homemade pizza dough if you have a stand mixer and a scale. You basically just throw everything in the bowl, attach the hook and let the dough hook do all the work. If you don't have a stand mixer you can still make this dough pretty easily by hand.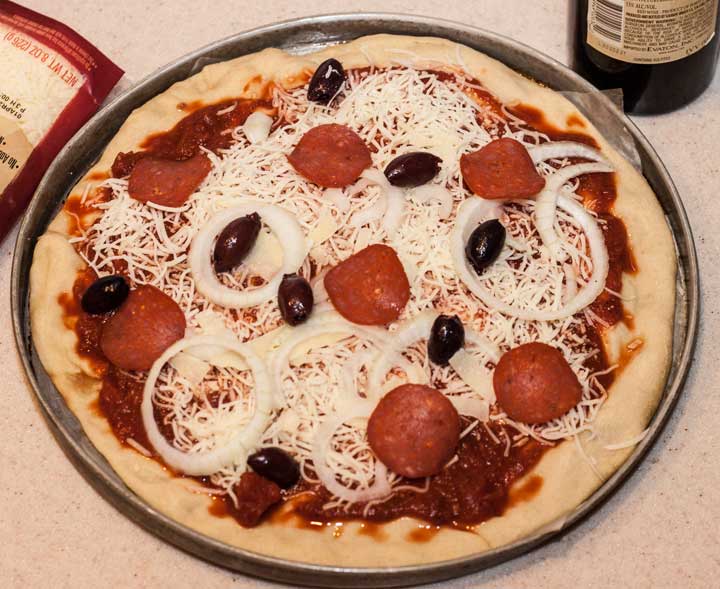 Homemade Pizza Dough Ingredients
For the flour, you can use bread flour or all-purpose. Bread flour usually makes a slightly chewier crust, while all-purpose is a little better for making crispy and thin crusts. Adding some sugar helps the crust brown, and a pinch or two of ginger adds a flavor not everyone can pinpoint and may enhance the dough a bit. Jury is still out on that, but my family seems to like the crust better when I add the ginger. For the yeast you can use active dry or quick rising yeast. There's even a new yeast called pizza yeast which works great if you are in a hurry.
King Arthur Pizza Dough Flavoring
This is a totally optional ingredient of course, King Arthur Pizza Dough Flavor is kind of a fun addition and gives the crust a little more personality. Again -- totally optional, but it adds a little flavor. We use about 1 teaspoon for every cup of flour so a jar lasts a while.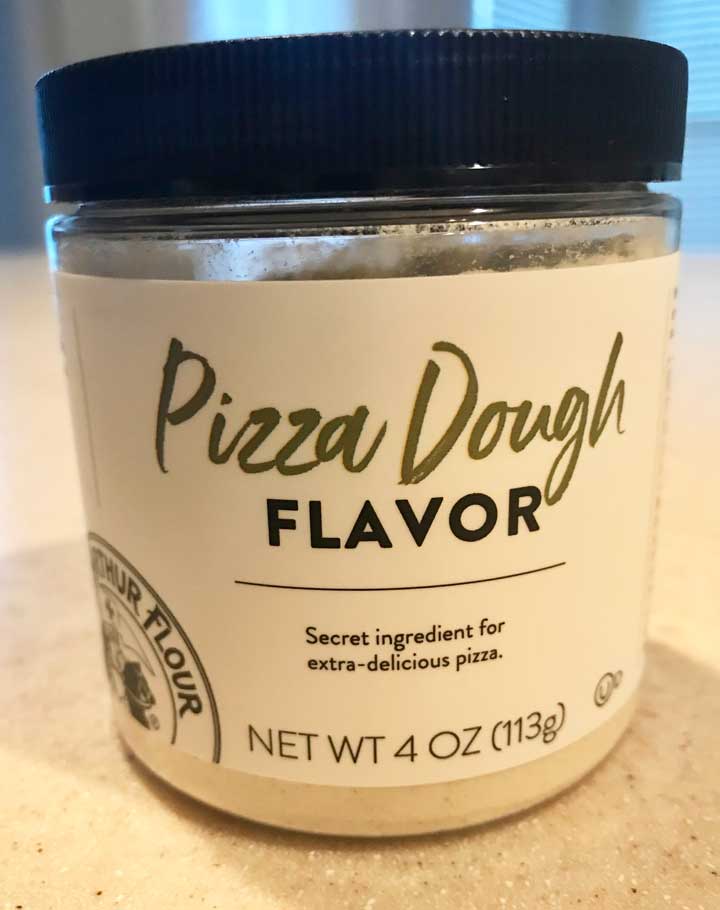 Par Baking Pizza Crust
The usual way to make pizza is to make the homemade pizza dough, shape it and top the dough before baking. I almost always partially bake (par bake) the dough first. The reason is to get a head start. If you par bake, you can bake the crust a few hours ahead, and clean up any mess you might have made from dough making before dinner rolls around. Par baking also helps ensure a firm crust. To par bake pizza crust, press the dough into whatever size circle you want, set it on a parchment lined baking sheet (or vented pizza pan), then bake at 425 for about 5 to 7 minutes.  You can leave it at room temperature until ready to bake, or freeze and use frozen.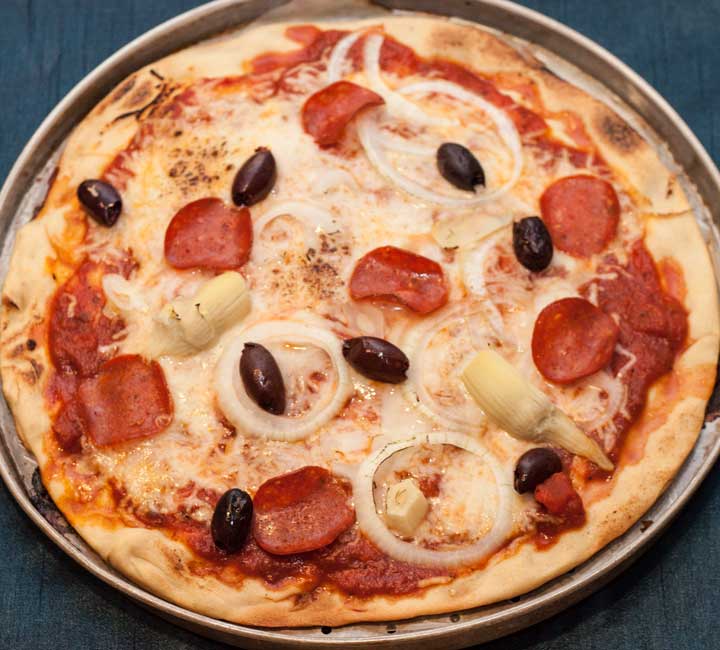 Recipe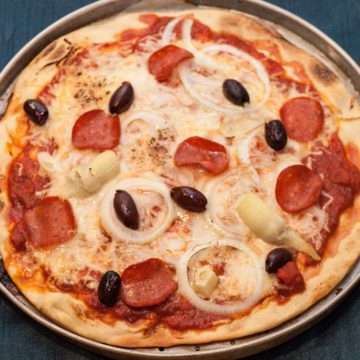 My Favorite Homemade Pizza Dough
Homemade Pizza Dough made with a touch of honey. Rises nicely when baked.
Ingredients 
1

cup

very warm water, plus more if needed

110 to 120 F

1

packet

active dry yeast

(2 ¼ teaspoons), can use instant instead

1

tablespoon

honey or brown sugar

1

teaspoon

salt

( sometimes add another ¼ teaspoon)

1

pinch

ground ginger

Totally optional!

2 ½ to 3

cups

bread flour

(13.5 ounces/380 grams)

1 ½

tablespoons

olive oil plus more for the bowl
Instructions 
In a glass measuring cup, combine the warm water with the yeast. Let it sit until it starts to bubble and foam. If you're using quick yeast or Rapid Rise, skip this step and just mix the yeast with the flour. If you do mix the yeast with the flour, use water that is between 120 and 130 degrees.

In bowl of a stand mixer, combine the salt and flour (and yeast, if using instant). Add the water mixture to flour mixture, stirring until well mixed,. Add the honey (or sugar) and olive oil.

With the dough hook, knead the dough for about 5 minutes or until the dough is smooth and elastic. Transfer the dough to a clean bowl lined with more olive oil. Cover and let rise for about an hour. Punch down and use immediately or put it in a freezer bag and freeze it or refrigerate over night. If refrigerating, every so often, punch the dough down, as it will continue rising in the refrigerator.

To bake, remove from the refrigerator and press the dough into 4 circles (without a dish) or into two large circles. Allow it to sit at room temperature for an hour, then bake using your favorite recipe.

The crusts can also be partially baked a few hours ahead of time and then topped and re-baked later.

Latest Favorite Method: What I like to do is halve the recipe, press it into a 12 inch round on a baking sheet, bake at 425 for 5 minutes or until set, then remove from the baking sheet and let sit at room temperature (usually a few hours) until dinner time. When ready to bake, top the crust as usual and bake directly on the rack for about 10 minutes at 400 or however long you need to melt the cheese and toppings.
Notes
You'll get the best results if you have a stand mixer with a dough hook (or if you are very strong and like kneading). Also, if you have trouble spreading into a circle, stop halfway and let the dough rest. Continue pressing or rolling into the circle.
Also, if you don't have a scale you might want to start with only 2 cups of flour, then add remaining cup in ¼ cup increments until dough is neither too sticky nor dry. The reason for this is that 3 cups of flour can weigh anywhere from 13.5 ounces to 16 ounces depending on how the flour is packed into the cups. If you weigh out 13.5 ounces, your dough should be just right, but if you scoop the flour without weighing an unknowingly use 15 ounces or so because your flour was packed tighter, 3 cups would make the dough too dry. So if you don't have a scale, it's best to measure incrementally.